Current Affairs in Short: 22 June 2018
The ISRO has cleared for launch GSAT-11, the satellite which was recalled from Kourou in French Guinea for thorough checks, after the space agency lost with GSAT-6A after its launch in March 2018. The satellite was meant for military communication.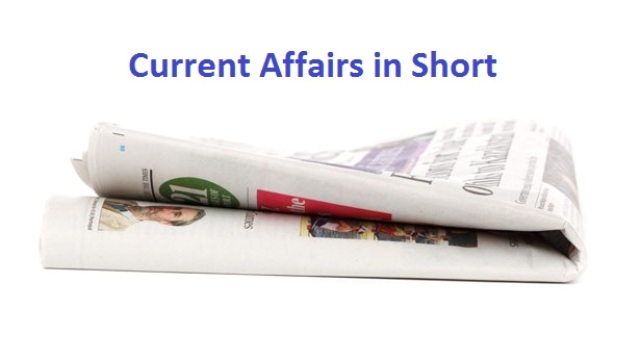 Current Affairs in Short: 22 June 2018
Veteran journalist Prabhakar Choubey passes away

• Veteran journalist and litterateur Prabhakar Choubey passed away after a prolonged illness at a city hospital in Raipur on June 21, 2018. He was 83-year-old.
• Chhattisgarh Chief Minister Raman Singh condoled Choubey's death and said that the senior journalist, in his career spanning 54 years, made invaluable and memorable contribution in the fields of journalism and literature,.
• His last rites were conducted on June 22.

1.50 lakh wellness centres to be set up by 2022: Nadda

• Over 1.50 lakh wellness centres will be set up by 2022 across the country and each centre will have yoga facility, Minister of Health and Family Welfare J P Nadda said at an event to mark the fourth International Yoga Day in Shimla on June 21.
• The Union minister along with Himachal Governor Acharya Dev Vrat, Chief Minister Jai Ram Thakur, and Education Minister Suresh Bhardwaj participated at the event held in the historic Ridge Ground here. It was organised by the Department of Ayurveda.
• The Minister also stated that 1.50 lakh health sub centres and primary health centres would be upgraded into wellness centres with modern facilities for treatment.

ISRO clears GSAT-11 for launch
• The 5,700-kg GSAT-11 satellite was slated for launch on May 26 from Kourou, a site in South America which India uses to launch its heavy-weight satellite.
• In a setback to the ISRO, the space agency lost contact with GSAT-6A after it was launched in March this year. Although the ISRO has been trying to establish with GSAT-6A, a satellite meant for military communication, it has found little success.
• This also led to the ISRO recalling GSAT-11 for conducting thorough checks.
• After a thorough check and additional tests, the satellite has been deemed fit for launch.
• The space agency is now waiting for a slot from Arianespace, the company which will launch the satellite.

18-year-old Manav Thakkar trumps World No. 18 in Ultimate Table Tennis 2018-06-22
• Young Indian table tennis player Manav Thakkar stunned World No. 18 Kristian Karlsson 2-1, inspiring Empowerji Challengers to a 15-6 victory over Maharashtra United in the CEAT Ultimate Table Tennis in New Delhi on June 21.
• The 18-year-old Thakkar rattled his Swedish rival, ranked 223 places above him with an attacking display to win 11-9, 8-11, 11-8.
• He had earlier helped Challengers assert their dominance by clinching the mixed doubles with Hungarian Georgina Pota, defeating the duo of Anthony Amalraj/ Elizabeta Samara in three straight games 3-0 (11-7, 11-6, 11-10).
• The big win helped Challengers rise to the third spot (30 points), pushing Maharashtra to the fourth spot (26 points).

Srikanth, Prannoy slip in BWF ranking

• Indian shuttlers Kidambi Srikanth and H S Prannoy on June 21, 2018 slipped three and five places to be placed at the 7th and 13th spots respectively in the latest BWF world ranking.
• Srikanth, who had clinched the silver at the Commonwealth Games, has not played in any tournament since participating at the Asia championship in April, while Prannoy had decided to not defend his US Open title and it seemed to have affected their ranking.
• In women's singles, P V Sindhu and Saina Nehwal continued to remain static at the 3rd and 10th spot respectively.
• 2014 Commonwealth Games gold medallist Parupalli Kashyap, who had reached the finals at US Open last year, meanwhile, crashed out of the top 50 after he couldn't play at the tournament following an injury. He is now at 51st position.

Assam flood situation improves
• The flood situation in Assam improved considerably on June 21 as water level of most rivers in the affected districts receded following a cessation of rains in the past few days, as per the Assam State Disaster Management Authority.
• A total of 4,86,659 people have been affected in the first wave of floods that has claimed 21 lives so far. Of them, three were killed in landslides triggered by the flood.
• A report issued by the Disaster Management Authority read that four districts - Hojai, Cachar, Hailakandi and Karimganj - were still affected with Karimganj being the worst hit.
• Kushiyara river in Karimganj is still flowing above the danger level while rivers flowing through the other three districts are showing a receding trend.

Rajasthan ranked No. 1 in water conservation

• Rajasthan has been ranked first by the NITI Aayog among all states after it registered a significant increase in groundwater level due to the water conversation structures built under Chief Minister's Jal Swavlamban Abhiyan.
• The state also witnessed an increase of 81% in irrigation capacity.
• As many as 4 lakh structures were built in Rajasthan in the last three years.

Twitter reveals distinct daily cycles in thought patterns
• Researchers at University of Bristol in the UK used artificial intelligence (AI) to analyse aggregated and anonymised twitter content sampled every hour over the course of four years across 54 of the country's largest cities to determine if the thinking modes of users change collectively.
• The, study published in the journal PLOS ONE, revealed different emotional and cognitive modalities in the user's thoughts by identifying variations in language through tracking the use of specific words across the twitter sample which are associated with 73 psychometric indicators, and are used to help interpret information about our thinking style.
• Overall, the study discovered strong evidence that the user's language changes dramatically between night and day, reflecting changes in their concerns and underlying cognitive and emotional processes.

England set a new ODI world record with 481/6

• England made the highest one-day international total of 481-6 as they defeated Australia by 242 runs at Trent Bridge. The England broke their own record of 444-3 set against Pakistan in 2016 at same venue.
• With this the England captain, Eoin Morgan became the highest ODI run scorer for his country.
• This is England's biggest ODI win and Australia's heaviest defeat in terms of runs.

WHO releases new ICD 11

• The World Health Organization in Geneva released the latest edition (11th) of the International Classification of Diseases (ICD-11).
• The ICD is the standard disease coding for statistics and information regarding diseases around the world.
• These codes are common for healthcare professionals worldwide and provides a common sharing platform for reporting diseases and condition.

Nepal, Bhutan spend more than India on health

• India spends 1% of its gross domestic product on public health.
• According to the National Health Profile 2018 report, there is one allopathic doctor for 11,082 people in the country's villages.
• Low-income nations like Bhutan and Nepal spend 2.5% and 1.1% of its GDP respectively on public health.
• India aims to increase its public health expenditure to 2.5% of the GDP by 2025.