Current Affairs in Short: 9 July 2018
Satyarup Siddhanta has become the second Indian mountaineer after Malli Mastan Babu to climb Mt Ojos del Salado, the highest volcano in the world. Satyarup is also set to be the first Indian to climb Mt Sidley, the highest volcano of Antarctica.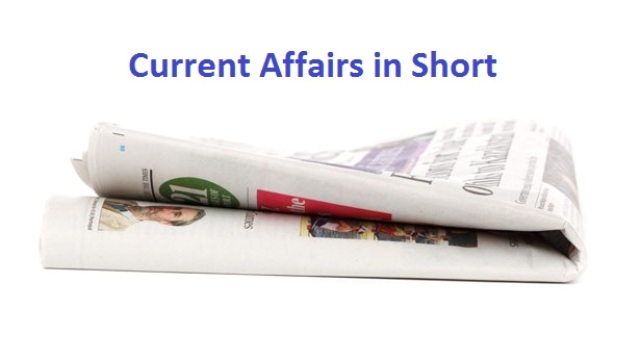 Current Affairs in Short: 9 July 2018
Indian scales world's highest volcano

• Satyarup Siddhanta has become the second Indian mountaineer after Malli Mastan Babu to climb Mt Ojos del Salado, the highest volcano in the world.
• Ojos del Salado is a stratovolcano (a volcano built up of alternate layers of lava and ash)in the Andes on the Argentina-Chile border and the highest active volcano in the world at 6,893 metres (22,615 ft).
• Satyarup is also set to be the first Indian to climb Mt Sidley, the highest volcano of Antarctica, which will help him realise the dream of scaling seven summits and seven volcanic summits.
• He skied the last degree to South Pole and hoisted the Indian flag at -40 degree centigrade.

Britain's Brexit Minister David Davis resigns

• Britain's Brexit minister David Davis has resigned two days after the cabinet approved a plan to retain strong alignment with the European Union even after leaving the bloc.
• The resignation will be a blow to Prime Minister Theresa May, who is trying to win over Brexit hardliners in her own Conservative Party ahead of a fresh round of negotiations with Brussels this month.
• A long-time eurosceptic, Davis was appointed two years ago to head up the newly-created Department for Exiting the European Union after Britain voted to leave the European Union in a historic referendum.
• Shortly after Davis' resignation, his deputy Steve Baker, and another Brexit Minister Suella Braverman also announced their resignation.

Israel approves new bill against polluting companies

• Regular citizens and NGOs will have the right to sue polluting companies in civil courts, as per a new bill proposal approved on July 8, 2018 by the Israeli Ministerial Committee for Legislation.
• The Israeli government hopes the new bill will put more pressure and deterrence toward big companies that do not care about the state supervision against pollution.
• Israel suffered two significant pollution disasters in nature reserves during recent years, where Eilat-Ashkelon Pipeline Co and Israel Chemical Ltd were held accountable.

Uday Kumar Varma appointed BCCC member

• Former Information and Broadcasting secretary Uday Kumar Varma has been appointed as a member of the Broadcasting Content Complaints Council, a self-regulatory body for general entertainment channels.
• Varma, a former IAS officer of 1976 batch from the Madhya Pradesh cadre, succeeds former information commissioner Wajahat Habibullah, whose tenure at the BCCC has ended.
• The 13-member BCCC council, chaired by former Supreme Court judge Justice Vikramajit Sen, has actor Sharmila Tagore, theatre person Arundhati Nag and JNU professor Ira Bhaskar as some of its members, besides representatives of the National Commission for Women, National Commission for the Protection of Child Rights and the National Commission for Minorities, among others.

Haryana govt uploads photos of VAT defaulters

• The Haryana Excise and Taxation Department has identified a total of 6,091 value-added tax (VAT) dealers in the state having arrears over Rs 5 lakh and uploaded the photographs of the defaulters on its website.
• Additional Chief Secretary, Excise and Taxation, Sanjeev Kaushal said on July 6 that the action has been taken on the directions of the Public Accounts Committee (PAC) in the report of the Comptroller and Auditor General (CAG) 2012-13.
• It was also suggested by the PAC that the names of these defaulters should be published in the newspapers.
• Kaushal said that a district-wise list of 6,091 VAT dealers in the state, having arrears over Rs 5 lakh, has been prepared by the department.

Telangana allots 200 acres to women entrepreneurs

• The Telangana government has allotted 200 acres tothree different women entrepreneurs' associations in the state, Industries and IT Minister K T Rama Rao said on July 6, 2018.
• The minister was speaking at a function in which the Telangana State Industrial Infrastructure Corporation handed over allotment letters to 18 women entrepreneurs belonging to FICCI Ladies Organisation (FLO) at the FLO TSIIC Industrial Park in Sultanpur, Hyderabad.
• Rama Rao said that the state has allocated 50 acres to FLO at Sultanpur, 30 acres to Confederation of Women Entrepreneurs (COWE) at Toopran and 120 acres to the Association of Lady Entrepreneurs of India (ALEAP) and also 10 per cent of land in all the 140 various industrial parks in the state are earmarked for women entrepreneurs.

US orders DNA tests to reunite children with migrant parents

• US officials have ordered DNA tests on 'under 3,000' detained children who remain separated from their migrant parents in an effort to reunite families at the centre of a border crisis.
• The Department of Health and Human Services, HHS is doing DNA testing to confirm parentage accurately.
• The HHS knows the identity and location of every minor in the care of its grantees.
• The department is seeking to meet a court- imposed deadline of next Tuesday to reunite some 100 detained children under five years of age.

Nepal, India to jointly promote tourism

• The 2nd meeting of the joint working group on tourism cooperation between India and Nepal has concluded in Kathmandu.
• Both sides agreed to jointly promote Buddhist and Ramayana circuits and Adventure tourism.
• The meeting also decided to set up an industry-led India Nepal Tourism Forum.
• The Indian delegation was led by the Joint Secretary, Ministry of Tourism Suman Billa, while Nepalese side was led by Joint Secretary, Ministry of Culture, Tourism and Civil Aviation Ghanshyam Upadhyaya.
• The working group was formed after Prime Minister Narendra Modi's visit to Nepal in 2014 to enhance cooperation in tourism between the two countries.

India, Bhutan reaffirm their resolve to further strengthen & enhance co-operation in all areas of mutual interest

• India and Bhutan have reaffirmed their resolve to further strengthen and enhance co-operation between the two countries in all areas of mutual interest.
• Prime Minister Narendra Modi and his Bhutanese counterpart Dasho Tshering Tobgay during their meeting in New Delhi agreed to take the exemplary bilateral partnership to new heights for benefit of the people of both the countries.
• The two leaders held discussions on a range of bilateral and regional issues of mutual interest.
• Both leaders expressed happiness over the commemoration of Golden Jubilee of the establishment of formal diplomatic relations between India and Bhutan.

Haryana to enrol nomadic tribes for Aadhaar

• The Haryana government said on July 7, 2018 that it has decided to enrol family members of nomadic tribes so no person living in the state remain deprive of an Aadhaar card.
• A special enrolment campaign for nomadic tribes is being run till July 10 in all 22 districts.
• Under the campaign, 20 Aadhaar enrolment kits would be provided in the three sub-divisions of Gurugram to all nomadic tribe 'bastis'.
• The Gurugram Municipal Corporation would take assistance of municipal councillors for enrolment of family members of nomadic tribes living in each ward.

NEET, JEE to be conducted online, twice a year

• The engineering and medical entrance exams JEE and NEET would now be conduced online and twice a year by the newly formed National Testing Agency (NTA), HRD Minister Prakash Javadekar said on July 7, 2018.
• The Joint Entrance Examination (JEE) Main and National Eligibility cum Entrance Examination (NEET) will be held by newly formed examination conducting agency, NTA,.
• The NTA would conduct its first exam NET, which was till now conducted by the CBSE, in December.
• JEE (Mains) would be conducted twice a year, in January and April. NEET (UG) would be conducted in February and May.
• The NTA would also conduct National Eligibility cum Entrance Test Common Management Admission Test (CMAT) and Graduate Pharmacy Aptitude Test(GPAT).