Current Affairs Quiz: 9 June 2020
The day's updated quizzes cover topics such Solar Eclipse 2020, India- Denmark MoU and lockdown extension among others.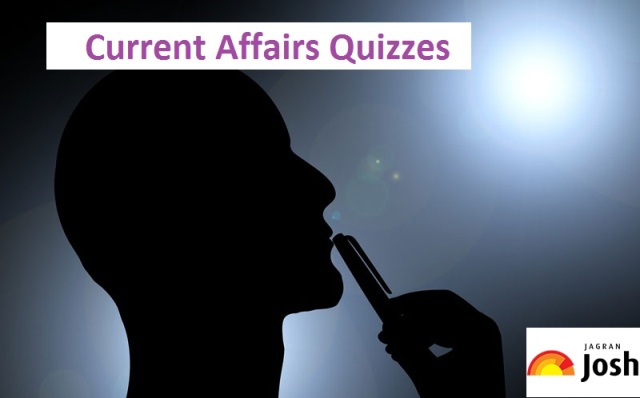 Quiz
9 June 2020: The Current Affairs Quizzes section of Jagranjosh aims to help every competitive exam aspirant to revise the day at ease. The day's updated quizzes cover topics such Solar Eclipse 2020, India- Denmark MoU and lockdown extension among others.
1.When will Solar Eclipse 2020 take place?
a)June 15th
b)June 22nd
c)June 21st
d)June 27th
2.Which among the following international organisations has completed 75 years in 2020?
a)WHO
b)World Bank
c)UN
d)NATO
3.North Korea has cut off its hotlines with which nation?
a)South Korea
b)China
c)Japan
d)US
4.US President Donald Trump has ordered the withdrawal of over a quarter of US troops from which nation?
a)Japan
b)Germany
c)France
d)Israel
5.Which two nations have decided to sign an agreement on maritime boundaries?
a)UK, Ireland
b)Greece, Italy
c)Sri Lanka, India
d)India, Myanmar
6.Which among the following states has announced extension in lockdown restrictions till June 30, 2020?
a)Delhi
b)Karnataka
c)West Bengal
d)Uttar Pradesh
7.Which state has launched an online waste exchange platform?
a)Goa
b)Andhra Pradesh
c)Kerala
d)Telangana
8.India and Denmark signed an MoU to develop strong cooperation in which sector?
a)Trade
b)Communications
c)Medical Research
d)Power
Answers
1.(c) June 21st
Annual solar eclipse will be visible on June 21, 2020. The solar eclipse takes place when the moon passes from between the earth and the sun. The eclipse will occur on the longest day of the year, for almost 6 hours and will be visible from many parts of Northern India.
2.(c) UN
The UN General Assembly session this year commemorates 75 years of the existence of the United Nations. It would have seen high participation from leaders from 193 Member States to mark the anniversary had there been no COVID-19 crisis.
3.(a)South Korea
North Korea has said that it is cutting communication hotlines with South Korea. At least 49 hotlines have been set up between the two nations for diplomatic talks, discussions over economy and military operations and for coordination of air and sea traffic.
4.(b)Germany
US President Donald Trump has ordered to reduce the number of US troops in Germany by more than a quarter. Trump has decided to remove 9,500 troops from Germany, one of America's strongest allies, reducing the number of US troop strength there to 25,000 from 34,500.
5.(b) Greece, Italy
Greece and Italy will sign an agreement on maritime boundaries during a visit of Italian Foreign Minister to Athens on June 9, 2020. The deal follows months of tensions in the Eastern Mediterranean region over natural resources.
6.(c)West Bengal
West Bengal Chief Minister Mamata Banerjee on June 8 announced that the lockdown restrictions in the state due to coronavirus has been extended up to June 30, 2020.
7.(b) Andhra Pradesh
Andhra Pradesh CM YS Jagan Mohan Reddy on June 5, 2020 launched the 'Online waste exchange platform'. The digital platform was launched on the occasion of World Environment Day to resolve the existing insufficiency in managing the waste.
8.(d)Power
Denmark and India on June 7, 2020, signed Memorandum of Understanding (MoU) that aims at developing a deep, strong, and long-term cooperation in the power sector. The memorandum was signed between Denmark's Ministry of Energy, Utilities and Climate, and India's Power Ministry.
Take Weekly Tests on app for exam prep and compete with others. Download Current Affairs and GK app
एग्जाम की तैयारी के लिए ऐप पर वीकली टेस्ट लें और दूसरों के साथ प्रतिस्पर्धा करें। डाउनलोड करें करेंट अफेयर्स ऐप
Android
IOS