Extinction threat to one million species; one lakh bee boxes for Honey Mission – Current Affairs
The report finds that major threats to the species are the misuse of plants and animals through pollution, climate change, harvesting, hunting and fishing.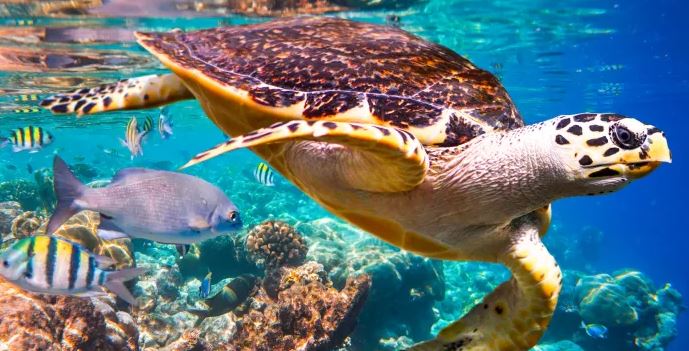 Image: un.org
Story 1: One million species under extinction threat: UN Report
United Nations (UN) supported panel Intergovernmental Science-Policy Platform on Biodiversity and Ecosystem Services (IPBES) has recently published a report that informs about one million species are facing extinction. Report makes human activities responsible for this massive extinction.
The report finds that major threats to the species are the misuse of plants and animals through pollution, climate change, harvesting, hunting and fishing. Report also finds a link between climate change and loss of species. It says that about five percent of all species can be extinct if earth temperature increases 2 degree Celsius than its normal nature.
Major Findings
Plastic pollution: It has increased 10 times since 1980, 300-400 million tons of heavy metals, solvents, toxic sludge and other wastes from industrial facilities are dumped annually into the world's waters, and fertilizers entering coastal ecosystems have produced more than 400 ocean 'dead zones', totalling more than 245,000 km2 (591-595) - a combined area greater than that of the United Kingdom.
Land Damage: More than a third of the world's land surface and nearly 75% of freshwater resources are now devoted to crop or livestock production.
Environmental loss: Three-quarters of the land-based environment and about 66% of the marine environment have been significantly altered by human actions. On average these trends have been less severe or avoided in areas held or managed by Indigenous Peoples and Local Communities.
Coming Challenges: Negative trends in nature will continue to 2050 and beyond in all of the policy scenarios explored in the Report, except those that include transformative change – due to the projected impacts of increasing land-use change, exploitation of organisms and climate change, although with significant differences between regions.
How report was prepared?
Report was compiled by 145 expert authors from 50 countries over the past three years, with inputs from another 310 contributing authors.
This report assesses changes over the past five decades, providing a comprehensive picture of the relationship between economic development pathways and their impacts on nature.
It also offers a range of possible scenarios for the coming decades.
Report was based on review of about 15,000 scientific and government sources.
The IPBES has released this report ahead of two high-level summits in 2020. In year 2020 China will host the UN convention on biodiversity to set new 20-year targets. Second, signatories of the 2015 Paris Agreement will meet to keep global warming to less than 2 degrees and to revise their commitments.
About IPBES
Intergovernmental Science-Policy Platform on Biodiversity and Ecosystem Services (IPBES) is an independent intergovernmental body comprising more than 130 member Governments. Established by Governments in 2012, it provides policymakers with objective scientific assessments about the state of knowledge regarding the planet's biodiversity, ecosystems and the contributions they make to people, as well as the tools and methods to protect and sustainably use these vital natural assets.
Liked the article? Do watch our videos too!
Story 2: More than one lakh bee-boxes distributed under 'Honey Mission'
More than one lakh bee boxes were distributed to the farmers and unemployed people across the country by Khadi and Village Industries Commission (KVIC) recently. Its objective is to boost Honey-Mission and providing source of income to unemployed people. Apart from this, basic training was also given to the beekeepers.
KVIC statement said that they have created more than 10,000 new jobs, besides creating around 25,000 additional man days through the fabrication of bee boxes and honey extractors. Beekeepers training include examination of honeybee colonies, honey extraction and wax purification, management of bee colonies in all weathers, acquaintance with apicultural equipments, identification and management of bee enemies and diseases etc.
Vision
As per the Khadi and Village Industries Commission (KVIC) India should grow with well-informed and skilled beekeepers/beekeeping entrepreneurship, healthy and plentiful honeybees raise, prosperous beekeeping industry, as well as widespread appreciation for honey and hive products, and take advantage of critical role that honeybees play in pollination.
About Honey-Mission
Honey Mission was launched in year 2017 with PM Narendra Modi's call for 'Sweet Revolution' in year 2016.
Its aim is to provide sustainable employment and income to rural and urban unemployed youth, both educated and uneducated, men and women by conserving the honeybee habitat and tapping untapped natural resources, while inducing Good Beekeeping Practices for qualitative and quantitative increase in all hive products in the country.
Another objective is to promote beekeeping for increasing the crop productivity and pollination services avenue for beekeepers and farmers.