FIFA Best Player 2019: Lionel Messi and Megan Rapinoe win best players awards
In FIFA Best Player 2019 Awards, Lionel Messi received his sixth title while Megan Rapinoe won her first best player award in women's category.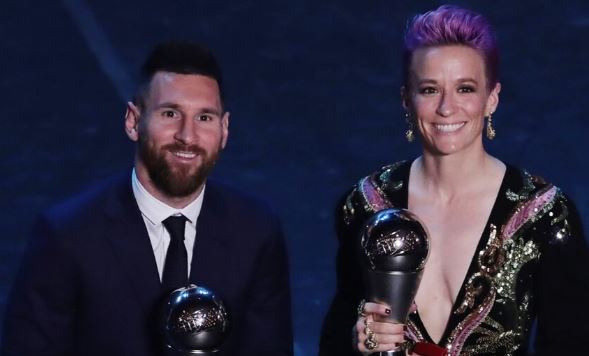 FIFA Best Player Awards 2019
FIFA Best Player 2019 Awards: Football legend Lionel Messi once again bagged FIFA's Best Men's Player Award for his outstanding performance throughout the year. It was Messi's sixth-time FIFA best player award. On the other side, in women's category, Megan Rapinoe received her first FIFA best player award for 2019. FIFA Best Player Awards ceremony was held at Milan's iconic Teatro Alla Scala.
Rapinoe has received this award for winning the World Cup for America. Rapinoe scored 6 goals in the World Cup, for which she received the Golden Boot Award. She was the highest scorer in the tournament with 6 goals. Jill Ellis has received the Best Women's Coach Award.
Lionel Messi's World Record
• Lionel Messi has won this award for the record sixth time and in this case, he has defeated his biggest rival Cristiano Ronaldo.
• Messi has received this award in the years 2009, 2010, 2011, 2012 and 2015. On the other hand, Ronaldo has won this award 5 times.
• In 2018, Luka Modric was awarded this title that broke 10 years' predominance of Ronaldo and Messi.
FIFA Best Player 2019 Awards
FIFA Best Men's Player 2019: Lionel Messi
FIFA Best Women's Player 2019: Megan Rapinoe
FIFA Best Men's Coach 2019: Jurgen Klopp
FIFA Best Women's Coach 2019: Jill Ellis
FIFA Puskas Award: Daniel Zsori
FIFA Best Men's Goalkeeper 2019: Marc-Andre ter Stegen
FIFA Best Women's Goalkeeper 2019: Sari van Veenendaal
FIFA Best Fan Award 2019: Silvia Grecco
FIFA Best fair play award: Leeds United and Marcelo Bielsa
The Best FIFA Football Awards
These awards are presented annually by FIFA. The first ceremony of Best FIFA Football Awards was held in 2016 for awarding the game's outstanding performers. Its inaugural ceremony was held at Zurich, Switzerland. These awards included a FIFA Fan Award that recognizes an outstanding fan moment.
Download our Current Affairs & GK app for Competitive exam preparation. Click here for latest Current Affairs: Android|IOS