Group Sail military exercise; Anti Naxal women's commando unit - Current Affairs
Indian Navy Ships (INS) Kolkata and Shakti undertook various exercises included manoeuvering, underway replenishment runs, cross-deck flying and exchange of Sea Riders.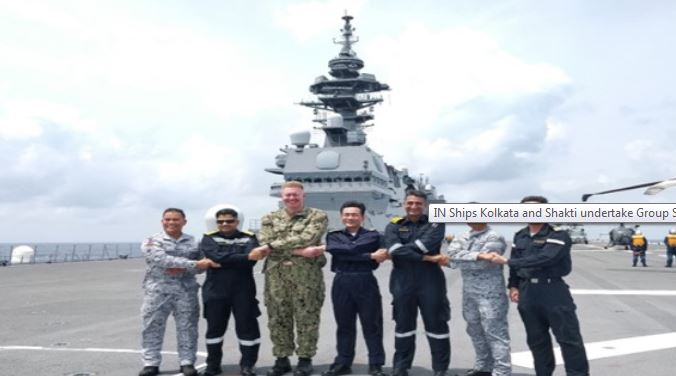 Image: Indian Navy
Story 1: INS Kolkata and Shakti participated in Group Sail military exercise
Indian Navy Ships (INS) Kolkata and Shakti carried out Group Sail with naval ships of Japan, Philippines and the United States of America in the South China Sea from May 03 to May 09, 2019. This week long military exercise had a participation of six combatants from the four participating countries - India, USA, Japan and Philippines.
Six Combatants in "Group Sail"
Guided Missile Destroyer INS Kolkata and Fleet Support Ship INS Shakti of Indian Navy, Helicopter Carrier JMSDF Izumo and Guided Missile Destroyer JMSDF Murasame of Japan; Frigate BRP Andres Bonifacio of Philippines and Arleigh Burke Class Destroyer USS Williams P Lawrence of USA. The Group Sail was aimed to deepen the existing partnership and foster mutual understanding among participating navies.
Exercises
• The ships undertook various exercises enroute which included formation manoeuvering, underway replenishment runs, cross-deck flying and exchange of Sea Riders.
• The Group Sail exercise with naval ships of Japan, Philippines and United States showcased India's commitment towards operating with like-minded nations to ensure safe maritime environment through enhanced interoperability.
• Both the ships had participated in the International Fleet Review as part of the 70th Anniversary Celebration of PLA (Navy).
• During the ships' stay in Busan, the IN Ships took part in the Opening Ceremony of Maritime Security Field Training Exercise under the aegis of ADMM-PLUS.
Other participations
Both the ships participated in ADMM-PLUS MS FTX Phase I exercises from 01 May to 03 May 2019 off South Korea with Navies of Brunei, China, Malaysia, Philippines, Singapore, South Korea and the USA. Group Sail progressed from 03 May to 09 May 2019. The Phase II of ADMM-PLUS MS FTX is scheduled from 09 May to 12 May 2019 in the South China Sea. On completion of Phase II, all participating ships including IN Ships Kolkata and Shakti are scheduled to attend the closing ceremony of ADMM-PLUS MS and participate in the International Maritime Defence Expo 2019 in Singapore.
Liked the article? Do watch our videos too!
Story 2: Chhattisgarh deploys anti Naxal women's commando unit
Chhattisgarh Police have deployed anti Naxal women commandos for the first time in the country. This team is inducted in District Reserve Guard (DRG) which is frontline of anti-Naxal force. Before joining anti naxal squad, these women commandos were part of the security forces' "short action teams" that eliminated three Naxal commanders in the past one month.
Earlier paramilitary forces have deployed women personnel in Bastar but they were doing a limited duty. Latest move is for the first time when exclusive team of women commandos have been made to combat and out counter insurgency operations.
'Danteshwari Ladake'
The specially-raised squad, is known as 'Danteshwari Ladake', or fighters of Goddess Danteshwari, was inducted in the state's Naxal-hit Dantewada district, around 400km from here.
Major Highlights
• Recently built women commando team have been given three-month advanced in-house training in jungle warfare tactics.
• They are given trainings for motorcycle patrolling in the dense forests, map reading, understanding Naxal profiles and counter ambush strategy.
• All of them are local residents, including surrendered Naxals.
• All are well acquainted with the forested terrain and the local language. All these are key elements in the fight against Naxals.
• Of the 30 recruits, 10 are surrendered women Naxals, while 10 others are assistant constables who were part of the erstwhile Salwa Judum movement.
About District Reserve Guard
The DRG was first set up in Kanker (north Bastar) and Narayanpur (comprising Abhujmad) districts of the state in 2008 to fight the menace of Left Wing Extremism and after a gap of five years, the force was raised in Bijapur and Bastar districts in 2013. Subsequently, it was expanded in Sukma and Kondagaon districts in 2014, while it started operations in Dantewada in 2015.
About Salwa Judum Movement
Peace March or locally called as Salwa Judum was started in year 2005. It was local people led operation against Naxalism however it was it was criticised for its violations of human rights and poorly trained youth for counter-insurgency roles. It was failed to get the proper results and had to call-off as violence was intensified from both of the sides. After that, Chhattisgarh and Jharkhand (responsible for 65% Naxal violence in India) started giving training to tribles and locals who were part of Salwa Judum. Many of them joined army and some of them are still working as their helping hands.
Download our Current Affairs& GK app from Play Store/For Latest Current Affairs & GK, Click here