This Pakistani City records world's highest temperature: Know all about it
Jacobabad city is located on the Tropic of Cancer. During mid-summer, severe heatwaves, the city that has a population of about 200,000 people is forced to retreat inside.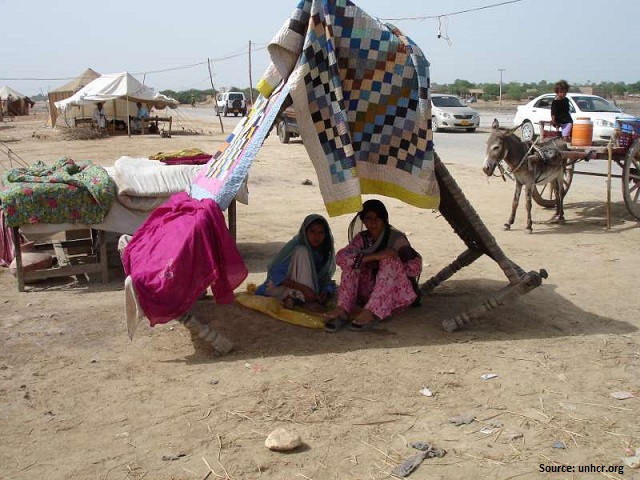 Jacobabad city, Source: unhcr.org
Jacobabad city in Pakistan's Sindh province records the world's highest temperature, up to almost 52°C (126 Fahrenheit) in midsummers.
The city is located on the Tropic of Cancer, which means that the sun is in close proximity during the summers. The city has a hot desert climate with extremely hot summers and mild winters.
During mid-summer severe heatwaves, the city that has a population of about 200,000 people is forced to retreat inside.
How does the city survive such record-high temperatures?
As per locals, people do not come out of their houses and streets are mostly deserted when the temperature goes beyond 50°C. According to a resident, it gets so hot that one can't stay on his/ her feet outside.
Most of the city hospitals are flooded with heatstroke cases, especially of those whose livelihoods force them to venture out in the scorching heat.
As per experts, with the mixture of heat and humidity, the city has now officially surpassed the temperature threshold that the human body can withstand.
Highest recorded temperature
The highest recorded temperature in Jacobabad is 52.8 °C (127.0 °F). The city's lowest recorded temperature is −3.9 °C (25.0 °F). The highest temperatures are generally recorded in the month of May.
Jacobabad crosses deadly 35C wet bulb threshold
• Matthews, a lecturer in climate science at Loughborough University, along with his colleagues had analysed global weather station data last year and found that Jacobabad and Ras al Khaimah, a city in the northeast of Dubai in the United Arab Emirates, have both temporarily crossed the deadly threshold.
• The researchers had examined wet bulb temperatures and they were taken from a thermometer covered in a water-soaked cloth to take into account both heat and humidity.
• The wet bulb thermometer readings were significantly lower than the more familiar dry bulb readings, which do not take humidity into account.
• The researchers felt that at a wet bulb reading of 35C, the human body can no longer cool itself by sweating and such a temperature can be fatal in a few hours, even to the fittest people.
• Jacobabad, an agriculture hub crossed the 35 degrees Celsius wet bulb threshold for the first time in July 1987 and then again in June 2005, June 2010 and July 2012.
• Each time, the wet bulb threshold is said to have been crossed for only a few hours but a three-day average temperature was recorded to be around 34C in June 2010, June 2001 and July 2012. The dry bulb temperature often reaches over 50C in the summer.
Take Weekly Tests on app for exam prep and compete with others. Download Current Affairs and GK app
एग्जाम की तैयारी के लिए ऐप पर वीकली टेस्ट लें और दूसरों के साथ प्रतिस्पर्धा करें। डाउनलोड करें करेंट अफेयर्स ऐप
Android
IOS