Kartarpur corridor: Manmohan Singh accepts invitation to attend Kartarpur Corridor inauguration
Kartarpur corridor: Former PM Manmohan Singh has agreed to attend the inauguration of Kartarpur Corridor on November 9.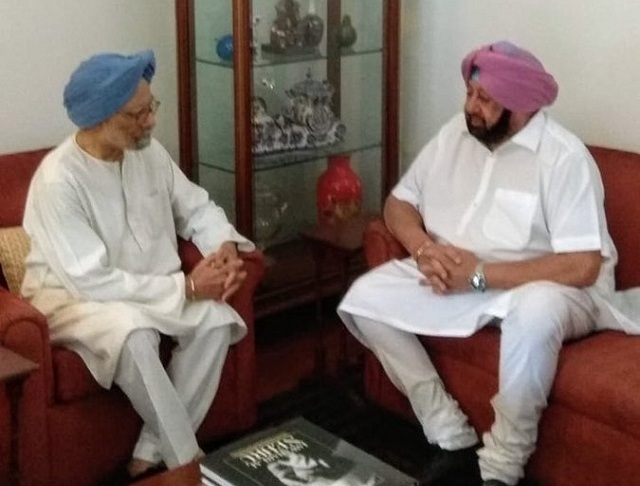 Manmohan Singh with Punjab CM Amarinder Singh
Kartarpur corridor: Former PM Manmohan Singh has accepted Punjab Chief Minister Amarinder Singh's invitation to join the inaugural event of Kartarpur corridor. This was announced through a tweet by Raveen Thukral, an aide of the Punjab CM.
Thukral tweeted saying that the former PM has accepted Captain Amarinder's invite to join the first Jatha to Kartarpur Sahib Gurdwara on November 9, 2019. Manmohan Singh will also be attending the main event at Sultanpur Lodhi to celebrate Guru Nanak's 550th birth anniversary. The former Prime Minister accepted the Chief Minister's invitation during a meeting in Delhi. The Punjab Chief Minister also tweeted affirming the same.
The Punjab Chief Minister also called upon Prime Minister Narendra Modi and President Ram Nath Kovind to invite them to grace the celebrations at Sultanpur Lodhi in Punjab.
Pakistan invites former PM Manmohan Singh to attend Kartarpur corridor inauguration
Earlier, Pakistan's foreign minister Shah Mahmood Qureshi had extended an invitation to former Indian PM Manmohan Singh to attend the inauguration of the Kartarpur corridor on November 9, 2019. Shah Mahmood Qureshi had announced the decision through a video message. He said that Dr. Singh is widely respected in India and hails from the Sikh community and so "we have decided to invite him to grace the event, we will send a formal letter to him soon."
Qureshi highlighted that, "the Kartarpur corridor inauguration is a big programme and Pakistan is preparing for it in a big way." He added saying that Pakistan is very happy to receive the Sikh pilgrims who will be coming to Kartarpur to celebrate Guru Nanak's 50th birth anniversary.
Kartarpur corridor
The Kartarpur corridor is being built to connect Dera Baba Nanak shrine in Gurdaspur, Punjab with Darbar Sahib in Kartarpur.
The corridor will enable the visa-free movement of pilgrims between the two religious shrines. The pilgrims yearning to visit either of the two Gurudwaras from the other side of the border will only be required to get a permit.
The Kartarpur corridor is scheduled to be inaugurated in November, before the 550th birth anniversary of Guru Nanak. Pakistan has decided to open the Kartarpur corridor for Indian Sikh pilgrims on November 9.
The Kartarpur Sahib Gurudwara is known to have been established by Guru Nanak Dev in 1522.
Background
The Pakistani Foreign Minister's invite to former PM Manmohan Singh comes just days after the Pakistani PM went all out to attack the Indian Government at the United Nations General Assembly session for its move of scrapping Article 370 and withdrawing the special status of J&K. The Pakistani PM accused Indian security forces of human rights violation in the state and warned of a nuclear war.