National Panchayati Raj Day 2020: PM Modi launches e-GramSwaraj Portal, Swamitva Scheme
PM Narendra Modi has launched a unified e-GramSwaraj Portal and mobile application and Swamitva Scheme on the occasion.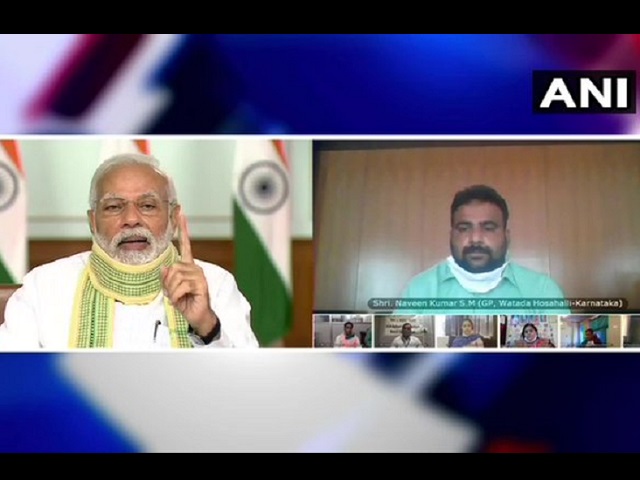 PM Modi
National Panchayati Raj Day 2020: PM Narendra Modi interacted with all the village sarpanchs across the country through video conferencing at 11 am today, on the occasion of the National Panchayati Raj Day 2020. Panchayati Raj Minister Narendra Singh Tomar was also present on the occasion.
While addressing all the sarpanchs, the Prime Minister said that the biggest lesson learnt from Coronavirus pandemic is that we have to become self-dependent. Without being self-dependent, PM Modi said it will become difficult dealing with such crisis situations.
The Prime Minister further urged the villages, districts, states to become self-dependent in their respective levels for their individual needs. Similarly, he said that the nation also has to learn how to become self-dependent so that we don't have to ever depend on any one else from outside to fulfill our own needs.
'Do gaj doori' mantra
PM Modi during his interaction with the sarpanchs said that the villages have given the mantra of - 'Do gaj doori' to define social distancing in simpler terms amid the battle against COVID-19 virus.
All the sarpanchs joined the interaction from their respective homes, while adhering to the social distancing norms of the lockdown. The sarpanchs will also be sharing their views with the Prime Minister. The sarpanchs joined the interaction at a Common Service Centre close to them.
The Prime Minister launched the following two initiatives on the occasion:
e-GramSwaraj Portal/ Mobile
PM Narendra Modi inaugurated a unified e-GramSwaraj Portal and mobile application on the occasion. The portal is a new initiative of the Panchayati Raj Ministry to provide all the gram panchayats with one single interface to prepare and implement their gram panchayat development plan (GPDP).
Swamitva Scheme
The Prime Minister also launched the Swamitva Scheme on the occasion, which will provide an integrated property validation solution for rural India. The scheme is expected to boost the government's efforts to alleviate poverty in rural areas.
Under the scheme, the inhabited land will be demarcated in rural areas by using the latest surveying methods such as drone technology with collaborated efforts of the Survey of India, State Panchayati Raj Department, Ministry of Panchayati Raj and State Revenue Department.
National Panchayati Raj Day
The National Panchayati Raj Day is observed annually on April 24. The Government in consultation with the states had decided to celebrate the day as National Panchayati Raj Day. The observance marks the day the 73rd Amendment of the Indian Constitution came into effect.
The Constitution (73rd Amendment) Act, 1992, which gave constitutional status on Panchayati Raj institutions, came into effect from April 24, 1993. The day marks a defining moment as it decentralised political power to the grassroot level.
Take Weekly Tests on app for exam prep and compete with others. Download Current Affairs and GK app
एग्जाम की तैयारी के लिए ऐप पर वीकली टेस्ट लें और दूसरों के साथ प्रतिस्पर्धा करें। डाउनलोड करें करेंट अफेयर्स ऐप
Android
IOS