COVID-19: What is Section 144 of the CrPC?
COVID-19 cases are rising all over the world and India is not left behind. On 24 March 2020, in India cases of COVID-19 rises 492 and 9 deaths are reported. Therefore, to counter the situation Section 144 of the CrPC is imposed in several districts of the states including Maharashtra, Rajasthan, Andhra Pradesh, Tamil Nadu, etc. Let us have a look in detail about Section 144 of the CrPC.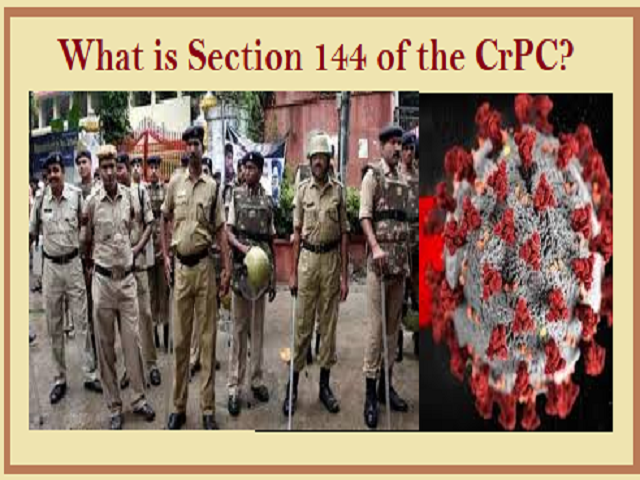 What is Section 144 of the CrPC?
In recent time, when India is struggling with CAA Protests and Delhi riots, COVID-19 knocked on the door as pandemic disease.
As the number of COVID cases increases considerably in Maharashtra, the government decided to impose Section 144 of CrPC in all urban areas till 31 March. Even in several districts of National capital Delhi Section 144 of CrPC is imposed on 22 March to 12 midnight of 31 March. Also in several districts of Indian states Section 144 of CrPC is imposed to curb the situation. Let us find out about Section 144?
Due to the riot, loot, violent protests, stone-pelting, etc. in any area or city, Section 144 of CrPC is imposed. This is a notification issued by the District Magistrate. It prohibits the assembly of five or more people in an area. There is also a restriction on carrying any sort of weapon in that area. People can also be arrested for violating it. Let us tell you that according to the law, every member of such "unlawful assembly" can be booked for "engaging in rioting". The maximum punishment for such an act is three years. Also, it is mentioned that obstructing police from breaking up an unlawful assembly is a punishable offence. This section also empowers the authorities to block internet access.
In India in several places, the government has imposed Section 144 of the CrPC for maximizing public safety and to minimize the threat of coronavirus.
More about section 144 of the Criminal Procedure Code (CrPC)
- It was enacted in 1973.
- It is imposed in a given region in emergency situations or cases of nuisance or perceived danger of some event that has the potential to damage human lives or property or create a troubling situation. In other words, we can say it prohibits public gathering.
- Section 144 of the CrPC also restricts on handling or transporting any kind of weapon in the given jurisdiction where it has been imposed. In case of any violation, people doing it in any form can be detained. Such an act can provide a punishment of three years.
- Under this section as per the orders, there cannot be movement of any public. All educational institutions in that area remain closed. Doing any public meeting or conducting any rallies in the area are banned during the period when section 144 is imposed in that area.
- In the area where Section 144 of CrPC is in force, it is deemed a punishable offence to obstruct any law enforcement agencies from disbanding an unlawful assembly. If any need arises, the act also empowers the authorities to stop internet access in the region.
- No doubt the main purpose of Section 144 is to maintain the peace and order, the safety of public health as well where trouble cab disrupts the regular life. Also, Section 144 of the CrPC does not allow conducting some events that are done in regular times.
- To deal with the emergency situations, under the Criminal Procedure Code wide powers have been conferred on an Executive Magistrate. One such provisions deals with his powers to impose restrictions on the personal liberties of individuals, whether in a specific region, locality, and town or where the situation has potential to cause unrest, peace or danger etc.
What is the duration of Section 144 of the CrPC order?
As per rules, no order under this section shall remain in force for more than two months from the making thereof. For preventing danger to human life, health or safety or from any riot or from an affray, the state government can take decision if necessary and according to the situation choose to extend the validity for two more months with the maximum validity extendable to six months. When the situation becomes normal it can be withdrawn.
Now let us find out, how is it different from Curfew?
What is Curfew?
Curfew orders, on the other hand, are subject to worse deterioration in any location or city. People have to stay in the house for a specific time or period. It is believed that it can be very helpful in handling any kind of violent situation. At the same time, let us tell you that the orders of curfew can be for a specific group or for the general public.
It restricts any outdoor activity without the prior approval of the police. Establishments such as markets, schools, colleges, etc. are ordered to remain shut, and only essential services are allowed to run. Curfew is also an order issued by the District Magistrate. There is a complete restriction on traffic at this time. It will not be wrong to say that a curfew is an extended form of Section 144. Time element for the curfew is important. However, the authorities can also extend the curfew if needed.
Does Section 144 mean Curfew?
No, they are not same. Section 144 of CrPC generally prohibits public gathering. And on the other hand, curfew orders people to stay indoors for a specific time. Therefore, the officials can impose a curfew for a certain time. Time is very important in this. However, the authorities can extend the period of curfew if required. Most importantly, if you want to go out of your house during the curfew, you need prior approval from the local police.
Also, we can say that Section 144 of CrPC bars mob gatherings but it does not control it. A curfew is a larger action taken to control the grave situation. You need permissions to move out in a curfew.
Restrictions during Curfew
- No person can do hunger-strike, without the permission of any competent authority.
- It is not imposed on examinees, marriage ceremonies, cremation and religious festivals.
- No person can walk with any sort of tool, or any type of fatal weapon, firearms etc.
- Even to carry licensed weapons are not allowed at the office.
- It also prevents playing or selling firecrackers.
- Even speech or advertisement that hurts the feelings of any community-culture is also prohibited.
- There is a restriction on the use of loudspeakers, DJs without prior permission.
- Five or more people cannot be assembled at a distance of two hundred yards from the examination centre.
- Even in marriages to carry any type of arms and ammunition are banned.
Now you may have come to know about the main difference between Section 144 of CrPC and Curfew. But people many times use these terms interchangeably.
Some of the other days we came across the news that violent protests took place in an area and curfew is imposed. When a group of people gather together with an intention to disturb the public tranquillity, such type of gathering or assembly is known as an unlawful group. And to prevent such type of gatherings or assemblies, Section 144 of CrPC and curfew provisions are used. As we are seeing that due to COVID-19, Section 144 of the CrPC is also imposed in several states.