Current Affairs in Short: 24 September 2018
The Assam government has asserted that no genuine citizen would be excluded from the National Register of Citizens. The state government confirmed that no action on citizenship would be taken against anyone on the basis of the draft NRC.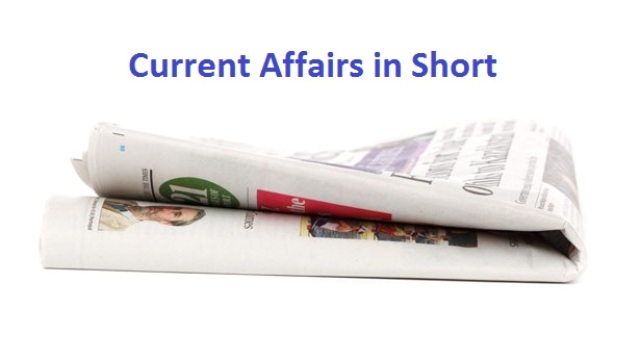 Current Affairs in Short: 24 September 2018
No genuine citizen will be excluded from NRC: Assam government

• The Assam government has asserted that no genuine citizen would be excluded from the National Register of Citizens.
• Replying to a question in the state assembly on September 24 , the state's Parliamentary Affairs Minister Chandra Mohan Patowary said that NRC is being prepared under the supervision of the Supreme Court.
• Patowary said that no action on citizenship would be taken against anyone on the basis of the draft NRC.
• In fact, letters have been issued to all Deputy Commissioners and SPs not to refer any cases to the Foreigner Tribunals against persons whose names are not included in the draft NRC list.

Israel gives West Bank village Oct 1 demolition deadline

• The Israeli military has informed residents of a West Bank hamlet that they have time until October 1 to leave before their homes face demolition.
• Israel says Khan al-Ahmar, an encampment of corrugated shacks outside an Israeli settlement, was illegally built and has offered to resettle residents a few miles away.
• However, the Palestinians say it is impossible for them to get building permits and that the demolition is aimed at displacing Palestinians in favour of settlement expansion.
• The military delivered a leaflet on September 23 offering to assist the residents in demolishing the structures. Earlier this month, Israel's Supreme Court rejected a final appeal against the slated demolition.
• Israel has come under heavy criticism, with major European countries calling on it to halt demolition plans.

Arunachal CM launches GeM in state

• Arunachal Pradesh Chief Minister Pema Khandu on September 24, 2018 informed that more than 26,000 government agencies have been incorporated in the Government e Marketplace (GeM).
• Launching the nation-wide mission for promotion of GeM here, the CM said that the mission is aimed at bringing in more transparency and streamlining the government procurement.
• He said that the objective of the launch is to accelerate the adoption and use of GeM by state government and its agencies.
• He said Arunachal is the sixth state in India to have signed MoUs with GeM, which aims to bring in transparency, efficiency and inclusiveness in public procurement and achieve cashless, contactless and paperless transaction.

Own up to mass Muslim detentions: Amnesty to China

• China must come clean about the fate of an estimated one million minority Muslims swept up in a "massive crackdown" in far western region of Xinjiang, Amnesty International said in a new report on September 24, 2018.
• China has ramped up restrictions on Muslim minorities to combat what it calls Islamic extremism and separatist elements in the far western province.
• In a new report, which included testimony from people held in the camps, Amnesty said that China had rolled out "an intensifying government campaign of mass internment, intrusive surveillance, political indoctrination and forced cultural assimilation".
• The report stated that Uighurs and other Muslim minorities were punished for violating regulations banning beards and burqas and for the possession of unauthorised Korans.
• Up to a million people are detained in internment camps, a United Nations panel on racial discrimination reported last month, with many interned for offences as minor as making contact with family members outside the country or sharing Islamic holiday greetings on social media.

Pakistan launches nationwide anti-polio vaccination drive

• Pakistan on September 24, 2018 launched a massive nationwide anti-polio vaccination drive, which has been touted as the final push against the crippling disease to cover 38.6 million children less than five years of age.
• The drive will last for three days but a 2-5 day catchup campaign will be launched following the initial drive so that no one was left out.
• A country must have no cases for three consecutive years in order to be considered to have eradicated polio by the World Health Organisation.
• Pakistan is one of only three countries in the world, along with Afghanistan and Nigeria, that suffers from endemic polio, a virus that can cause paralysis or death.
• The drive is the first nationwide door to door national campaign of 2018-19 low transmission season.

Delhi HC bans slaughtering of birds at Ghazipur mandi

• The Delhi High Court on September 24, 2018 banned slaughtering of birds in the Ghazipur murga mandi here.
• The court stated in its interim order that only the selling of live birds will be permitted in the area. The court asked the authorities to file a compliance report on its order within a week.
• The court was hearing a public interest litigation (PIL) alleging that poultry birds are being traded and slaughtered illegally at the Ghazipur mandi in east Delhi.
• The court asked the authorities to come up with a plan to set up a designated slaughter house in the area and till then the interim order will remain in operation.
• The bench noted that after conducting an inspection at the mandi on April 24, the Delhi Pollution Control Committee (DPCC) had given its report highlighting the violations.

Former BCCI president BN Dutt passes away

• Former BCCI president Biswanath Dutt, best known in Indian cricket fraternity as Jagmohan Dalmiya's mentor, passed away on September 24, 2018 after suffering from acute lung infection. He was 92.
• He is survived by his daughter and son Subrata Dutta, who is the senior vice-president of All India Football Federation.
• Dutt was the BCCI president in 1989 after a six-year stint as the vice-president of the parent body from 1982-88.
• One of the most revered administrators of Kolkata Maidan both in football and cricket, Dutt is known to have played an instrumental role in getting a young Dalmiya under his aegis as a Cricket Association of Bengal treasurer in 1977.
Important Current Affairs of August 2018
Video: Check out the latest current affairs of this week