M Karunanidhi, DMK chief and former Tamil Nadu Chief Minister, passes away
Karunanidhi was known as a strong Indian politician who dominated Tamil Nadu's politics for six decades along with arch-rivals MG Ramachandran and Late J Jayalalithaa. Karunanidhi served as the Chief Minister of Tamil Nadu for five separate terms during the 1969–2011 period.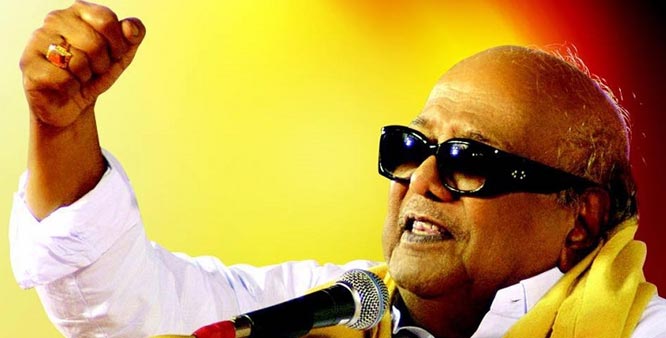 DMK patriarch M Karunanidhi passes away
DMK patriarch Muthuvel Karunanidhi, the former Chief Minister of Tamil Nadu, passed away on August 7, 2018 after battling a brief illness at the Kauvery hospital in Chennai, Tamil Nadu. He was 94.
He was admitted to the hospital on July 28, 2018 after he contracted Urinary Tract Infection and later, developed a high fever.

He is survived by wives Dayalu Ammal and Rajathi Ammal; children MK Muthu (born to his first wife Padmavathy); MK Alagiri, MK Stalin, MK Tamilarasu and daughter Selvi (through Dayalu); and M Kanimozhi born to Rajathi.

To mourn the death of such a strong leader, the Tamil Nadu government announced a public holiday on August 8, 2018. The state will also observe a seven-day mourning as a mark of respect for the former chief minister.
Note
He was known as a strong Indian politician who dominated Tamil Nadu's politics for six decades along with arch-rivals MG Ramachandran and Late J Jayalalithaa. Karunanidhi served as the Chief Minister of Tamil Nadu for five separate terms during the 1969–2011 period.
Karunanidhi's five separate terms as Tamil Nadu's Chief Minister

Date and Year (Swearing-in Ceremony)

Situation in Tamil Nadu

February 10, 1969

He took over as Chief Minister after the death of his mentor CN Annadurai.

March 15, 1971

DMK won 184 seats in the Assembly elections. However, DMK was dismissed by the Centre on January 31, 1976 over his opposition to Emergency rule.

January 27, 1989

He became the Chief Minister only after the death of his arch rival M.G. Ramachandran. Again, his government was dismissed on January 30, 1991.

May 13, 1996

This was his fourth term which lasted till May 13, 2001 and which was his first to last the full five years.

May 13, 2006

He headed a minority government by supporting the Congress. This term also lasted for the complete five years.
Karunanidhi's political career

• Karunanidhi had quit his flourishing career as an artist and writer to devote himself to politics and the Dravidian movement that was then led by Periyar E. V. Ramasamy, which he joined soon after it started in 1949.

• Popularly called 'Kalaignar', he was known for his film scripts that greatly helped him in his political career. His powers of oratory bestowed on him a cult status much similar to Jayalalithaa.

• When Periyar's Dravidar Kazhagam split into two post-independence, Karunanidhi joined the splinter group headed by CN Annadurai and helped launch the Dravida Munnetra Kazhagam (DMK).

• In 1969, Mr Karunanidhi was appointed as the Chief Minister of Tamil Nadu after the death of Dravida Munnetra Kazhagam (DMK) ideologue CN Annadurai.

• In 1972, his clash with MG Ramachandran (MGR) led to the ousting of the latter from the party, thus leading to the formation of l rival party All India Anna Dravida Munnetra Kazhagamor AIADMK.

• In 1977, the AIADMK came to power and MGR ensured that DMK stayed out of power as long as he was alive.

• However, later in 1989, Karunanidhi's DMK regained power after MGR's death.

• This victory did not stay for long. As the aftermath of Rajiv Gandhi's assassination in 1991, Karunanidhi was shunted out of the power following the rumours of his links with the Sri Lankan outfit LTTE, which was considered as responsible for the bomb attack on the former Prime Minister Rajiv Gandhi.

• He returned to power in 1996 following the defeat of Jayalalithaa. Since then, the parties of Karunandhi and Jayalalithaa have been voted in alternately, a tradition broke in 2016, when Jayalalithaa was elected for a second straight term.

• In April 1999, his party supported the Atal Behari Vajpayee government at a no confidence motion which led to the formation of a solid alliance between Vajpayee government and the DMK.

• The alliance contested the 1999 general elections together and emerged victorious. Resultantly, Karunanidhi grabbed portfolios like Ministry of Petroleum, Road, Transport and Commerce for his party.

• Later in 2003, he withdrew support from the BJP and contested the 2004 and 2009 general elections along with Congress in Tamil Nadu. The alliance managed to secure a victory both the times.

• In 2013, Karunanidhi withdrew support from the Congress citing the latter's insensitivity towards Sri Lankan Tamils.
Some unheard facts about Karunanidhi
He was the first president of the DMK, a post that was created after Annadurai's death, while, V.R. Nedunchezhian who was also in the race for the Chief Minister post, became the General Secretary.
In 1967, the Karunanidhi's DMK became the first non-Congress party to win state elections.
Karunanidhi was the only Chief Minister of Tamil Nadu whose government was dismissed twice - first during Emergency in 1976 and again in 1991 by invoking Article 356 of the Indian Constitution after the assassination of Rajiv Gandhi.
He also created a record by winning all the 13 Assembly elections he had contested since 1957.
He was the one who secured the right for Chief Ministers to hoist the national flag on the Independence Day. It was he who created a separate invocation song for the State 'Tamil Thai Vaazthu' by adopting Manonmaniam Sundaranar's poem Neerarum Kadalodutha.
The creation of Valluvar Kottam in Chennai, Chilapathikaram Exhibition at Poompuhar and 133 feet statue of Tiruvalluvar near Vivekananda Rock Memorial in Kanniyakumari are some his efforts.
His commitment to social justice led to the creation of Periyar Memorial Samathuvapurams, the self-sustained housing colonies where families belonging to various communities were allotted houses. Though this move was criticised later.
In 1969, his government was the first to set up Commission for Backward Classes. It also introduced the concept of free education for people belonging to certain castes and classes.
Corruption charges stained Karunanidhi's political career

Karunanidhi's politial career was marked by the multiple allegations of corruption against him and his party members. After the promulgation of the Emergency in 1976, the DMK government was dissolved on charges of corruption.

In 2001, the Sakaria commission indicted Karunanidhi for corruption in allotting tenders for the Veeranam project. In 2010, his party also faced allegations regarding the 2G spectrum case when his party was sharing power with the UPA at the centre.

Personal life of M Karunanidhi

• Born in 1924 in Tirukkuvalai in the then composite Thanjavur district, Karunanidhi belonged to a family of musicians. His father Muthuvelar was a nagaswaram player.

• Karunanidhi was also sent to learn the instrument, But, soon he turned his back on music as nagaswaram players in those days were not allowed to wear shirt or wear the angavastram.

• He was a rebel since his childhood days. He once threatened to jump into Kamalayam, the temple tank of Thiyagarajaswami in Tiruvarur, when his headmaster refused his admission.

• At the age of 14 years itself his acts displayed the political zeal when he convinced a group of students against imposition of Hindi in 1938.

• Before testing his hands in politics, Karunanidhi made his name into script writing. After failing in Class X exams, he moved to Coimbatore to make a living writing scripts for professional theatre groups.

• His style of oratory impressed Periyar E. V. Ramasamy who appointed him as the editor of the magazine of Dravidar Kazhagam, the party founded by Periyar himself.

• As a writer, he worked for 77 films, he penned the dialogues for films that converted three actors of Tamil cinema into heroes. These actors were MGR, Sivaji Ganesan and S.S.Rajendran.

• He wrote commentary for Tholkappiyam, the ancient Tamil grammar and many Sangam literary works.
The death of Karunanidhi marks the end of an 80 year long illustrious political career of a deep-rooted mass leader, leaving behind a strong and huge Dravidian legacy.
Take Weekly Tests on app for exam prep and compete with others. Download Current Affairs and GK app
एग्जाम की तैयारी के लिए ऐप पर वीकली टेस्ट लें और दूसरों के साथ प्रतिस्पर्धा करें। डाउनलोड करें करेंट अफेयर्स ऐप
Android
IOS