International Tiger Day 2019: PM Modi Releases Report, India counts 2967 Tigers
PM Narendra Modi released Tiger Estimation Report on International Tiger Day 2019 that describes present number and situation of tigers in India.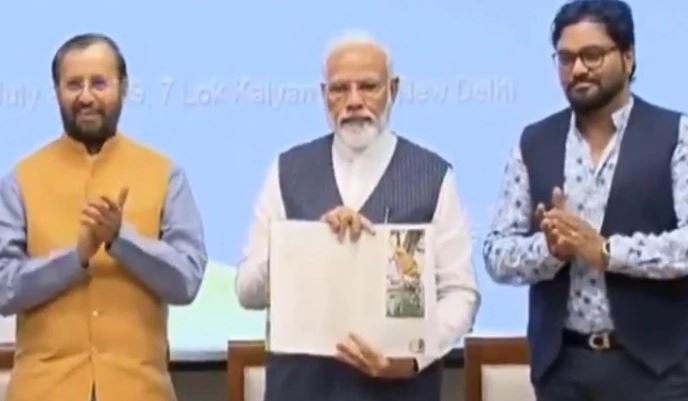 International Tiger Day 2019
International Tiger Day 2019: Prime Minister Narendra Modi launched a census report of tigers in India. The report - 'The Tiger Estimation Report 2018' is a data about tigers in India. PM Modi said that India has already achieved the target of doubling the numbers of tiger population as per the target given in St. Petersburg nine years ago.
International Tiger Day was created at Sait Petersburg Tiger Summit (SPTS) 2010. Objective of International Tiger Day is to raise awareness about declining numbers of wild tigers. In India many government agencies and wild life protection organizations observe various activities on this day. One can get involved in these conversations by just using hashtags #WorldTigerDay or #InternationalTigerDay .
India Specific Facts
• The Tiger Estimation Report 2018 said that 2967 tigers are present in India which was good growth in past five years.
• As per the Tiger Estimation Report 2018 - highest number of tigers have found in Madhya Pradesh (526), after that Karnataka has 524 and Uttarakhand is accommodating 442 tigers.
• Report informed that five years ago numbers were just 1400 and now it has crossed the double of it.
• Indian Government started Project Tiger in 1973 when studies found that numbers of Indian Tigers are rapidly declining.
• In 1970 India had only 1800 tigers and Project Tiger was launched in Jim Corbett National Park.
• It was the first time in India when
• As a nation, it was first effort of government of India at wildlife conservation with the tiger.
• Project Tiger is administrated by the National Tiger Conservation Authority (NTCA). Globally, India is natural living place to 70% of tigers in the world. About 1411 tigers were counted in 2008 while this number was increased to 1,706 in 2010 and 2,226 in 2014 respectively.
WWF Facts about Tigers
• About 3900 tigers remained in the World. Natural habitats of tigers are Tropical rainforests, evergreen forests, temperate forests, mangrove swamps, grasslands and savannas.
• In entire World tigers have lost about 95% of their natural habitats. The reason is – living places have been destroyed, degraded, and fragmented by human activities.
• WWF works with various governments across the 13 tiger range countries with wild tiger populations to maintain momentum around the conservation of tigers.
• Island tigers are present in Sumatra only however tigers live in Java and Bali about to extinct. These tigers are generally known as Sumatran tigers.
• Continental Tigers are also known as Bengal tigers, Malayan tiger, Indochinese tiger, and Amur tigers.
Also Read | Supreme Court orders to set-up special courts in districts with over 100 POCSO cases
Take Weekly Tests on app for exam prep and compete with others. Download Current Affairs and GK app
एग्जाम की तैयारी के लिए ऐप पर वीकली टेस्ट लें और दूसरों के साथ प्रतिस्पर्धा करें। डाउनलोड करें करेंट अफेयर्स ऐप
Android
IOS