Teachers' Day 2019: These teachers played major role in shaping the life of these personalities
Teachers' Day 2019: Let us look at some of the teachers who played a major role in shaping the career of some of the most renowned people and making them who they are today.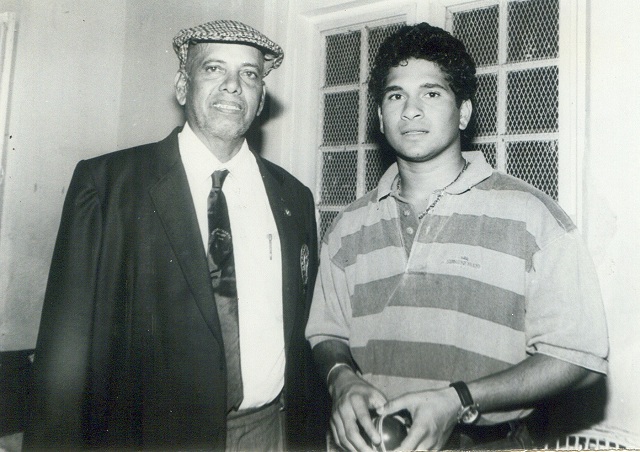 Sachin with coach Ramakant Achrekar
Teachers' Day 2019 is celebrated across India to celebrate the birth anniversary of Dr. Sarvepalli Radhakrishnan, who was a teacher himself and believed that teachers should be the best minds in the country. Dr. Sarvepalli Radhakrishnan was born on September 5, 1888.
Dr. Sarvepalli Radhakrishnan's teaching portfolio was vast ranging from the Oxford University and the University of Chicago to the Madras Presidency College and Calcutta University. Teachers' day was first established in the year 1962 when Dr. Radhakrishnan assumed the position of the second President of Independent India.
Teacher's day is commemorated every year with students paying their deepest gratitude to their Teachers. Teachers play an extremely significant role in shaping the life of their students and in encouraging them to pursue their dream goals.
Now, let us look at some of the teachers and mentors who played a major role in shaping the career of some of the most renowned people in the world.
1. Ramakant Achrekar
Ramakant Vitthal Achrekar is an Indian cricket coach, who is credited for shaping Sachin Tendulkar into what he is today. The legendary batsman posted a video to pay tribute to his coach Ramakant Achrekar and brother Ajit Tendulkar, remembering his school experiences.
Sachin Tendulkar recalled how once, when he used to play for the junior team and the senior team was playing the Harris Shield finals at the Wankhede Stadium, his coach Ramakant Achrekar had organised a practice match for him. Achrekar had asked Tendulkar to go for the practice match after school and bat at number 4 and had said that he does not need to field. "That used to be my match practice and training. But I left all that and was cheering for the senior team from the stands. After the match ended, I saw Achrekar sir and went to wish him. Sir asked me how many runs did I make today. I told him that I was watching the senior team play and cheering for them. Sir scolded me a lot, in front of everyone and told me that you don't have to cheer for others but instead focus on your own cricket and do something so great that others applaud and cheer for you. That was a great learning for me and I never missed a match afterward," said Tendulkar.
2. Pullela Gopichand
Pullela Gopichand is another teacher who has shaped the career of some of India's best shuttlers, including PV Sindhu, Saina Nehwal and Kidambi Srikanth. PV Sindhu recently became the first-ever Indian to win a gold at the Badminton World Championshipcoveted tournament and receiving World Champion title. Sindhu is also the first Indian badminton player to win a silver Olympic medal. Sindhu owes all her success to her coach and teacher Pullela Gopichand. Saina Nehwal, former world no.1 and the first-ever badminton player to win an Olympic medal, has also been coached by Pullela Gopichand.
PV Sindhu shared a video recently on her twitter account with a caption that read, "I hate my Teacher, Gopichand. Watch the video to know why! The video shows how PV Sindhu's childhood was transformed by Pullela Gopichand resulting in her meteoric rise to success. Speaking on the same, Sindhu said, "Coach has worked relentlessly and has had big dreams for me. I can't help but feel indebted to coach for his relentless pursuit of excellence. "
3. Max Talmey
Max Talmey was a Polish ophthalmologist, who is best known for mentoring Albert Einstein. Albert Einstein first met Talmey when he was just ten years old. Talmey is largely credited for influencing the education of Albert Einstein, one of the world's greatest physicists of all times. Talmey had given Albert Einstein a number of books on science. He had published an account of Albert Einstein's early life and also published an account of Einstein's 'Theory of Relativity'.
4. Dikran Tahta
Dikran Tahta was a British-Armenian mathematician, who is best known for mentoring Stephen Hawking. He was Hawking's maths teacher. Stephen Hawking met Dikran Tahta when he was just 14 years old and Tahta had inspired him to do "mathematics, more mathematics and physics."
5. Warren Buffet
Bill Gates, founder of Microsoft and the second richest person in the world, credits part of his success to his mentor, Warren Buffet. Warren Buffet is a businessman and investor and the third-richest person in the world. Bill Gates HAS credited Buffet for teaching him how to deal with tough situations and think about long-term. Bill Gates also praised Buffet's desire to teach things that are complex in a simple way for people to understand and benefit.