US to deny green cards to immigrants using public benefits
The United States has announced new rules that aim to deny US citizenship to the immigrants who use public benefits.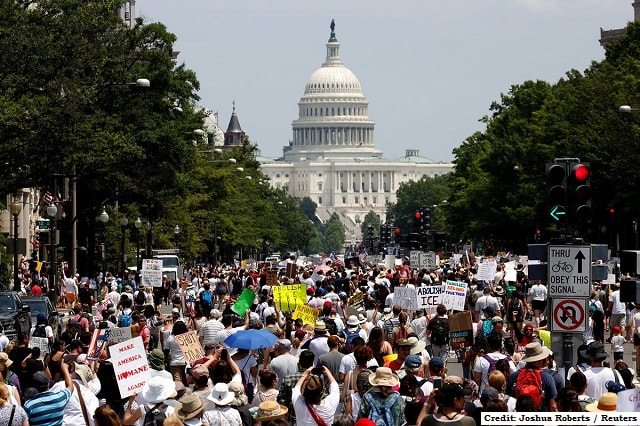 Migrants in US
The Trump administration announced new rules on August 12 that aim to deny US citizenship and permanent residency to the immigrants who use public benefits such as food stamps, public health care and other public welfare services. The new rules will come into effect in mid-October 2019.
The new rules tighten the definition of who is likely to become "public charge" under US immigration law. The "public charge" designation not only prevents migrants from obtaining permanent residency but it is also used by the US state department to determine the non-citizens who can be removed from the country or prevented from entering.
Under the new rules, those already in the US and availing public benefits will be denied the opportunity of getting the green card. The rules come as a set back to the citizenship hopes of millions of migrants, mostly Hispanic, who work in the US for low wages and depend heavily on public welfare benefits.
Besides this, the new rules aim to keep out impoverished and low-skilled migrants who had hopes of gaining permanent residency in the United States. The migrants will be blocked from entering the US if they are likely to need public assistance.
Defending the move, US President Donald Trump stated that to protect benefits for American citizens, the immigrants must be financially self-sufficient. Trump added by saying that a large number of non-citizens and their families have taken advantage of US's public benefits and limited resources that could otherwise go to vulnerable Americans.
Trump Administration New Rules Impact
The US administration's new rules could impact around 22 million non-citizen legal residents of the United States and around 10.5 million unauthorized immigrants, who have been long-term residents of the country.
The White House revealed that half of all non-citizen households include at least one person using Medicaid benefit, which is a government-run health care program. Further, the Trump administration stated that 78 percent of households headed by a non-citizen with no more than high school education use at least one welfare program.
The rules, however, would not apply to those using benefits such as school lunch programs, homeless shelters, food pantries and the Children's Health Insurance Program. The immigrant women who are pregnant and immigrant children who rely on Medicaid will be exempted from the rule. The new rules will also not affect the humanitarian-based programs for refugees and asylum seekers.