Do you know who has replaced Bill Gates as a second richest person?
According to Bloomberg Billionaires Index, Bill Gates is no longer the world's second-richest person. Do you know who has replaced him and how much net worth he holds? Let us find out some interesting facts about him.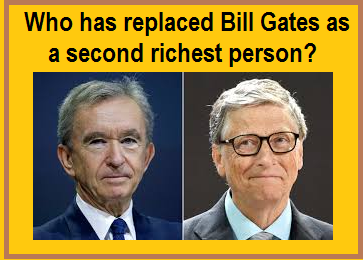 Bernard Arnault and Bill gates
Since seven years Bill Gates is at the second position in the Bloomberg Billionaires Index. But now, the French billionaire Bernard Arnault replaced him. According to the index, he has a net worth of around $108 billion having added $39 billion to his fortune in the past year. And the founder of Microsoft (MSFT) Bill Gates is at worth $107 billion. Let us tell you that Amazon (AMZN) CEO Jeff Boss holds the top position on the Bloomberg list with an estimated worth of $125 billion.
Who is France's Bernard Arnault?
Bernard Arnault was born on 5 March, 1949 at Roubaix, France. He is a French businessman, art collector and one of the best taste makers in the world. He is the Chairman and CEO of LVMH Moët Hennessy Louis Vuitton Company that is the largest luxury-products company in the world.
Azim Premji Biography: Family, Net Worth, Foundation and Awards
Interesting Facts about Bernard Arnault
- For the High School education, he went to Maxence Van Der Meersch in Roubaix.
- He did engineering in 1971 from Ecole Polytechnic. In the same year, he joined his father's company 'Ferret-Savinel'. In 1979, he became the president of the company and changed the company's name to Ferinel Inc. He shifted its focus to real estate.
- Then, he went to the United States but did not like it so he returned back to France and joined a luxury goods company named 'Financiere Agache' as a chief executive officer.
- He also acquired a company that was struggling those days named 'Boussac' which also owned other brands like Christian Dior, Conforama, Peaudouce and a department store named Le Bon Marche.
- He primarily focused on Christian Dior and became CEO in 1985. In 1989, he acquired the fashion and perfume department.
- In 1990, he invested through a joint venture with Guinness PLC and started to sweep a slew of fashion companies into the LVMH fold: Christian Lacroix, Givenchy, and Kenzo; the leather goods companies Loewe, Céline, and Berluti; the jeweler Fred Joailler; the DFS group (the world's biggest duty-free chain); and the beauty retailer Sephora.
- In 1995, Arnault became famous and was known as the man who revitalised French couture by appointing British fashion designer John Galliano to replace the venerable Hubert de Givenchy at the latter's Paris fashion house.
- In 21st century with the economic shift, he had faced several problems. At that time people were not willing to spend much on luxury goods as they were doing previously. This resulted in heavy loss to LVMH. But Arnault was determined and continued to focus for quality and luxury.
- Bernard Arnault is also a well-known art collector. He owns several pieces by Yves Klein, Henry Moore, Andy Warhol and Picasso. ARTNEWS called Arnault as a "major player" in the world of arts. He and his wife Helene have been included in ARTNEWS' list of the top 200 art collectors since 2006.
- From 1999 till 2003, he was the owner of 'Phillips de Purry & Company' and auction house.
- He had received several honours and awards including the title 'Commander of the French Legion of Honour' in 2007.
- In 2011, he got promotion and became the dignity of Grand Officer if the French Legion of Honour. In the same year, he was awarded with the Corporate Citizenship award.
- In 2012, he was made an honorary Knight Commander of the Most Excellent Order of the British Empire.
So now you have come to know that Bernard Arnault replaced Bill gates as a second richest person in the Bloomberg Billionaire Index.
11 Unknown Facts about Nikola Tesla