What is National Highway and Expressway in India?
Highways and expressways are common terms we use most of the time and also travel across them. But do you know what is highway and expressway, what is the difference between them. Also, which is the longest and shortest highway in India, what are their features etc? Let us study through this article.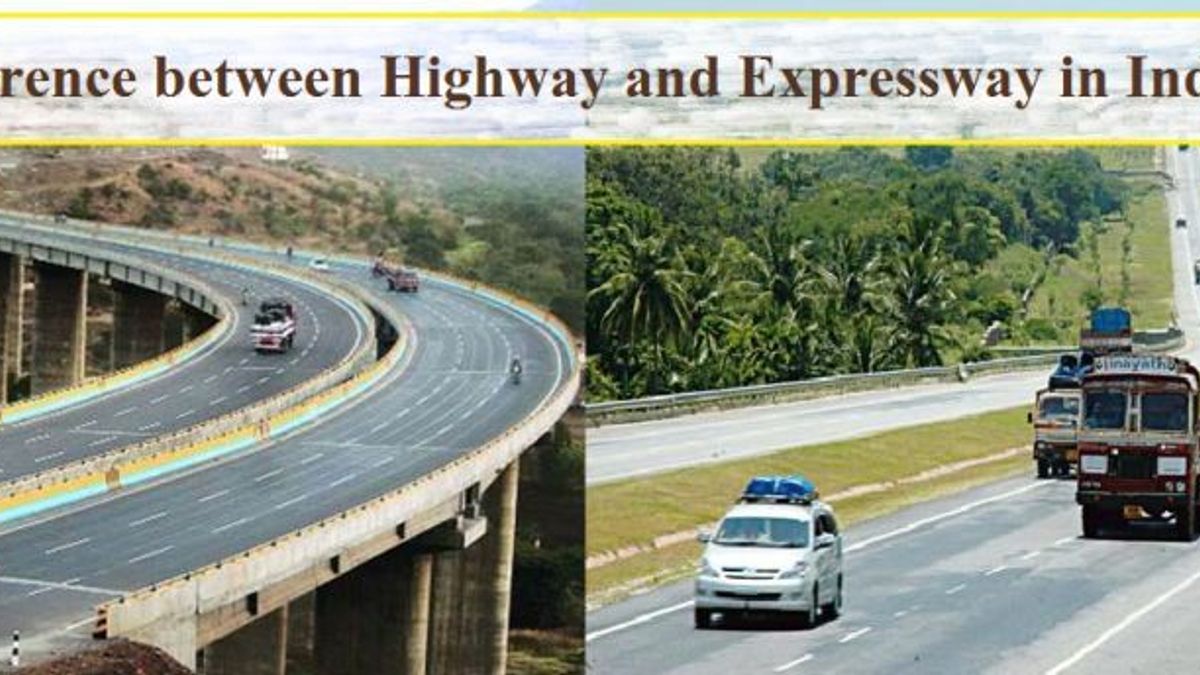 What is the difference between Highway and Expressway in India?
National Highways and expressways are common terms we came across daily. They have made road transportation much faster and efficient in India. We know that our India's road network is the second largest road network in the world that connects all the major and minor cities, towns, villages respectively. Let us tell you that Indian road network consists of Expressways, National Highways, State Highways and other major district and rural roads. Do you know the difference between expressways and National highways? What are the other terms used for expressway etc. Let us study through this article.
What is National Highway?
National Highways are the backbone of the road infrastructure that connects every major city of India whether ports, capital of states etc. It consists of two, four or more lanes built by charcoal and few by cement concrete. That is in India, National Highways are at-grade roads.

Source: www.theindianiris.com
This network is owned by the Ministry of Road Transport and Highways. It is constructed and managed by the National Highway Authority of India (NHAI), the National Highways and Infrastructure Development Corporation (NHIDCL) and public works departments (PWDs) of state governments. Do you know that NH was established by the National Highway Authority of India Act, 1988?
National Highways in India - 228
Total length of National Highway - 1,31,326 km
Maximum speed (Two-wheelers) - 80 Km/h
Maximum Speed (Cars) - 100 Km/h
Longest National Highway in India - NH 44, 3745 km long and covers North-South Corridor. It starts from Srinagar in the North and ends in Kanyakumari in the South.
Shortest National Highway in India - NH 47A which starts from NH 47 at Kundannur.
Why Indian Highways have coloured milestones?
What is Expressway?
Expressways are the highest class roads in India. These are the highways with six to eight lane controlled access road network. Basically, expressways are of high quality consisting of modern features like access ramps, grade separation, lane dividers and elevated section.

Source: www.indiatoday.in.com
Do you know that the expressway is equipped with several smart and intelligent features including a Highway Traffic Management System (HTMS) and Video Incident Detection System (VIDS). For future highways these systems will set a benchmark and are also environment-friendly.
Total Expressways in India (Operational) - approx 21 to 25
Total Length of Expressways operational in India - 1581,4 km
Best National Expressway - The Ahmedabad Vadodara Expressway also known as the best Expressway in India. It is 95 km long.
Longest Expressway in India - Agra-Lucknow Expressway, 302 km long
Max limit speed for cars on expressways - 120 km/h
Max limit for two wheelers on expressways - 80 km/h
Difference between Expressways and Highways
The major difference between a highway and express way is the access control.
- In expressways, roads are not multiples, controlled access is there where vehicle can enter through a limited place and no further or other road merges or crosses the expressway anywhere. Due to this the possibility of accidents are also less. But in the case of highways, multiple roads are there which merge with or cross the highways at many places.
- Highway is a generic term given to roadways which connect important cities; towns etc, and usually have 4 lanes to provide high speed traffic. But expressway is a high speed road with little access and consists of several facilities like access ramps, lane dividers etc.
Do you know about Freeway?
Freeway is basically designed for high speed vehicular traffic. It is a highest class of controlled access highway. Let us tell you that the national highway system has only two freeways in India that is Eastern Freeway and Western Freeway to reduce traffic congestion in the Mumbai island city.
So, now you may have understood that Expressways are high speed road with several facilities and little access but highway consists of multiple roads and usually have 4 lanes.
How 29 States in India got their Names: Origin and Interesting Facts
Transport and Communication System in India: Complete Summary