Chandrayaan 2 landing: Know about timing, Vikram and Pragyaan
Chandrayaan-2 is all set to land on the surface of the Moon in less than 24 hours.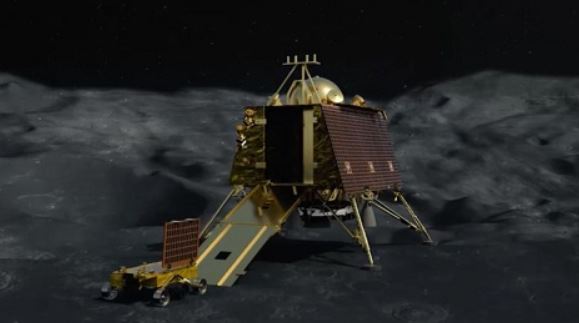 Representative Image: ISRO
The Chandrayaan-2, India's ambitious lunar mission, will touchdown the lunar surface tonight. Lander Vikram is scheduled to make a soft-landing on the surface of the Moon. According to the information released by ISRO, the rover Pragyan will roll out from the moon lander between 5:30 am and 6:30 am.
Chandrayaan-2 has travelled around 3,84,000 km and now the Vikram lander is just 35 km above the Moon's surface. Chandrayaan-2 will enhance the understanding of Moon for explorers, scientists and common people. Scientists believe that many new figures can be found through this lunar mission.
Timings
The Vikram lander will land on the south pole of the moon between 1.30 and 2.30 am on Friday-Saturday night. Rover Pragyan from Vikram will come out between 5.30 to 6.30 am in the morning. Pragyan will do many experiments on the lunar surface in one lunar day (one day of the moon). One day of the moon is equal to 14 days on Earth. However, the orbiter will continue to work on the mission for a year.
Orbiter
It has a weight of 2,379 kg and capable to generate 1,000 watts of power. The orbiter will be a medium of communication between Vikram Lander and the Indian Deep Space Network (IDSN). The orbiter will work for one year from a distance of 100x100 kilometre.
Vikram Lander
It has a weight of 1,471 kg and it can generate 650 watts of power. It is named after the Father of the Indian Space Programme, Vikram Sarabhai. Vikram will work for one lunar day which is equal to 14 days on earth. The lander can communicate with IDSN at Byalalu, Orbiter and Rover. Vikram lander will provide a soft landing on the surface of the Moon.
Pragyan Rover
It is a 27 kg device with 50-watt power generation capacity. Pragyan is a six-wheeled rover which will explore the surface of the Moon. Rover named Pragyan, which translates to 'wisdom' in Sanskrit. It can communicate with Vikram lander only and able to travel up to 500 meters.
Download our Current Affairs & GK app for Competitive exam preparation. Click here for latest Current Affairs: Android|IOS