Current Affairs 10 April 2019 Digest 4: UNICEF Report on Bangladesh Children; IMO's new rule
UNICEF Report shows that Bangladesh's 64 Districts are exposed to the greatest risk from climate change-related disasters, such as cyclone, flood, flash flood, drought etc.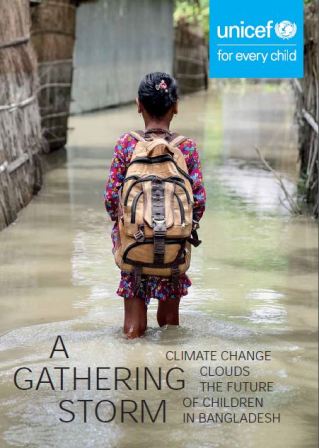 Image: UNICEF
Story 1: Climate Change Clouds the Future Of Children In Bangladesh: UNICEF Report
UNICEF has recently released a report on situation of Children of Bangladesh that they are facing due to climate change. The report titled, "A Gathering Storm: Climate Change Clouds the Future of Children in Bangladesh" informs that in total, an estimated 19.4 million children, spread across 20 of Bangladesh's 64 districts, are exposed to the most detrimental and hazardous consequences of short- or longer-term climate change.
UNICEF Report shows that Bangladesh's 64 Districts are exposed to the greatest risk from climate change-related disasters, such as cyclone, fl ood, fl ash fl ood, drought etc. As seen in the map, the coastline facing the Bay of Bengal and several more remote inland areas are particularly vulnerable.
Major Findings
Drowning is by far the leading cause of death among Bangladeshi children, causing over one third of all child injury deaths. According to the Bangladesh Health and Injury Survey, an estimated 14,438 boys and girls aged 0 - 17 years died by drowning in 2016.
While it is not clear how many of these fatalities can be attributed to climate change-related factors, the high rate of drowning, equivalent to nearly 40 deaths daily, is a cause of great concern.
As part of its effort to reduce the number of child drownings, UNICEF supports the provision of swimming lessons through the Swim Safe programme for children from 5 to 10 years of age.
From one end of the country to another - from the flood and drought-prone lowlands of the north to the retreating coastlines of Barisal and Khulna in the south - powerful, unpredictable forces of climate change are wreaking havoc. They threaten the health, safety and future prospects of the most vulnerable of Bangladesh's citizens: its children.
The floods of 2017 did massive damage. By late September that year, the floods had affected around 8 million people, including the families of Fulchari, and left more than 2.5 million children in need of humanitarian assistance.
Almost 3.45 million Bangladeshi children are part of the labour force and the report states that climate change could be one of the reasons for it. With families having to constantly rebuild their homes and lives due to natural calamities, basic facilities like regular education, clean sanitation and water supplies, and a steady source of income are often the worst hit.
Climate Change and Migration
Migration, both within Bangladesh and abroad, has long been a way for people to cope with the country's susceptibility to extreme weather. According to some estimates, between 50,000 and 200,000 people are displaced annually by river erosion alone. Already, 24 of Bangladesh's 64 coastal and mainland districts are producing climate migrants, and research carried out by the Association for Climate Refugees fi nds that 6 million individuals have so far been displaced by climate hazards.
That figure looks likely to increase sharply in the years ahead, as the impacts of climate change intensify in Bangladesh. A recent World Bank report said the "highly climate vulnerable" country could see as many as of 13.3 million internal climate migrants by 2050.
Government's initiative
Shielding children from the effects of climate change The Government of Bangladesh produced its first Climate Change Strategy and Action Plan in 2009, declaring that the needs of the poor and vulnerable - "including women and children" - would be a priority in all planned activities.
Since then, under the government's leadership and with the full involvement of civil society, the country has done much to make vulnerable communities more resilient to climatic shocks. One measure of its success (and of other efforts that predate the 2009 action plan) has been a dramatic reduction in mortality rates during cyclones in recent decades.
As Bangladesh embarks on the plan's second phase in 2019, it is imperative to devote greater attention and resources to keeping children safe and ensuring that child health, education and other services are shielded from the effects of climate change. To that end, UNICEF calls for concerted and sustained efforts - led by the government with the active participation of the international community and other partners.
Story 2: IMO's new rule on electronic information exchange between ships and ports
International Maritime Organisation (IMO) has launched new rules to introduce electronic information exchange between ships and ports for national governments. New rules took effect from April 8, 2019. Its objective is to make cross border trade easy and hassle free.
The requirement, mandatory under IMO's Convention on Facilitation of International Maritime Traffic (FAL Convention), is part of amendments under the revised Annex to the FAL Convention, adopted in 2016. It was important measure because 10 billion tonnes of goods which are traded by sea annually across the globe.
Key Highlights
The Facilitation of International Maritime Traffic (FAL Convention) was adopted in 1965.
The main objective of the convention is to achieve the most efficient maritime transport as possible, looking for smooth transit in ports of ships, cargo, and passengers.
The Facilitation Convention encourages the use of a "single window" for data, to enable all the information required by public authorities in connection with the arrival, stay and departure of ships, persons and cargo, to be submitted via a single portal, without duplication.
Under the requirement for electronic data exchange, all national authorities should now have provision for electronic exchange of this information.
India Specific highlights
India launched a Port Community System — 'PCS1x'— at ports in December 2018.
Port Community System (PCS1x) is a cloud-based new generation technology, with a user-friendly interface.
This system will enable maritime trade to have improved communication with the customs.
International Maritime Organization (IMO)
IMO – the International Maritime Organization – is the United Nations specialized agency with responsibility for the safety and security of shipping and the prevention of marine and atmospheric pollution by ships.
IMO measures cover all aspects of international shipping – including ship design, construction, equipment, manning, operation and disposal – to ensure that this vital sector for remains safe, environmentally sound, energy efficient and secure.
It is also involved in legal matters, including liability and compensation issues and the facilitation of international maritime traffic.
It was established by means of a Convention adopted under the auspices of the United Nations in Geneva on 17 March 1948 and met for the first time in January 1959.
It currently has 174 Member States.