Current Affairs in Short: 14 January 2020
The Shanghai Corporation Organization (SCO) has included the Statue of Unity in its eight wonders of the SCO list.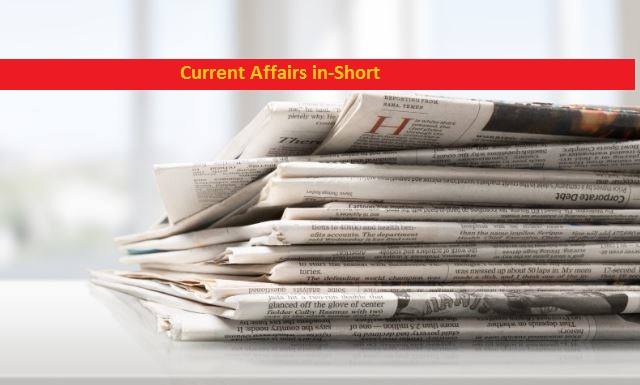 Current Affairs inshort
Statue of Unity gets listed among 8 wonders of SCO
• The Shanghai Corporation Organization (SCO) has included the Statue of Unity in its eight wonders of the SCO list. Foreign Minister S. Jaishankar tweeted about this.
• Statue of Unity's inclusion in SCO's list of eight wonders also means that now SCO itself will promote the world's highest statue in member countries.
• The Statue of Unity is the 182-meter tall statue of the country's first home minister Sardar Vallabhbhai Patel. It is the tallest statue in the world. This statue is located near Sardar Sarovar Dam on river Narmada in Kevadia Colony in Gujarat.
Iran's only female Olympic medalist Kimia Alizadeh announces defection
• Iran's only female Olympic medal winner, Kimia Alizadeh, recently announced on Instagram that she is leaving the country forever.
• Kimia Alizadeh has won an Olympic bronze medal during Rio 2016 Olympic Games.
• She wrote that she has experienced a lot of political exploitation and finally she has decided to take this decision.
World Bank predicts Sri Lanka's economic growth at 3.3 pct for 2020
• The World Bank forecasts Sri Lanka's GDP below four percent in the next three years. World Bank also estimated a growth rate of Sri Lanka at 3.3 percent.
• World Bank's Global Economic Prospects for 2021 and 2022 predicts that Sri Lanka's GDP will remain low in the next coming years.
• Sri Lanka's growth rate dipped below 3 percent after terrorist attacks held on easter last year. However, President Gotabaya Rajapaksa announced that achieving a 6.5 percent economic growth per annum from 2020 is his target.
Supreme Court dismissed curative pleas filed by Nirbhaya case convicts
• A five-judge bench of the Supreme Court dismissed the curative petition filed by convicts of Nirbhaya case Mukesh Singh and Vinay Sharma.
• The bench comprising Ashok Bhushan, Arun Mishra, NV Ramana, RF Nariman, and R Banumathi found no merits in the curative petitions.
• Delhi court has already issued a death warranty against convicts of the Nirbhaya case. But, convicts Mukesh and Vinay moved a curative petition in Supreme Court as their last legal option.
Kolkata Port Trust renamed after Shyama Prasad Mukherjee
• Prime Minister Narendra Modi has recently announced to rename the Kolkata Port Trust to Shyama Prasad Mukherjee Port Trust.
• Shyama Prasad Mukherjee was a noted politician, educationist and barrister. He was also the Minister of Industry and Supply in Pandit Jawaharlal Nehru's government.
• PM Modi made this announcement during an event at the Netaji Indoor Stadium. It was an occasion of 150th anniversary of Kolkata Port Trust.