Current Affairs in Short: 18 February 2020
According to the 22nd edition of the world language database Ethnologue, Hindi is the third most spoken language in the world.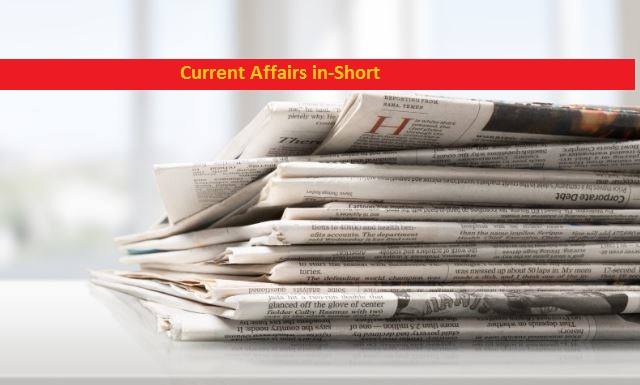 Current Affairs inshort
Hindi is third most spoken language in the world
• According to the 22nd edition of the world language database Ethnologue, Hindi is the third most spoken language in the world with 615 million speakers. The Ethnologue stated that English has the most number of speakers (1132 million) while Chinese Mandarin secured second place with 1117 million speakers.
• The report highlights that Bangla is the seventh most spoken language of the world as it has 228 million speakers in the world. Ethnologue provides an annual database of living languages of the world.
• It covers 7111 living languages across the globe. Apart from that, it also collects data on languages that have gone out of use in the recent past.
Bengali actor and former MP Tapas Paul dies at 61
• Famous Bengali actor and former Trinamool Congress MP Tapas Pal passed away on February 18, 2020. He was 61. Many celebrities in the film industry and the political world have expressed grief over the death of Tapas Paul.
• He was born in Chandan Nagar, West Bengal. Tapas Paul graduated from Hooghly Mohsin College and ventured into the Bengali film industry in 1980. His first film was Dadar Kirti.
• Tapas made her Bollywood debut in 1984. His first Hindi film was 'Abodh'. He shared a screen with Madhuri Dixit in this film. Tapas contested from Karimnagar seat on TMC ticket in 2014 and reached the Lok Sabha.
Prashant Kishore launches 'Baat Bihar Ki' campaign
• Prashant Kishore, a political strategist, launched a campaign called 'Baat Bihar Ki' on February 18, 2020. He said that he wants to work towards making Bihar one of the best states in the country.
• Prashant Kishore said that I thank Nitish Kumar for providing electricity to every household. But, Bihar is still far behind other states in electricity consumption.
• Prashant Kishore said that he wants to make Bihar's youth a leader in all spheres. He launched this campaign for the overall development of Bihar.
Lithium reserve found in India
• Researchers at the Atomic Energy Commission of India have discovered 14,100 tonnes of lithium reserves in Mandya near Bangalore. Lithium is a rare metal. It is mainly used for the manufacture of electric vehicle batteries.
• Chile produces 8.6 million tons of Lithium while Australia and Argentina produce 2.8 million and 1.7 million tons of lithium respectively.
• Lithium reserves in India are very low and they are also in different places. The government of India needs to take some steps towards clean energy in the country.
Foreign Ministry issues advisory for Indian citizens to visit five provinces of Iraq
• The Foreign Ministry has said that Indian citizens can consider visiting other places in Iraq except for five provinces - Nineveh, Salahuddin, Diyala, Anbar, and Kirkuk. The ministry said that these five provinces are not safe due to the conflict type situation there.
• Indian citizens who want to travel for employment and who already have work permits and appropriate visas can return to their jobs in safe areas in Iraq.
• The Ministry of External Affairs said that such people can inform the Embassy of India in Baghdad or the Consulate General of India in Erbil before traveling to Iraq.