Current Affairs in Short: 28 January 2020
Theatre artist Sanjana Kapoor has been selected for prestigious French honour of Knight of the Order of Arts and Letters.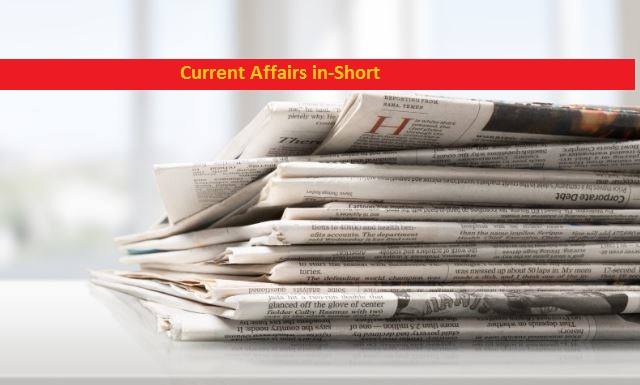 Current Affairs inshort
Sanjana Kapoor to get French honour
• A famous Indian theatre artist Sanjana Kapoor has been selected for prestigious French honour of ''Chevalier dans l'Ordre des Arts et des Lettres (Knight of the Order of Arts and Letters).
• She has been selected for her outstanding contribution to theatre. She has also worked in various Bollywood movies like Hero Hiralal" (1989), Salaam Bombay (1988) and 36 Chowringhee Lane" (1981).
• She is the daughter of late Shashi Kapoor and late Jennifer Kendal. Previously, some other Indian recipients of this honour are – Shah Rukh Khan, Hariprasad Chaurasia, Aishwarya Rai, Raghu Rai, Habib Tanveer, Arun Vasudev among others.
Lala Lajpat Rai birth anniversary observed
• Lala Lajpat Rai's birthday is celebrated every year on January 28. In the year 2020, Lala Lajpat Rai's 155th birthday was celebrated.
• He was born on January 28, 1865, in Monga district of Punjab. Lala Lajpat Rai was influenced by the Arya Samaj and helped to spread it all over the country.
• He was known as 'Kesari' because of his efforts. Lala Lajpat Rai died on November 17, 1928, after being injured during a protest against the Simon Commission.
Sunil Mehta becomes IBA Chief Executive
• Sunil Mehta has been appointed as the chief of the Indian Bank's Association (IBA). He is the former managing director and CEO of Punjab National Bank.
• Earlier, VG Kannan was holding this post but he demitted office as chief executive of IBA on December 31, 2019.
• IBA was established on September 26, 1946, as the representative body of banking management in India. Its objective is to promote and provide India a progressive banking system.
Global Potato Conclave 2020
•PM Modi inaugurated the Global Potato Conclave 2020 in Gandhi Nagar on January 28, 2020. He started this conclave through video conferencing from Delhi and addressed the farmers-representatives.
• PM Modi said that Gujarat has emerged as a hub of potato export and production in the last two decades. He also said that in the last 10 years potato production in India has increased by 20 percent while in Gujarat it has increased by 170 percent.
• PM Modi also said that the government is trying to make agriculture profitable for farmers. The government is creating new opportunities to create a wide network from farm to food processing and distribution.
India's first underwater metro nears completion
• India's first submerged metro rail is under construction in Kolkata. This metro will build under the Hooghly River.
• The construction work of this project is expected to be completed by March 2020. It takes 20 minutes to cross the Hooghly River with the help of a boat while it can be crossed in just one minute with the help of an underwater metro.
• Japan International Cooperation Agency, a Japanese company, is helping West Bengal to complete the project.