Current Affairs in Short: 9 November 2018
Defence Minister Nirmala Sitharaman has inducted three major artillery gun systems, including the globally combat proven M777 A2 Ultra Light Howitzers, K-9 Vajra-Tracked Self Propelled Guns and 6x6 Field Artillery Tractors into the Army.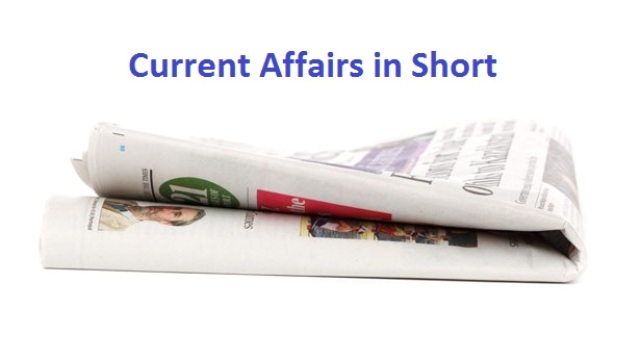 Current Affairs in Short: 9 November 2018
Defence minister inducts 3 major artillery gun systems into Army

• Defence Minister Nirmala Sitharaman on November 9, 2018 inducted three major artillery gun systems, including the globally combat proven M777 A2 Ultra Light Howitzers, K-9 Vajra-Tracked Self Propelled Guns and 6x6 Field Artillery Tractors into the Army.
• The 155mm, 39 Calibre Ultra light Howitzers have been procured from the US under Government to Government Foreign Military Sales and will be assembled in India by BAE Systems in partnership with Mahindra Defence.
• The Gun System is versatile, light weight and can be heli-lifted, thereby providing the much needed flexibility in deployment in various terrains. The Howitzer is currently in service in the US, Canadian, Australian and some other armies of the world.
• The 6x6 Field Artillery Tractor has been indigenously developed by Ashok Leyland and will provide the much awaited replacement for the ageing fleet of artillery gun towing vehicles.
• The first ten K9 Vajra 155mm/52 calibre guns have been imported from Hanwha Techwin of South Korea in Semi Knocked Down state and have been assembled by L&T in India.
• The balance 90 Guns will be largely manufactured in India with some major assemblies coming from South Korea. Its induction will give a huge boost to the firepower capability of Indian Army on India's western borders.

Researchers create bionic mushrooms that can produce electricity

• Scientists, including those of Indian origin, have created a bionic device that generates green power by 3D-printing clusters of cyanobacteria on an ordinary white button mushroom.
• The researchers took an ordinary white button mushroom from a grocery store and made it bionic, supercharging it with clusters of cyanobacteria that create electricity and swirls of graphene nanoribbons that can collect the current.
• Cyanobacteria's ability to produce electricity is well known. However, researchers have been limited in using these microbes in bioengineered systems because cyanobacteria do not survive long on artificial bio-compatible surfaces.
• The research team showed that the cyanobacterial cells lasted several days longer when placed on the cap of a white button mushroom versus a silicone and dead mushroom as suitable controls.

PM Modi to inaugurate several projects in Varanasi
• Indian Prime Minister Narendra Modi will dedicate several projects in Varanasi on November 12, 2018 including the newly constructed Multi-Modal Terminal on River Ganga.
• The terminal has been built as a part of the Union Government's Jal Marg Vikas project that aims at developing the stretch of River Ganga between Varanasi to Haldia for navigation of large vessels.
• The Prime Minister will also receive India's first container vessel that sailed from Kolkata on October 30, 2018.
• On the same day, Prime Minister will also inaugurate two National Highways projects and three sewage infrastructure projects.

Defence Ministry enhances financial powers of Vice Chiefs of three Services
• The Defence Ministry has enhanced financial powers of Vice Chiefs of the three Services.
• The move is aimed at expediting the decision-making process involved in the procurements for the Armed Forces.
• With this, the Vice Chiefs will be able to exercise financial powers up to five times more than the existing powers with an enhanced ceiling of Rs 500 crore.
• The decision has been taken to augment the arms and ammunition reserves of the Armed Forces to enhance their operational preparedness. It is expected to give another boost to the capacity of the three Armed Forces.

US to deny asylum to illegal border crossers

• The United States will no longer allow people who enter the country illegally to claim asylum, as per official sources.
• The new rule was published by the Department of Homeland Security and is expected to get President Donald Trump's signature shortly.
• According to the new rule, the President has the authority to restrict illegal immigration, if he determines it to be in the national interest.
• The Secretary of Homeland Security Kirstjen Nielsen and acting Attorney General Matthew Whitaker said new rule applies to aliens who violate such a suspension or restriction regarding the southern border.
• Meanwhile, the American Civil Liberties Union said that the right of asylum must be granted to anyone entering the country, regardless of where they were.

Angad Vir Singh Bajwa wins historic skeet gold at Asian Shotgun Championship
• India's Angad Vir Singh Bajwa won the gold medal with a world record score in the men's skeet final at 8th Asian Shotgun Championship in Kuwait.
• With the feat, he became the first Indian skeet shooter to win gold at a continental or world level event.
• Angad shot a perfect 60 out of 60 in the final round to claim top spot ahead of China's Di Jin who shot 58. UAE's Saeed Al Maktoum won bronze with a score of 46.
• Prior to this, India's 10m rifle mixed team pairing of Elavenil Valarivan and Hriday Hazarika struck gold with a junior world record score. They finished with a score of 502.1, which is a World and Asian Junior record in the event.
• The juniors had begun their campaign on November 5 with three silver and a bronze medal. India has so far won seven medals from the competition with two gold, three silver and two bronze.