Global Talent Competitiveness Index and India; new bird species found in Indonesia – Current Affairs
In the GTCI 2019 India ranks 80 while Singapore takes the lead in this region. Index covers 125 national economies and 114 cities.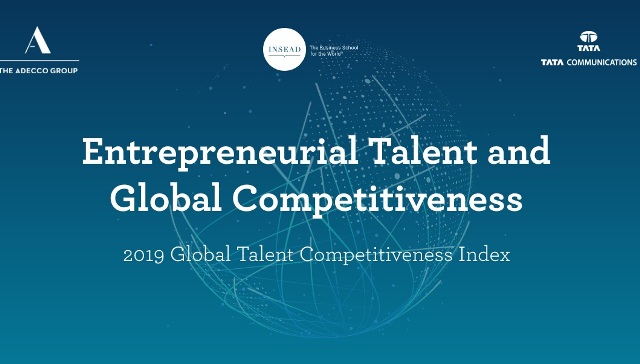 GTCI 2019 survey report
Story 1: Global Talent Competitiveness Index 2019: India Ranks 80, Switzerland tops
The Global Talent Competitiveness Index (GTCI) 2019 has released by INSEAD, Adecco Group and Tata Communications recently. In the GTCI 2019 India ranks 80 while Singapore takes the lead in this region. This year's report has a special focus on entrepreneurial talent - how it is being encouraged, nurtured and developed throughout the world and how this affects the relative competitiveness of different economies.
The report also reveals that cities rather than countries are developing stronger roles as talent hubs and will be crucial to reshaping the global talent scene. This growing importance of cities is due to their greater flexibility and ability to adapt to new trends and patterns – as nimble economic units where policy can be changed more swiftly, cities are thus more attractive for talent, especially entrepreneurial talent.
GTCI-2019: Major Highlights
The report measures levels of Global Talent Competitiveness by looking at 68 variables. The 2019 index covers 125 national economies and 114 cities (respectively 119 and 90 in 2018) across all groups of income and levels of development.
In this sixth edition, Switzerland continues to lead the 2019 Global Talent Competitiveness index, while Singapore and the United States come in second and third respectively.
The top three is followed by Scandinavian countries, Norway (4th), Denmark (5th), Finland (6th), and Sweden (7th).
Yemen has finished at the bottom of this year's index at 125th, just below Congo (124th) and Burundi (123rd).
India specific findings
India (80th) remains the laggard of this group. It performs better than its lower-income peers when it comes to growing (48th) talent, primarily by virtue of the possibilities for Lifelong Learning (38th) and Access to Growth Opportunities (41st).
An above-average Business and Labour Landscape (38th) and Employability (34th) raise the scores of the pillars related to Enable (70th) and Vocational and Technical Skills (72nd) that are otherwise hampered by the remaining sub-pillars.
Notwithstanding the scope for improvement across the board, India's biggest challenge is to improve its ability to Attract (95th) and Retain (96th) talent.
Above all, there is a need to address its poor level of Internal Openness (116th)—in particular with respect to weak gender equality and low tolerances towards minorities and immigrants—and its disappointing showing in Lifestyle indicators.
Top 20 rankings
| | | |
| --- | --- | --- |
| OVERALL RANK | COUNTRY | SCORE |
| 1. | Switzerland | 81.82 |
| 2. | Singapore | 77.27 |
| 3. | United States of America | 76.64 |
| 4. | Norway | 74.67 |
| 5. | Denmark | 73.85 |
| 6. | Finland | 73.78 |
| 7. | Sweden | 73.53 |
| 8. | Netherlands | 73.02 |
| 9. | United Kingdom | 71.44 |
| 10. | Luxembourg | 71.18 |
| 11. | New Zealand | 71.12 |
| 12. | Australia | 71.08 |
| 13. | Iceland | 71.03 |
| 14. | Germany | 70.72 |
| 15. | Canada | 70.43 |
| 16. | Ireland | 70.15 |
| 17. | Belgium | 68.48 |
| 18. | Austria | 68.31 |
| 19. | United Arab Emirates | 65.90 |
| 20. | Israel | 63.26 |
Liked the article? Do watch our videos too!
Story 2: Zoologists discovered two new bird species in Indonesia
Zoologists from Trinity College with partners from Halu Oleo University (UHO) and Operation Wallacea, have discovered two new bird species in the Wakatobi Archipelago of Sulawesi, Indonesia. Details of their discovery of the Wakatobi white-eye and the Wangi-wangi white-eye have been published on April 24, 2019 in the Zoological Journal of the Linnean Society.
Researchers have defined about the species found in Indonesia. For example, when considering closely related populations of organisms, it can be very hard to decide where to draw the line. Recent research has found that many distinct species inter-breed to some extent, blurring the lines further.
Image: Nicola Marples and David Kelly
Newly found birds
The two new white-eye species found by Trinity and UHO; they are both found on the Wakatobi Islands, just off mainland South-east Sulawesi. However, the two species could not be more different.
For sometime Wakatobi white-eye is under debate as researchers are looking for the answer how species changed from the early 20th century to the current day.
Another bird, Wangi-wangi white-eye, remained unnoticed until the beginning of the 21st century when Professor Marples' research group visited the island from which it takes its name.
These white eyed birds are adaptable and can have wide variety of fruits, flowers and insects.
These birds have expertise in making island colonies, which is why so many different white-eye species have evolved so rapidly, as different island populations become isolated and split off from their source populations.
The Wakatobi white-eye is found throughout the Wakatobi Islands and split from its mainland relatives in the last 800,000 years.
Wangi-wangi white-eye is a much older species found on only one tiny island, with its closest relatives found more than 3,000 km away.
About Sulawesi
Sulawesi is a particularly peculiar island known for its weird and wonderful plants and animals. It lies in the middle of Indonesia, which sits at a geographic boundary between Asian and Australian species. Sulawesi has an unusually high number of endemic species (unique species found nowhere else), due to the deep ocean trenches that isolated it from other land masses, even during past ice ages, when ocean levels dropped.
Download our Current Affairs& GK app from Play Store/For Latest Current Affairs & GK, Click here