New Indian pit viper species found; India, Vietnam commit to build peaceful Indo-pacific region - Current Affairs
With the discovery of this new species of Pit Viper, India now has five pit viper species, Moreover, it also makes Arunachal Pradesh the only state to have a pit viper named after it.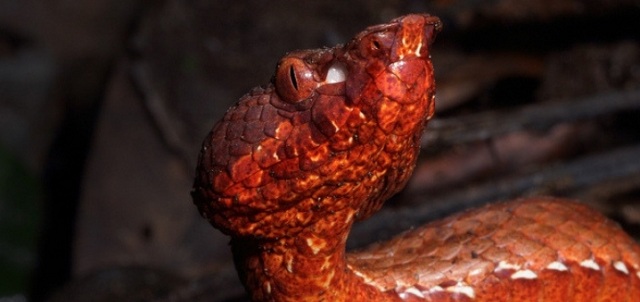 New species of pit viper snake
Story 1: India's new species of pit viper found in Arunachal Pradesh

A team of herpetologists led by Ashok Captain found a new species of venomous pit viper in the West Kameng district of Arunachal Pradesh. The other herpetologists in the team were Rohan Pandit, Bharat Bhatt, V. Deepak and Ramana Athreya.

The snake was discovered while a research team from Pune-based 'Indian Institute of Science Education and Research' was conducting surveys in Eaglenest region of Arunachal Pradesh.

This new species of reddish-brown pit viper has a unique heat sensing system. The species is scientifically known as 'Trimeresurus arunachalensis'.

As of now, the team does not have any idea about the natural history of Arunachal pit viper as it could find only one male viper of the species.

The team is conducting more surveys to sight the species and have an idea of its habitat, breeding, diet, etc.

The findings were published in the Russian Journal of Herpetology in its March-April volume.
Note
- With this addition, India now has five pit viper species.
- Moreover, it also makes Arunachal Pradesh the only state to have a pit viper named after it.
- This is the second snake discovered in Arunachal Pradesh after the non-venomous keelback in Lepa-Rada district of the state in 2018.
Which are the other four species of Pit Vipers in India?

The other four species are:

• Malabar

• Horseshoe

• Hump Nosed

• Himalayan

The Himalayan species of pit viper was discovered by the Chinese scientists. Himalayan species has round head and copper-coloured eyes; is about 1.5 metres in length; and is fierce and aggressive reptile. It was found in Tibet, Norther Sikkim, India and Western Bhutan.

The Hump Nosed Pit Viper is one of the deadliest snakes found in India, especially in the Western Ghats. This species is the one that is responsible for most snakebites in South India.

Malabar Pit Viper is majorly found in southern and western India. They are generally found on the ground, under the rocks or trees near the rivers and streams of Western Ghats.

Horseshoe Pit Viper is by and large green, brownish and yellow in colour. It is generally encountered in the Western Ghats.

Story 2: India, Vietnam commit to build peaceful Indo-pacific region

India and Vietnam on May 10, 2019 reiterated their commitment to build a peaceful Indo-pacific region, with respect to each other's national sovereignty and international law.

The announcement regarding the same was made after delegation level talks between Indian Vice President M Venkaiah Naidu and his Vietnamese counterpart Dang Thi Ngoc Thinh in the Vietnamese capital Hanoi. Vice President Naidu is on a 4-days visit to Vietnam.

During the talks, both the sides deliberated on cooperation in various areas and anticipated for a consensus of concerned countries on a code of conduct in the South China Sea.

Key highlights

• Naidu held extensive high-level talks with top leaders of the country including the Vice President Dang Thi Ngoc Thinh and Nguyen Kim Thi Ngan, the Chairperson of the National Assembly of Vietnam.

• India and Vietnam re-iterated their commitment for an open, transparent and inclusive regional architecture that enables citizens with freedom to navigate and travel, and conduct unconstrained economic activities.

• Both the sides pressed for peaceful settlement of disputes on the basis of the international law.

• Naidu described Vietnam as a "strategic pillar of India's Act East Policy and our key interlocutor in ASEAN".

• Both the sides showed their consent for further strengthening cooperation in various fields such as defence sector, outer space, oil and gas, renewable energy, science and technology, infrastructure development, agriculture and other sectors.

• Naidu stressed on the need for relaxed trade barriers and facilitation of free trade between the two countries.

• He stressed for direct air connectivity between the two countries, Indian carrier Indigo is planning to start direct flights between India and Vietnam later in 2019.

• Naidu assured Vietnam of continuation of long-term and short duration scholarships and training programmes provided by India under ITEC programme and by the Indian Council for Cultural Relations.

Indo-Vietnam relations

The bilateral trade between India and Vietnam stood at around USD 14 billion in 2018. This figure nearly doubled from USD 7.8 billion in 2015. Vice President Naidu expressed his belief in achieving bilateral trade target of USD 15 billion by 2020 with Vietnam.

Moreover, India has been continuously providing training support to Vietnamese Armed Forces. India has also undertaken USD 100 million Line of Credit for constructing the high speed patrol vessels for Vietnamese Border Guards.