Top 10 Weekly Current Affairs: 9 December to 14 December 2019
British Prime Minister Boris Johnson has got a large majority in the general elections. This result will pave the way for an easy Brexit.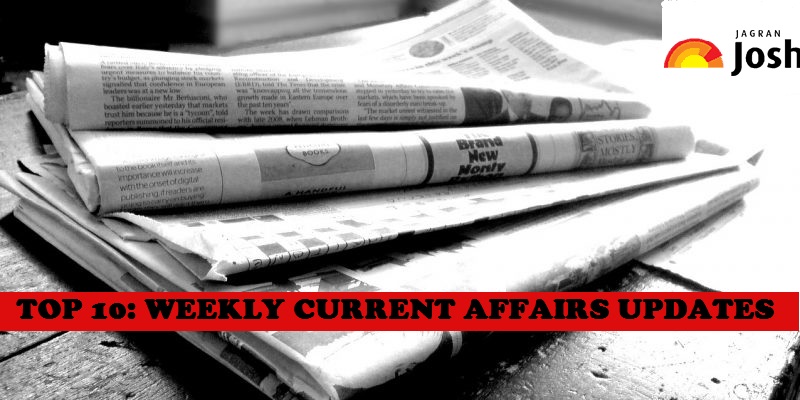 Top 10 Weekly Current Affairs
Boris Johnson wins clear majority in UK elections 2019
British Prime Minister Boris Johnson has got a large majority in the general elections. This result will pave the way for an easy Brexit. Johnson's Conservative Party secured 364 seats out of the total 650 seats in the British House of Commons. The main opposition leader, Jeremy Corbyn's Labour Party received only 203 seats. The current departure date of Britain from the EU is January 31, 2019.
President Ram Nath Kovind signs order to extend ILP regime to Manipur
President Ram Nath Kovind has recently signed an order that extends Inner Line Permit (ILP) to Manipur. Earlier, only three states were falling into the ILP regime but now Arunachal Pradesh, Nagaland, Manipur, and Mizoram comes under the ILP regime. The ILP document allows Indian citizens to enter into the ILP regime for a specific period of time.
Parliament passes bill to extend SC-ST reservation quota
The SC-ST reservation quota bill proposes to extend the reservation in the Lok Sabha and the state assemblies by another ten years. The bill was named 'The Constitution (126th) Amendment Bill' and it was passed in the Rajya Sabha on December 12. This bill was passed in the Lok Sabha with 352 members voting in its favor.
Disha Act by MP Govt, harsher punishment for crimes against women
The Andhra Pradesh Government has approved the enactment of the Andhra Pradesh Criminal Law (Amendment) Act to provide harsher punishment for rapists. The act calls for rapid trial within 14 days and judgment within 21 days. It is also known as the Disha Act that provides a death sentence to the rapists in the presence of conclusive evidence.
Citizenship Amendment Bill 2019
Citizenship Amendment Bill 2019 (CAB) has become a law as the president Ram Nath Kovind has signed the act. The bill was already passed by both houses of Parliament of India. Now, Hindus, Buddhists, Jains, Parsis, Sikhs, and Christians will be able to gain Citizenship in India. It has also reduced the compulsory residency duration from 11 years to 6 years to get Indian Citizenship.
Greta Thunberg becomes Time Person of the Year
Greta Thunberg, a Swedish climate change activist, has been honoured by TIME magazine as she was selected as the "Person of the Year". She is the only person who has achieved this honor at this young age. Time magazine described that she has become a voice of climate change among youth worldwide while she herself changed an idea into a global movement.
ISRO launches RISAT-2BR1 satellite
ISRO has recently launched RISAT-2BR1, earth observation satellite, along with 9 foreign satellites. It was launched by PSLV-C48 from the Satish Dhawan Space Centre at Sriharikota. RISAT-2BR1 is able to capture high-resolution images even in any adverse weather. It is believed that this satellite will help India for disaster management, border security, agriculture, and forestry.
India finishes with 312 medals in South Asian Games 2019
India won 312 medals in the 13th edition of South Asian Games (SAG) including 174 gold, 93 silver, and 45 bronze medals. The SAG was hosted by Nepal. The host country finished second with 206 medals while Sri Lanka managed to grab the third position with 251 medals. In these South Asian Games, Indian wrestlers won 15 gold medals while the swimming team won 52 medals overall.
PM Modi's tweet becomes Golden Tweet of India
Twitter India recently declared that PM Modi's tweet about the grand success of BJP in General Elections was the Golden Tweet of the year. It was most re-tweeted and liked tweet of 2019. However, Virat Kohli's tweet on MSD's birthday was the most re-tweeted tweet in the sports category. Kohli had posted a picture of MS Dhoni with him that became a great moment for cricket fans in India.
South Africa's Zozibini Tunzi becomes Miss Universe
Zozibini Tunzi has crowned Miss Universe on December 8, 2019. She belongs to South Africa and became the third Miss Universe from the country. Apart from her, Miss Puerto Rico Madison Anderson was the first runner-up and Miss Mexico Ashley Alvidrez was the second runner-up. Miss Columbia and Miss Thailand were also included in top-5 winners of Miss Universe 2019.