Top 5 Current Affairs: 3 August 2017
UNSC urged the member states to ensure the ability to take appropriate legal actions against those who are knowingly engaged in providing terrorists with weapons.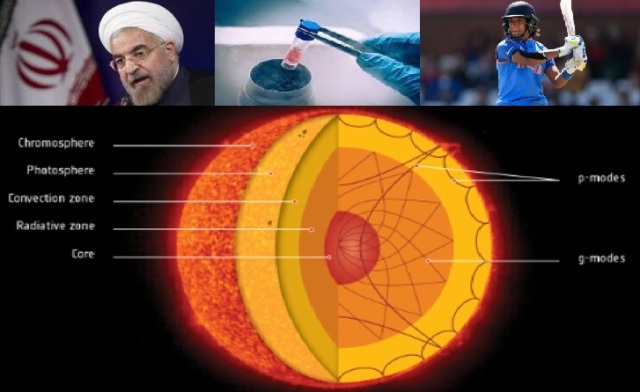 Top 5 Current Affairs of 3 August 2017
Hassan Rouhani sworn in as Iran's President for second term
Hassan Rouhani was sworn in as Iran's President for second term on 3 August 2017. Iran's supreme leader Ayatollah Ali Khamanei gave his official approval for Rouhani's appointment by giving him a decree to assign him his duties.
Rouhani will administer the oath before the parliament on 5 August 2017 and before that, he has to present his cabinet before the parliament for a vote of confidence. As per Iran's Election Law, a president-elect is required to get the Leader's approval before being sworn-in before the Parliament.
UNSC adopts resolution to prevent terrorists' access to weapons
The United Nations Security Council (UNSC) on 2 August 2017 unanimously adopted a resolution to prevent terrorists from acquiring weapons, particularly small arms and light weapons.
The resolution came after the UN body witnessed that there is a continuous flow of weapons, unmanned aircraft systems and improvised explosive device (IED) components between the Islamic State of Iraq and the Levant (ISIL), Al-Qaida, their affiliates and associated groups.
Cricketer Harmanpreet Kaur to be appointed as DSP by Punjab Government
The Punjab state government has initiated the process of appointing Indian all-rounder cricketer, Harmanpreet Kaur to the post of Deputy Superintendent of Police (DSP) in the state police.
The young star, whose astounding knock of 171 against Australia in the semi-finals steered India into the ICC Women's World Cup 2017 final, said that it was her childhood dream to work with the state police.
Human embryos edited to stop disease
An international team of scientists have discovered a technique, CRISPR, to successfully edit/free embryos of a piece of faulty DNA that causes deadly heart disease in families.
CRISPR is a gene-editing technique which allows scientists to insert, remove and correct DNA within a cell with pinpoint precision. The discovery published online on 3 August 2017 in the journal Nature.
Sun's Core rotates four times faster than its surface
A team of researchers have recently made a historic discovery of solar seismic waves which reveals that Sun's core is rotating four times faster than its surface. The study was published by NASA on 1 August 2017 in Astronomy & Astrophysics journal.
The researchers made the calculations using 16 years of observations from an instrument called GOLF (Global Oscillations at Low Frequency) on a spacecraft called Solar and Heliospheric Observatory (SOHO). SOHO is a joint project of the European Space Agency (ESA) and NASA.
The method was developed by a team of researchers led by astronomer Eric Fossat.