Top 5 Current Affairs: 7 September 2017
NITI Aayog has constituted an Expert Task Force, chaired by NITI Aayog Vice Chairman Rajiv Kumar, with an aim to create new jobs by enhancing India's export.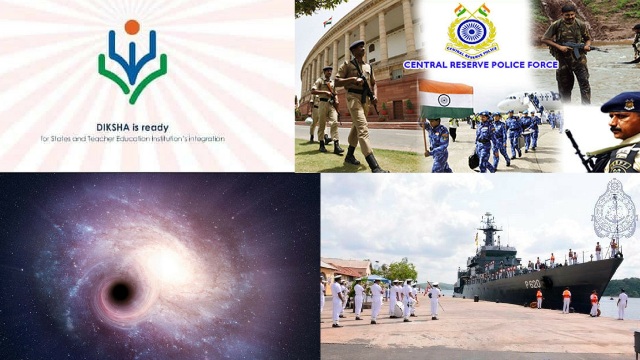 Top 5 Current Affairs
India and Sri Lanka begin Joint Naval Exercise SLINEX 2017 at Visakhapatnam
Indian Navy and Sri Lankan Navy on 7 September 2017 began the 2017 Sri Lanka-India Exercise (SLINEX) at Visakhapatnam, Andhra Pradesh. The exercise will conclude on till 14 September 2017.
SLINEX 17 aims at reinforcing strong neighbourly ties between both countries underscored by extensive maritime interaction and improved understanding. It will focus on fleet work, seamanship, communication, replenishment at sea, Visit Board Search and Seize (VBSS) operations as well as helicopter operations.
NITI Aayog constitutes Expert Task Force on Employment & Exports
NITI Aayog on 5 September 2017 constituted an Expert Task Force with an aim to create new jobs by enhancing India's export.
The task force will be chaired by the NITI Aayog Vice Chairman, Dr. Rajiv Kumar. It would also include Secretary, Department of Commerce and Secretary, Department of Industrial Policy and Promotion among others.
The expert force would be required to submit its report by November 2017.
Massive black hole discovered near heart of Milky Way
A giant black hole, nearly 100000 times the mass of the sun, has been detected near the heart of the Milky Way.
The black hole was found hiding in a huge cloud of molecular gas called CO–0.40–0.22. It is second largest known black hole. The finding is the best evidence yet of a long-sought class of 'intermediate-mass' black holes, the existence of which could explain how super massive black holes grow so terrifyingly vast.
Union Government launches DIKSHA Portal for teachers
The Union Ministry of Human Resource and Development (HRD) on 5 September 2017 launched DIKSHA Portal for providing digital platform to teachers for making their lifestyle more digital.
DIKSHA will enable, accelerate and amplify solutions in the realm of teacher education. It is built considering the whole life cycle of teacher beginning from the time when they enrol in Teacher Education Institutes (TEIs) to the time they retire as teachers.
States, government bodies and even private organisations can integrate DIKSHA into their respective teacher initiatives based on their goals, needs and capabilities.
Home Ministry extends financial powers of chiefs of CRPF, BSF
The Ministry of Home Affairs has enhanced the financial powers of the Chiefs of central armed police forces like CRPF and BSF and other central agencies, empowering them to spend up to Rs 15 Cr for executing major projects and Rs 1 Cr for minor works including repairing of residential buildings.
The director generals of CISF, ITBP, SSB, NSG, Assam Rifles and National Investigation Agency and the director of Intelligence Bureau will also be able to exercise the same enhanced financial powers. The amount sanctioned for major projects has gone up to Rs 15 Cr from Rs 10 Cr previously. The fund for minor projects has also been increased to Rs 1 Cr from Rs 50 lakh previously.