Top Current Affairs Quiz: 14 October 2019
The day's updated quizzes cover topics such as India's growth rate, Phenakistoscope and Dutch Open 2019 among others.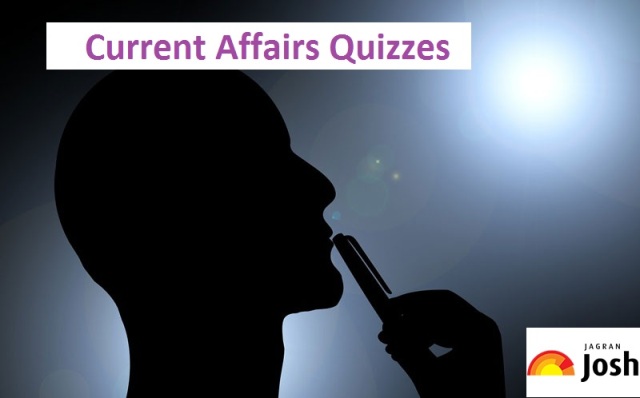 current affairs quizzes
14 October 2019: The Current Affairs Quizzes section of Jagranjosh aims to help every competitive exam aspirant to revise the day at ease. The day's updated quizzes cover topics such as India's growth rate, Phenakistoscope and Dutch Open 2019 among others.
1. Which medal was won by Indian boxer Manju Rani in the 48-kilogram weight category of the Women's World Boxing Championships?
a. Gold
b. Silver
c. Bronze
d. None of the Above
2. What percent of India's growth rate has been projected by the World Bank for the current financial year?
a. 8%
b. 7%
c. 6%
d. 5%
3. When is World Day Against the Death Penalty observed?
a. 10 October
b. 11 October
c. 12 October
d. 13 October
4. Which country's energy company 'Total' has announced to buy 37.4 percent stake in Adani Gas?
a. Nepal
b. France
c. China
d. Russia
5. Which international organization has recently published a report about the violation of labour rights in tea gardens of an Indian state?
a. Oxfam
b. WWF
c. CARTA
d. Obama Foundation
6. On which social media platform, Prime Minister Modi has become the world's most-followed global leader?
a. Twitter
b. Facebook
c. Instagram
d. YouTube
Also Read | Weekly Current Affairs Quiz: 07 October to 13 October 2019
7. What is the name of Indian nun who was declared saint by Pope Francis recently?
a. Norah Williams
b. Jenifer Gobalchar
c. Vandana Narayan
d. Mariam Thresia
8. What is the name of the person who invented 'Phenakistoscope' and Google celebrated his 218th birthday with a Doodle recently?
a. John Pattison
b. Joseph Antoine Ferdinand
c. Dracker Ontario
d. Richard Brown Williamson
9. Which Indian player has won Dutch Open Badminton 2019?
a. Harshit Chaudhary
b. Arpit Gupta
c. Vivek Joshi
d. Lakshya Sen
10. Which state/UT has started postpaid mobile service after 70 days of ban?
a. Bihar
b. Uttar Pradesh
c. Jammu and Kashmir
d. New Delhi
Answers
1. (b) Silver
Indian boxer Manju Rani participated for the first time in this championship. She was defeated 4–1 by Ekaterina Paltseva of Russia in the final. At the same time, India has won 1 silver medal and 3 bronze medals in this competition.
2. (c) 6%
In earlier estimates, India's growth rate for 2018-19 was 6.9% but in its recent edition of growth rate projection, the World Bank has estimated 6% of growth rate for India. As per the World Bank's estimate, India's growth rate in 2021 will be 6.9%.
3. (a) 10 October
On this day, people raise their voice against the death penalty. The United Nations Human Rights Office has called on all countries to approve and implement a global treaty that calls for the abolition of the death penalty.
4. (b) France
The announcement came nearly one year after both companies announced a 50:50 joint venture for natural gas imports and retail sales. After this agreement, 'Total' and 'Adani Parivar' will own 37.4-37.4% shares. The remaining 25.2% stake will be held by common investors.
5. (a) Oxfam
As per the Oxfam's latest report, labours get just Rs. 137-167 despite working for more than 12 hours every day. However, the Assam government has recently announced to raise workers' daily wages Rs. 351 but situation has not yet improved. Assam is the biggest tea producer state.
6. (c) Instagram
Over 30 million people are following Prime Minister Narendra Modi on Instagram, which is the highest number of followers of any leader in the world. Indonesia's President Joko Widodo comes second because 25.6 million people follow him and Barack Obama comes third with 24.8 million followers.
7. (d) Mariam Thresia
Mariam Thresia, a nun from Kerala, has been given the title of saint 93 years after her death. Sister Mary Thresia was given the title of Saint by St. Francis of Vatican, Pope Francis.
8. (b) Joseph Antoine Ferdinand
Joseph Antoine Ferdinand Plateau is known for his invention 'Phenakistoscope'. This invention, later, gave birth to the modern day cinema and moving images. He invented this device in 1832.
9. (d) Lakshya Sen
Indian badminton player Lakshya Sen won the Dutch Open title 2019. He defeated Yusuke Onodera of Japan with 15-21, 21-14, 21-15. Lakshya Sen belongs to the Uttarakhand state. He is the student of Prakash Padukon Badminton Academy.
10. (c) Jammu and Kashmir
Postpaid mobile services in 10 districts of Jammu and Kashmir resumed on October 14 afternoon. All mobile and landline services were stopped from August 5 in the valley due to security concerns in the area. Services were blocked since Article 370 was revoked.
Also Read | PM Modi Becomes Most Followed Global Leader on Instagram
Also Read | Nun Mariam Thresia receives title of 'Saint' 93 years after her death