Jasprit Bumrah: List of Records in all International Formats
Jasprit Jasbir singh Bumrah the backbone of the Indian bowling attack. Currently he is the number one ICC ranking holder. Bumrah is considered the best bowler in the slog over in the all formats of the cricket. He consistently bowls at 140–145 kilometres per hour making him one of the fastest bowlers in India. He also specialises in-swinging yorker deliveries.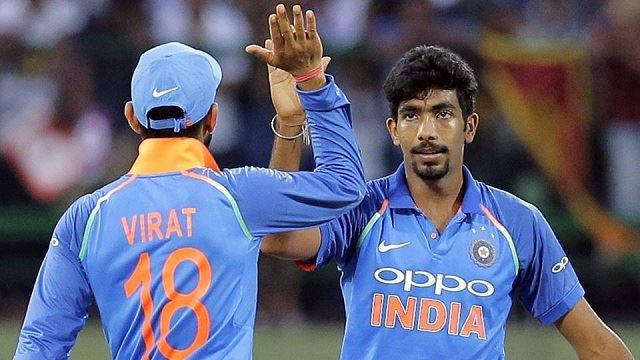 Jasprit Bumrah
Full name: Jasprit Jasbirsingh Bumrah
Date of Birth and Place: 6 December 1993 (age 25), Ahmedabad, Gujarat, India
Height: 5'9 Inch
Nick Name: JB, Jassi
Batting: Right-handed
Bowling: Right-arm fast
Role: Bowler
Coach/Mentor: Kishor Trivedi
ODI Debut: Against Australia at Sydney on Jan 23, 2016
Test match debut: Against South Africa at Cape Town on Jan 5-8, 2018
T-20 I Debut: Against Australia at Adelaide on Jan 26, 2016.
The Indian bowling sensation of the current era Jasprit Bumrah has been playing very crucial role for Indian team in the on-going cricket world cup 2019. He has picked up 18 wickets at the economy of just 3.50 in the current world cup. He is considered as one of the most miser bowler in the current formats.
Former New Zealand skipper Daniel Vettori said the "this Indian speedster is bowling exceedingly well in the ongoing World Cup and is "basically unplayable at this stage".
Lets have a look on the Bowling career records of the Jasprit Bumrah
One Day International career of Bumrah:
Bumrah have made his ODI debut Against Australia at Sydney on Jan 23, 2016. Till date he has taken 103 wickets in the 57 matches.
Jasprit Bumrah has become the second fastest Indian to take 100 wickets in ODI cricket.He is just one match behind the Md. Shami who claimed 100 wickets in the 56 matches.
Bumrah has strike rate of just 4.5 per over which is the best part of his bowling attack. He has claimed 4 wickets in an innings for five times while 5 wicket haul in an match. Bumrah is the best bowler in the death over in any format of the cricket.
Fastest 100 wickets by Indian bowlers in ODI;
1. Mohammed Shami - 56 matches
2. Jasprit Bumrah- 57 matches
3. Irfan Pathan -59 matches
4. Zaheer Khan- 65 matches
5. Ajit Agarkar- 67 matches
Test Match Career of Bumrah:
Bumrah has played just 10 test matches so far. He made his test match debut against against South Africa at Cape Town on Jan 5-8, 2018.
Bumrah had taken 49 wickets in 10 test Matches and his best matching figure is 6/33. he has taken 5 wickets for 3 times while his economy is just 2.66 per over.
Jasprit Bumrah is the first Asian bowler to take 5 wickets in a test innings in South Africa, England and Australia during the same calendar year.
Although Bumrah is new in the test match format but he has broken a 40 year old Indian record in the test match.
Jasprit Bumrah surpassed Dileep Doshi to register most wickets for India in his debut year in Test cricket with 48 wickets.
He is also the third highest wicket taker in test matches in a debut year with 48 wickets in 9 matches while Dileep Doshi had taken 40 wickets in his debut Test year in 1979.
T-20 I Career of Jasprit Bumrah:
Bumrah is considered a bowler of rapid fire format that is why he has taken 51 wickets in just 42 matches with economy of just 6.71; his best bowling record is 3/11.
Bumrah has strike rate of 18 in this format. It means he takes a wickets after spending just 18 runs which is very rare in this format.
How much Bumrah Earns (2018):
Contract fee from BCCI (Annual salary): Rs. 7 cr
Test Match fee: Rs. 15 lac per match
ODI Fee: Rs. 6 lac per match
T-20 I: Rs. 3 lac per match
IPL 11 Season: Rs. 7 cr (Mumbai Indians)
So from the above given facts it is clear that Jasprit Bumrah is the very talented player in all formats of the cricket. He has taken 18 wickets with economy rate of just 3.30 in the Cricket World Cup 2019 so far. It is expected that in the coming years we will hear a lot about this Indian fast bowler.
Rohit Sharma: Records in International Cricket
Cricket World Cup Winning Captains: Year wise complete list since 1975