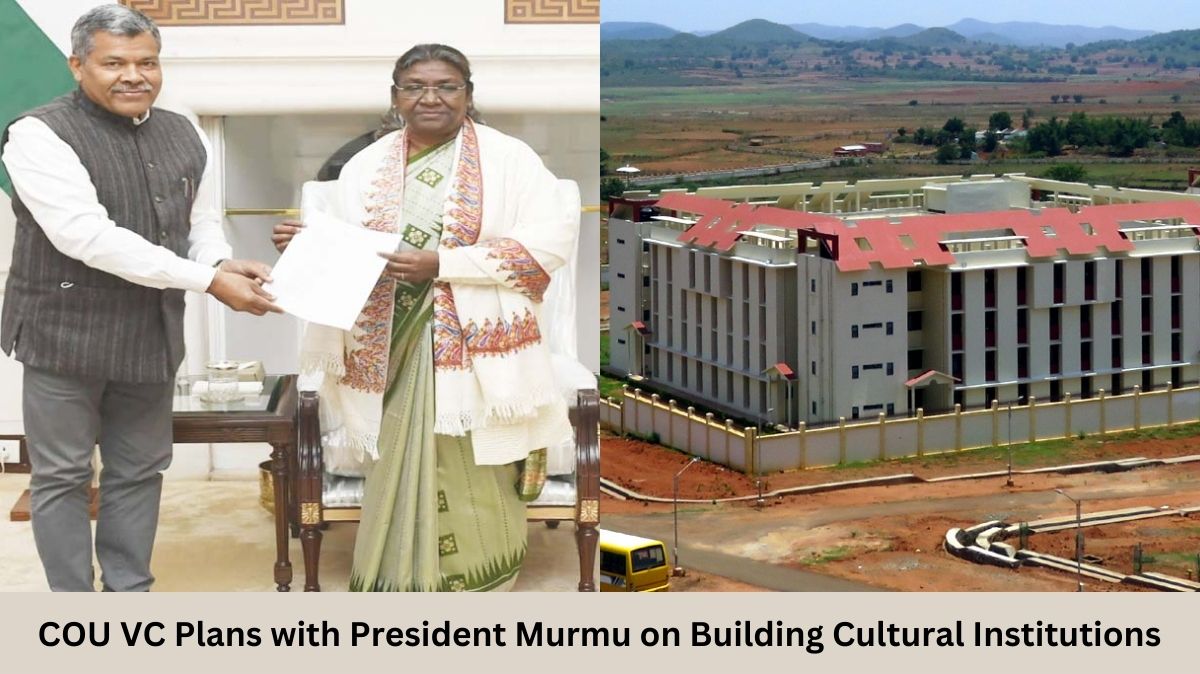 The Vice Chancellor of the Central University of Odisha has planned on initiating cultural institutions on the university's premises. The COU is located in Koraput in Odisha state. The VC University recently met the Indian President Droupadi Murmu on January 19, 2023 (Thursday).
After the meeting, VC is quite optimistic and excited to set up a world-class tribal library, archaeological museum and research institute on its premises. As per the latest notification, Professor Chakradhar Tripathy who is the Vice-Chancellor, of the Central University of Odisha, is encouraged by the establishment of various cultural centres after he met President Droupadi Murmu at Rashtrapati Bhavan on Thursday.
आज 17 जनवरी 2023 को उड़ीसा केंद्रीय विश्वविद्यालय कोरापुट के कुलपति डा चक्रधर त्रिपाठी ने राष्ट्रपति भवन में महामहिम द्रौपदी मुर्मू जी से मिले। उन्होंने कोरापुट में विश्व स्तरीय जनजातीय पुस्तकालय, पुरातत्व संग्रहालय और शोध संस्थान का खोलने का प्रस्ताव दिया। (1/2) pic.twitter.com/gXPtckNILf

— CENTRAL UNIVERSITY OF ODISHA (@cuokoraput) January 17, 2023
Meeting Highlights
The Central University of Odisha will soon be opening a superior tribal library, an archaeological museum as well as a research institute in Koraput.
A positive discussion was conducted with the President of India regarding the planning and implementation of several cultural institutions. In the meeting, the president not only appreciated the academic initiative of the Vice Chancellor but also agreed upon the launch of cultural tribal centres as well as research institutes as stated by the official notice.
University's Objectives
Professor Chakradhar Tripathy is looking forward to the set-up as he is cheerful and confident that the new cultural institution will be commencing on the University's premises. Moreover, the Centres will be inaugurated in this university as soon as possible.
As per the reports, these cultural institutions will be beneficial as they will be useful and helpful in the field of Conservation and Research on the language, culture and knowledge of the tribal people in the region as well as people across the nation.
The official circular stated that the Central University of Odisha is also trying to engage multiple experts or international researchers to organize and promote research on indigenous cow milk, which has the potential to kill cancer cells as described in the Hindu Vedas. The varsity sources described that in an attempt to promote sports culture in the university, a permanent sports Professor will be appointed.
Also Read: IGNOU June TEE Admit Card 2022 (OUT): Download Hall Ticket For Online Programme at ignou.ac.in