Interview with IIFT Alumnus: Haider Talat
Mr. Haidar Talat, an alumnus of Indian Institute of Foreign Trade shares his experience of the IIFT entrance exam. He also talks about the preparation tips and strategies that candidates can take up to nail the IIFT entrance exam.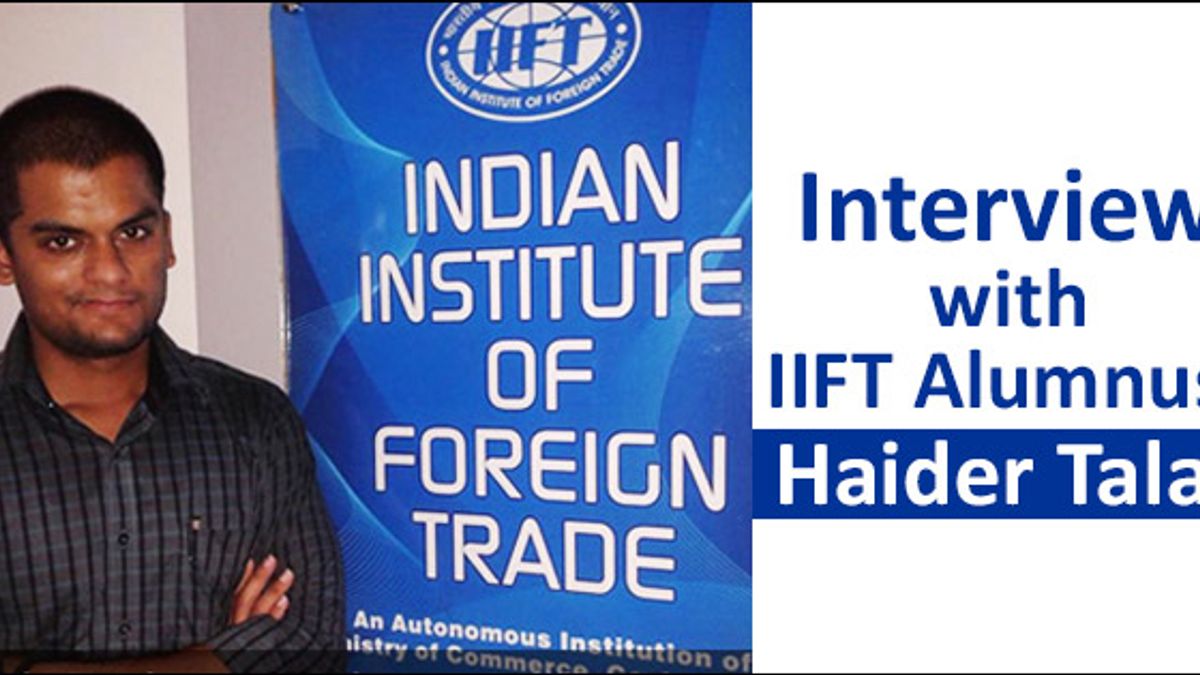 Interview with IIFT Alumnus: Haider Talat
Mr. Haider Talat is an alumnus of the IIFT Kolkata campus. He completed his MBA in International Business from IIFT Kolkata in 2014. Prior to this, he did his Civil Engineering from VIT Vellore. He was the Vice-President of the prestigious student body of IIFT called International Management Forum (IMF). He is currently working as a consultant for 'Global Trade Management' at KPIT Ltd. And he is also the co-founder of "Trade and Beyond", India's first Online Trade Training Platform. In this, interview he has shared some insights with regards to the IIFT Entrance Exam.
Jagranjosh.com: Why did you decide to go for the MBA program? What was your aim behind it?
Haider Talat: After completing my engineering, I started working as a civil engineering consultant in the power sector. During those years of my job, I realized that in any industry (manufacturing or service) there are projects which require a vision and a strategy to execute that vision. As an engineer, I was, at best, a small part of the execution of a strategic plan. I wanted to reach that place, where I could have devised those plans and I wanted to do that really fast in life so I decided to take up a management degree from a premium B-School.
Jagranjosh.com: Did you try for other MBA Entrance exams as well? If yes, what was your experience?
Haider Talat: Apart from IIFT entrance I appeared for the CAT entrance exam. I personally found the level of difficulty of the question paper to be coming down as compared to past years.
Jagranjosh.com: In which sections of IIFT exam you did the best and why?
Haider Talat: I did best in the general awareness section. I am an avid reader who is curious by nature. If I come across anything I don't understand I will dive deep into it and explore. This habit helped me in understanding various dimensions of the GK section like Indian economy, business world, sports, politics, current affairs etc about which I had not known much during my early engineering days.
Jagranjosh.com: What was your strategy for IIFT exam preparation? Also, share specific section wise preparation strategy?
Haider Talat:
Quantitative section: Most of the mathematical concepts here are basic (like algebra, trigonometry, number system etc.) which all of us have already studied in school. So, regular practice with speed and doubt clearing was my focus. I had bought question banks available in the market and I started solving those all. Wherever I would get stuck, I used to refer to books like Arun Sharma's Quantitative Aptitude.
Qualitative section: Understanding of reading comprehension is a must and it requires a good vocabulary. 'Word power made easy' by Norman Lewis was my bible for vocabulary. I needed to improve grammar so I took up "Wren & Martin". I started reading various editorial sections of newspapers to add to my comprehension skills and General awareness.
Data Interpretation: This was the tricky part. I needed to solve around 30-40 sample question papers in those 3 months of my preparation to get a hold of the subject. I believe practice alone is the key here. And one should be proficient with calculations.
General Awareness: I don't remember missing a single day's newspaper since I started preparing for MBA Entrances untill my interview. At the beginning (for those who don't have a habit of reading) it may be boring but as you start to understand what's written in the news, you will be addicted to newspapers. And that's a very good sign.
Also Read: CAT 2017 Topper Chhavi Gupta – Video Interview
Jagranjosh.com: Did you take a preparation break after your graduation?
Haider Talat: No I didn't. I would usually have very less time left after my job and didn't want to waste it in travelling to coaching institutes. Internet was my troubleshooter and guide. And I think it was worth it.
Jagranjosh.com: Did you crack the IIFT exam in your first attempt?
Haider Talat: Yes.
Jagranjosh.com: Do you think taking coaching classes is necessary to crack the IIFT exam?
Haider Talat: I would not say coaching classes. But a specific preparation, especially for the general awareness section, is indeed necessary.
Jagranjosh.com: Why did you choose IIFT for final admission?
Haider Talat: There are a number of reasons for that:
If you look at statistics, International business (read specifically Export and import of products) forms close to 40% of our GDP. In every business school, streams like marketing, finance, HR etc are regularly taught but not international business. Very few people realize that International business requires a certain unique set of skills and knowledge (e.g. Trade operations, international market entry strategy, foreign trade policy etc). The growth story of India that we see today is a result of Liberalization of 1991 after which we opened our economy for international business. There is just one B-School which teaches International Business and that's the Ministry of Commerce run "IIFT".
I did not have to think again that if I wanted to be a part of India's growth story in the international realm, IIFT was the choice for me.
Jagranjosh.com: Do you think a change is required in the currently followed examination pattern?
Haider Talat:
Most of the B-Schools today have decreased the weightage of the entrance exam marks when it comes to final selection. They have started to award marks to students based on their past academic performance (like % age in school board exams and graduation college etc). I think that's gross injustice since the marks-awarding-schemes are not similar across various states in this country. A student appearing for the board exams of state A may get sizeably lesser marks as compared to a student in state B for an equally good performance.
I discourage such a system and think that a student should be rated on his current performance and not his past.
Jagranjosh.com: What is your advice to the IIFT aspirants?
Haider Talat: As a country, we have realized that to realize our dream of becoming a super-power we need to integrate our self into the world economy. We see how to curb the staggering Current account deficit (and stabilize the economy) the finance ministry is promoting investment in our country by permitting FDI and FII in various industries. This is the future. That day is not far when no big organization will be specific to a country but will be global. If you want to become a part of this growth story of India and the world then I believe IIFT is the best choice for you.
Also Read: CAT 2017 Toppers: Pattrick D'Souza – The Man who Bell'ed the CAT 4 times
Some of his Favorite moments at IIFT:
A picture at the PM's residence of IIFT students along with the Ex-HRD minister and Ex-commerce minister -
IIFT while organizing the National IT Conclave (The biggest student organized event of the country) -
So, here all that Haidar had to share about the IIFT Entrance Exam. To read more such toppers interview from popular MBA entrance exams such as CAT visit the MBA section at our website, www.jagranjosh.com. Alternatively, you can also subscribe to our newsletter to receive MBA related news and notifications directly to your inbox.