Joe Biden Calls Air India-Boeing Deal a Historic Event, Will Grant 1 Million Jobs in US
A historic deal has been signed up between India and the US Government for about 34 billion dollars. Air India is about to order Boeing Aircraft which will invent one million jobs in America. On February 14, 2023, US President Joe Biden appreciated Air India's decision to purchase 220 Boeing Aircraft and further calls it a 'historic agreement'.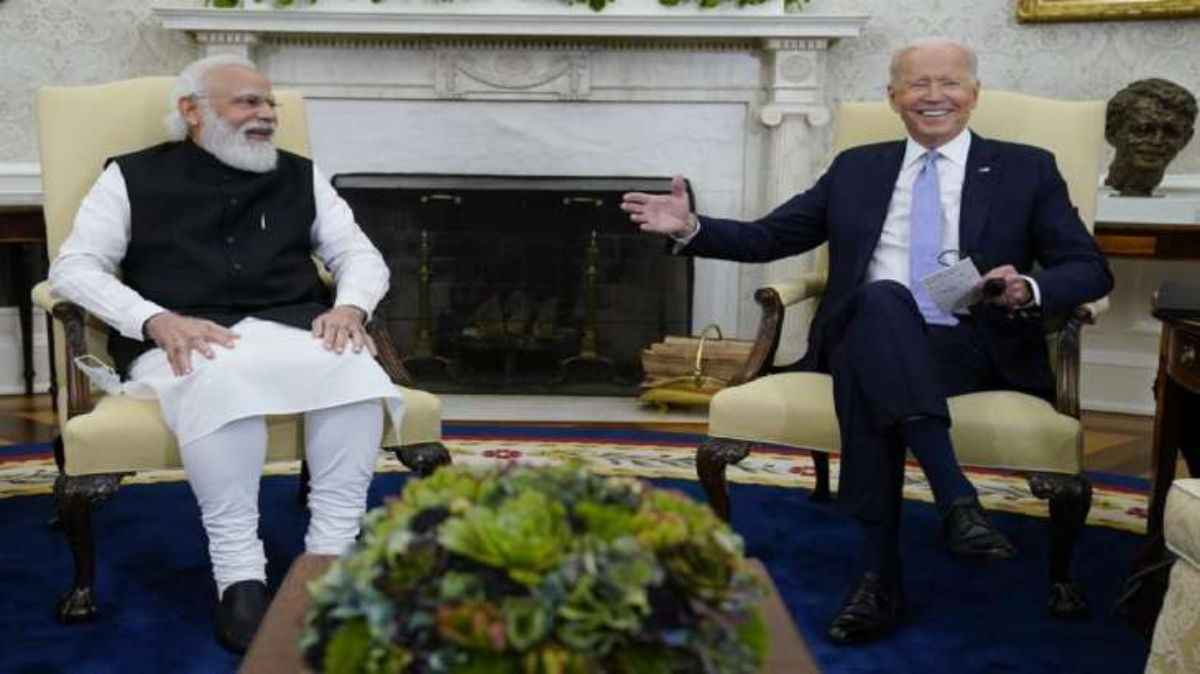 Air India Boeing Deal 2023
An official statement has been recently released wherein Joe Biden at the White House stated that the United States will be leading the world in manufacturing in the coming future. He also cherished India's purchase of more than 200 American-made Aircraft through a historic agreement signed between Air India and Boeing.
He further concluded, "This purchase will support over one million American jobs across 44 states, and many will not require a four-year college degree. This announcement also reflects the strength of the U.S.-India economic partnership".
This Air India-Boeing deal will result in as many as 1 million jobs across several 44 regions in the United States of America. President Joe Biden conveyed his regards to the Indian Prime Minister Narendra Modi in a call on February 14, 2023 (Tuesday).
Air India to purchase 220 Boeing aircraft, US President Joe Biden hails it as a "historic agreement" pic.twitter.com/ahLCs3r9Ig

— ANI (@ANI) February 14, 2023
Strengthening US-India Relations
On the official announcement of the Air India-Boeing deal on February 14, 2023 (Tuesday), Joe Biden propounded that with Prime Minister Modi's government, he looks forward to intensifying the ties between India and the US government.
From the White House, the US President declared that Boeing and Air India have reached an accord under which the Indian airline will acquire 190 B737 MAX, 20 B787 as well as 10 B777X for a total of 220 firm orders at worth USD 34 billion list price.
It includes customer options for an additional 50 Boeing 737 MAX along with 20 Boeing 787, adding up to 290 aeroplanes. The money invested will be USD 45.9 billion at the list price. Joe Biden discusses the "landmark" agreement with PM Narendra Modi.
AI is committed towards its transformation journey. As a part of the same, we are celebrating the order of 470 aircraft with @Airbus @BoeingAirplanes @RollsRoyce @GE_Aerospace @CFM_engines pic.twitter.com/NvkeZqZ0xt

— Air India (@airindiain) February 14, 2023

Growing Job Demands in US

According to the pact signed between India and US government, the purchase value of about 34 billion dollars will support about one million American jobs. These jobs will be created across 44 states and several students will not require a four-year college degree, Biden affirms.

Moreover, the Air India order is being considered Boeing's third biggest sale ever in dollar value as well as second in terms of the number of planes bought.

Glad to speak with @POTUS @JoeBiden. Excellent discussion to review the ongoing and new initiatives to further deepen India-US Comprehensive and Global Partnership. We welcome the landmark @airindiain-@Boeing agreement which will help create new opportunities in both countries.

— Narendra Modi (@narendramodi) February 14, 2023

Expansion of Economy

The two leaders connected over a phone call to discuss the strengthening plans for the US-India relationship. They also committed to continuing working together or in groups like the Quad in order to escalate economic growth for both countries. This will not only lead to expanded cooperation on shared priorities but will also contribute to the overall development of the economic systems globally.

This official announcement follows the inaugural launch of the US-India recent initiative on Critical and Emerging Technology (iCET) which was put forward by the two countries. This initiative aims at broadening the strategic technology partnership along with defence industrial cooperation between the governments, businesses as well as different universities of the two nations. US President Joe Biden and Indian Prime Minister Narendra Modi publicized the iCET scheme in May 2022. The iCET event was organized in Washington DC.

It came to light that PM Modi expressed a desire to enhance bilateral cooperation in major developing areas comprising space, semiconductors, supply chains, defence co-production and co-development and knowledge and innovation ecosystems. Additionally, the two leaders agreed to remain in further contact during India's ongoing G20 Presidency to corroborate its success.

Also Read: Rayyana Barnawi Makes History, Becomes First Woman Astronaut from Saudi Arabia to Visit Space Station, Read About Her
Take Weekly Tests on app for exam prep and compete with others. Download Current Affairs and GK app
एग्जाम की तैयारी के लिए ऐप पर वीकली टेस्ट लें और दूसरों के साथ प्रतिस्पर्धा करें। डाउनलोड करें करेंट अफेयर्स ऐप
Android
IOS