Ashok Gehlot takes oath as Chief Minister of Rajasthan; Sachin Pilot as Deputy CM
The Indian National Congress (INC) emerged as the single largest party in Rajasthan, winning 99 seats on its own and one more with RLD in the 2018 Rajasthan Assembly Elections.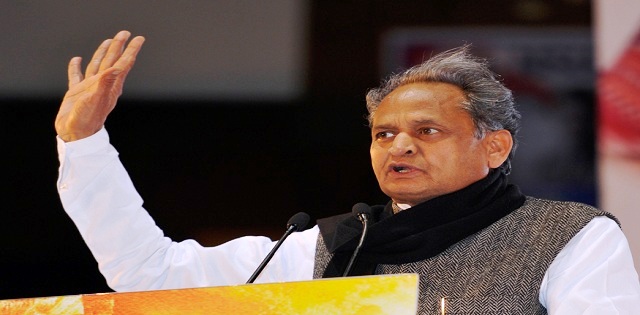 Ashok Gehlot sworn-in as Rajasthan Chief Minister
Ashok Gehlot on December 17, 2018 took oath as the Rajasthan Chief Minister for a third time; while, Sachin Pilot was sworn-in as the Deputy Chief Minister in Jaipur's Albert Hall, Rajasthan.
Gehlot and Pilot were administered the oath by Rajasthan Governor Kalyan Singh. Congress President Rahul Gandhi, former Prime Minister Manmohan Singh, former CM Vasundhara Raje, Congress leader Jitin Prasad and other leaders attended the swearing-in ceremony.
Gehlot and Pilot were named for their respective posts as Rajasthan CM and Deputy CM on December 14, 2018 after Congress President Rahul Gandhi met both Gehlot and Sachin Pilot in Delhi on December 13, 2018.

Two-time chief minister Ashok Gehlot and Rajasthan Congress Chief Sachin Pilot were competing against each other in the race for the post of Rajasthan Chief Minister.
Why choice of Rajasthan Chief Minister candidate suddenly became so crucial?
The choice of Rajasthan Chief Minister is crucial as in the Rajasthan Elections 2018, Congress' tally stopped at 99, one short of a majority. That made it critical for the party to make a guarded choice, keeping 2019 General Elections in mind.
Rajasthan Elections Results 2018

The Indian National Congress (INC) emerged as the single largest party in Rajasthan, winning 99 seats on its own and one more with RLD in the 2018 Rajasthan Assembly Elections.

The Bharatiya Janata Party (BJP) trailed behind with 73 seats and others fetched 27 seats. The Bahujan Samaj Party (BSP) showcased an impressive run by winning six seats, and Hanuman Beniwal-led Rashtriya Loktantrik Party won three seats.

The Gujarat-based Bharatiya Tribal Party (BTP) and Communist Party of India (Marxist) won two seats each and Rashtriya Lok Dal (RLD) won one seat.

Due to the death of one candidate, elections were called off in one seat in the state, making it an election for 199 seats in the state, putting the majority at 100 seats.
Ashok Gehlot
Gehlot has served two terms as the Chief Minister of Rajasthan, once from 1998 to 2003 and then from 2008 to 2013.
In his early years, Gehlot headed the Rajasthan unit of the National Students Union of India (NSUI) and was a staunch loyalist of the Gandhi family.
After his first proper job as NSUI's Rajasthan president from 1974 to 1979, he went on to become the Jodhpur district Congress Committee President from 1979 to 1982.
Gehlot was first-elected to Parliament in 1980 and went on to win Lok Sabha elections four more times.
Since 1999, he has represented the Sardarpura assembly constituency, winning five consecutive terms in the House.
Gehlot has served various ministries such as Union Ministry of Tourism; Civil Aviation; Sports; and Textiles in different stints between 1982 and 1993.
He was also the AICC General Secretary in charge of Delhi and the Sewa Dal cell from 2004-2009.
Gehlot's election history as MP


Year

Position

1980–84

Member of 7th Lok Sabha

1984–89

Member of 8th Lok Sabha

1991–96

Member of 10th Lok Sabha

1996–98

Member of 11th Lok Sabha

1998–99

Member of 12th Lok Sabha
About Sachin Pilot
• In 2013, when the Congress faced its worst defeat in the state, winning just 21 seats against the BJP's 163, Party President Rahul Gandhi handed the reins of the state to Sachin Pilot, a two-time parliamentarian and son of former leader Rajesh Pilot who died in 2000 in a road accident.

• Pilot had made a vow in 2014, when the party lost in the Lok Sabha elections, to not wear a turban till the Congress returns to power.

• Pilot served as Minister in the UPA government in different capacities. He was elected as an MP from his father's constituency Dausa in 2004 and became the youngest member of the parliament. He was elected again from Ajmer in 2009.

• Pilot was also the Minister of State for Communication and IT in 2009 and Minister of State (Independent charge) for Corporate Affairs in 2012.

• Pilot was selected as one of the Young Global Leaders by the World Economic Forum in 2008.

• He received his Private Pilot's Licence (PPL) from the US in 1995 and is also a keen sportsman and represented Delhi in a number of National Shooting Championships.

• He did his graduation from Delhi's St Stephen's College and MBA from Wharton Business School, University of Pennsylvania.