North East India's First-ever Compressed Biogas Plant to be Built in Assam, Inauguration by CM Himanta
North East India will now have its first-ever 'Compressed Biogas Plant'. The CM of Assam inaugurated the plant on February 25 at Damora Pathar village in Sonapur, Assam. The government has assigned the project work to two entrepreneurs who will undertake the construction soon. Get a detailed report of the project here.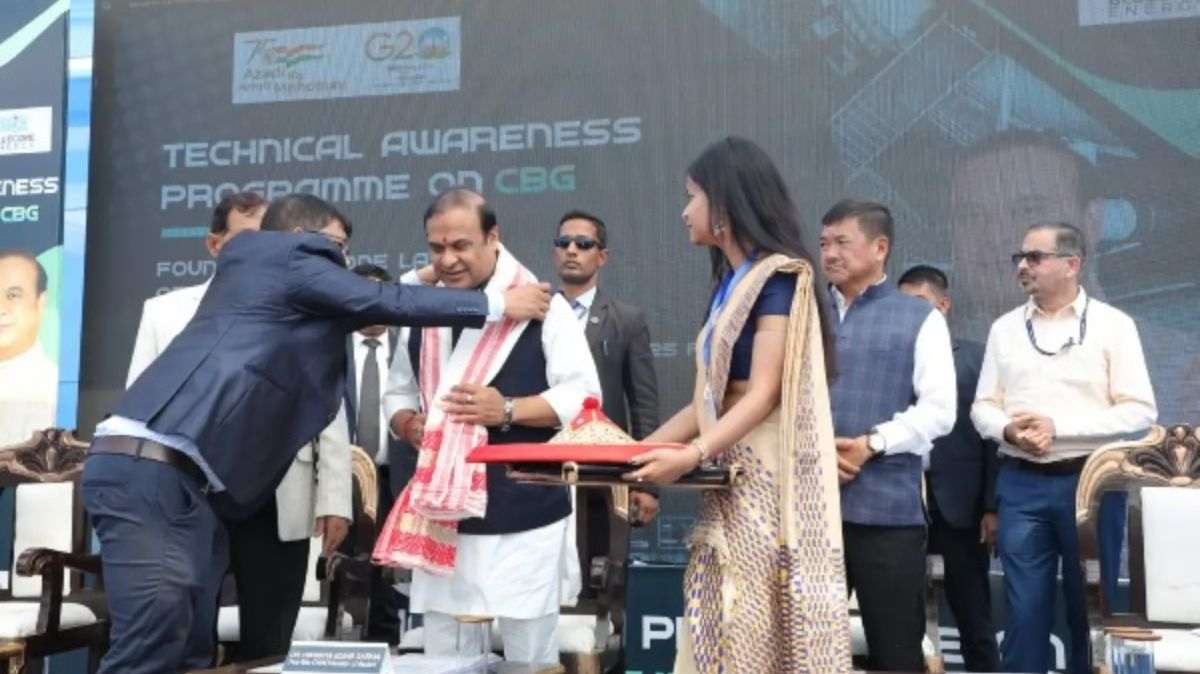 Assam's First Compressed Biogas Plant to be Set Up Soon
On February 25, 2023 (Saturday) Chief Minister of Assam, Himanta Biswa Sarma inaugurated North East India's first 'Compressed Biogas Plant' to be set up at Damora Pathar located in Sonapur, Kamrup Metropolitan District of Assam.
As per the official announcement, the CM laid the foundations stone and he attended the ceremonial function as the Chief Guest. This project is recently initiated by the state government.
CM Delighted over Biogas Plant Venture
During the event held at Damora Pathar village, Chief Minister Himanta Biswa Sarma expressed contentment over entrepreneurs who are willing to carry out the venture into various segments such as Biofuel and Biogas production. Moreover, the government's full support will be assured for Biofuel/Biogas production.
Laid foundation for a 5-tonne-per-day-capacity compressed biogas plant by Redlemon Technologies Pvt Ltd at Domora Pathar, Sonapur.

The first-of-its-kind initiative in Northeast will bolster our efforts to transition towards cleaner & greener energy. pic.twitter.com/YwGX4jHTu5

— Himanta Biswa Sarma (@himantabiswa) February 25, 2023
This event was also attended by Chief Executive of Karbi Anglong Autonomous Council Tuliram Ronghang and Dispur Assembly Constituency Member of Legislative Assembly (MLA) namely Atul Bora, Lakhimpur MLA Manab Deka, along with several other invited guests and notable officials.
An Alternative to Chemical Fertilisers
The Assam CM further goes on to explain that he hopes that the organic fertilisers produced as a consequence of biogas in such compressed biogas plants would provide a safer and better alternative to chemical fertilisers which are currently in use across the state.
In his speech, he also referred to Prime Minister Narendra Modi's commitments and global missions introduced at International platforms such as United Nations Framework Convention on Climate Change to reduce India's carbon emissions. CM Himanta Biswa Sarma stated that Assam similar to the rest of the states would do everything possible in its capacity in order to ensure that the country's promises and futuristic goals are being matched and attained. The Government of India has been collectively working on alleviating the impact of Global Warming.
Businessmen Involved in this Project
Entrepreneurs Pankaj Gogoi and Rakesh Doley are designated to set up the first-ever Compressed Biogas Plant across the state under the banner of Redlemon Technologies Private Limited. In addition to this, the plant construction has been proposed to be functional from November 2023. This will have a production capacity of about five tonne-per-day of compressed biogas which will be further produced from raw materials such as cattle dung, municipal solid wastes, etc.
Objective of Assam Government
At the inaugural event, Chief Minister Himanta gave an official statement confidently that the Compressed Biogas Plant at Sonapur would help extensively in assisting the Government of Assam. The government's aim of a gradual transformation to cleaner and greener energy will be fulfilled through the launch of this project.
Along with this, the development is intended to provide a solution to municipal solid waste management crises. Not only this but instead the compressed biogas plants such as the one built at Sonapur would also accelerate an additional source of income for several farmers as they will be able to sell cattle wastes to the biogas producers.
Also Read: UIDAI Launches AI-based Fingerprint Authentication Facility for Aadhar Card Security, Check out its usage
Take Weekly Tests on app for exam prep and compete with others. Download Current Affairs and GK app
एग्जाम की तैयारी के लिए ऐप पर वीकली टेस्ट लें और दूसरों के साथ प्रतिस्पर्धा करें। डाउनलोड करें करेंट अफेयर्स ऐप
Android
IOS