Axis Bank Supersedes Citibank India's Retail Business, Deal of Rs 11,603 Crores
The acquisition of Citibank India by Axis Bank has been announced on March 01. Citibank India's retail business was bought after final cash consideration of Rs 11,603 crores. However, Citi's client businesses are omitted from the deal. Know more details here.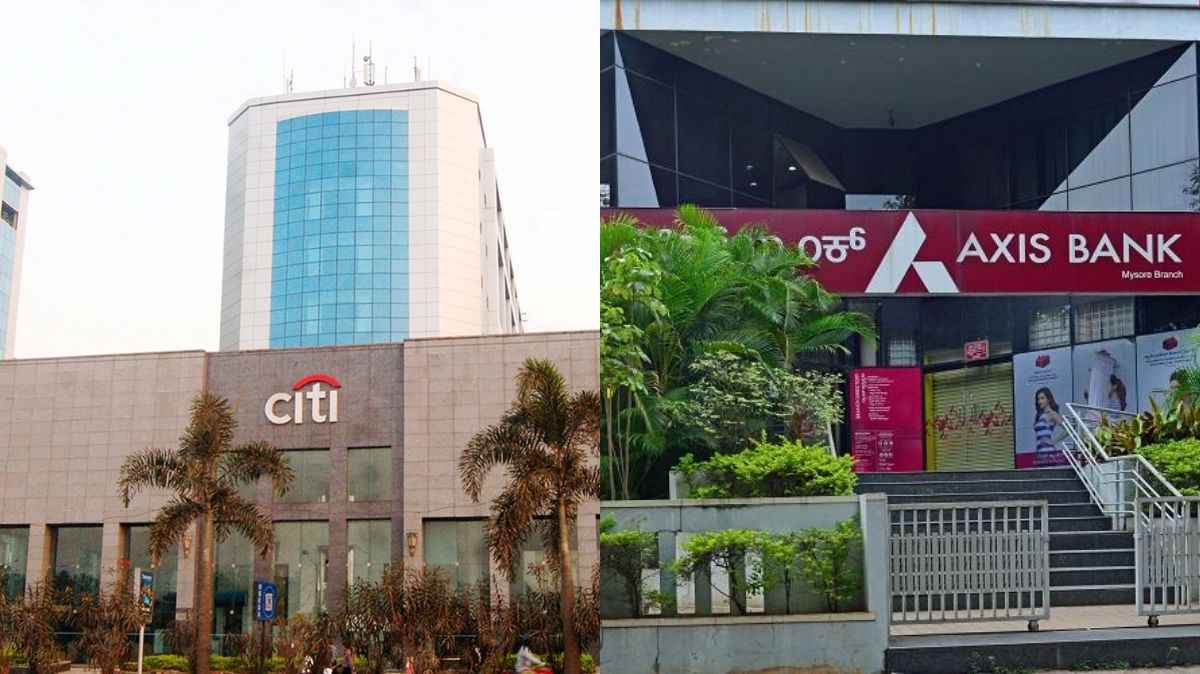 India's Axis Bank Procures Citibank's Retail Business in India
Axis Bank Limited, also known as UTI Bank announces the acquisition of business undertakings of Citibank India. The deal of Axis Bank taking over the Retail Business concluded after finalising an amount of Rs 11,603 crores on March 01, 2023 (Wednesday). However, the sale excludes Citibank's institutional client businesses in India.
Axis Bank, the third-largest private sector bank declared that the decision to acquire was first made in March last year. It will not necessitate any new capital requirements and stressed that the attrition rate of customers was much more than expected. The Managing Director and Chief Executive of Axis Bank, Amitabh Chaudhary told that as many as 2.4 million Citi customers in the country agreed with Axis Bank after the deal as against 3 million at the time of announcing the deal.
Axis Bank's CEO Observes Capital Decline
Amitabh Chaudhary, CEO of Axis Bank asserted that 96 per cent or 3,200 of the Citi employees have joined the bank. The core capital is likely to diminish by 1.70 per cent from the 15.55 per cent reported in December last year.
He further goes on by saying that the bank is committed to funding and growing the business. The entire consolidation process will happen over the next 18 months. In addition to this, there will be a hit of Rs 1,500 crores which is to be taken as implementation costs, to be amortized as the costs are incurred.
Clientele Details
Axis Bank's CEO stated that customers' bank account details, chequebooks, product benefits and privileges, and debit card details will remain the same for the Citi customers who will be joining as Axis Bank customers.
Headquartered in Mumbai, Axis Bank is the fourth-largest issuer of credit cards with a total base value of 8.6 million cards. This current deal is about to add about 2.5 million credit cardholders which will promote in making it as one of the top three card businesses across the nation.
Previous Deal Between Axis-Citi Banks
Last year in 2022 Axis Bank accepted to purchase Citibank's India Consumer Business from Citibank NA (acting through its branch in India) and the NBFC Consumer Business from Citicorp Finance India Limited (CFIL) as growing concerns without values being earmarked to individuals assets along with liabilities to either business.
This depended upon the fulfilment of specific conditions and obtaining requisite approvals at a total purchase value of up to Rs 12,325 crores. In a regulatory notice, Axis Bank mentions, "We now wish to inform you that completion of the acquisition of Citibank's India Consumer Business from CBNA and the NBFC Consumer Business from CFIL as going concerns, without values being assigned to individual assets and liabilities for either business shall happen on March 1, 2023".
Moreover, it propounded that the cash consideration is based on the contractual and customary true up and/or true down adjustments and any changes in the business position from January 31, 2023, to 24:00 hours on February 28, 2023.
In due accordance with it, the businesses of CBNA and CFIL stand transferred to Axis Bank and also this bank becomes the owner of Citibank's India Consumer Business and NBFC Consumer Business which comes into effect from March 1, 2023. This has been regulated as per the requirements and terms & conditions of the agreed contractual documentation and cash settlement of consideration.
Retail Banking Performance of Axis Bank
Axis Bank which has a retail book of around Rs 4 lakh crores has now acquired more than 3 million customers of Citibank India. This includes seven offices, 21 branches along with 499 ATMs across 18 cities in India.
As far as Citi's retail book is concerned, nearly Rs 68,000 crores out of which retail loans are reported to be of amount Rs 28,000 crores. Having 1.2 million bank accounts, the total businesses in India contribute about 1.5 per cent of profit to the lender's Global Book.
International Business Strategy of Citibank
Aside from the institutional banking business, Citibank will be implementing global business support provided by centres in Mumbai, Pune, Bengaluru, Chennai and Gurugram. In April 2021, American Multinational Investment Bank, Citigroup announced its scheme to step out from the consumer banking business in India which is part of its global strategy.
With 35 branches in the country and 4,000 people employed in the consumer banking business, the business involves credit cards, retail banking, home loans and wealth management. Citigroup has first formulated in India in 1902 and the consumer banking business commenced in 1985.
Also Read: Modi Govt Permits Purchase of 70 HTT-40 Aircraft for Indian Armed Forces, Intends to Provide Employment
Take Weekly Tests on app for exam prep and compete with others. Download Current Affairs and GK app
एग्जाम की तैयारी के लिए ऐप पर वीकली टेस्ट लें और दूसरों के साथ प्रतिस्पर्धा करें। डाउनलोड करें करेंट अफेयर्स ऐप
Android
IOS