Babasaheb Ambedkar Death Anniversary 2019: 10 Important Points You Need to Know
Babasaheb Ambedkar got a doctorate degree from Columbia University in 1916. He became the first Indian to pursue a doctorate in economics abroad.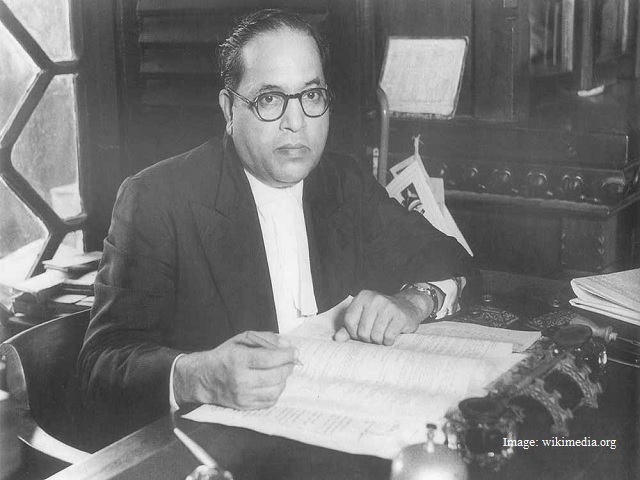 Image: Wikimedia
Babasaheb Ambedkar Death Anniversary 2019: Dr. Bhimrao Ramji Ambedkar popularly known as Babasaheb Ambedkar was a social reformer, advocate and politician. He is also known as the father of the Indian Constitution. His efforts to eradicate social evils like untouchability and caste discrimination were notable. He was posthumously awarded India's highest civilian honor Bharat Ratna in 1990.
Prime Minister Narendra Modi, President Ram Nath Kovind, Vice President Venkaiah Naidu and former Prime Minister Dr. Manmohan Singh paid tributes on the occasion of the death anniversary of Constituent Baba Saheb Ambedkar in Parliament today.
Babasaheb fought for the rights of Dalits and other socially backward classes throughout his life. He was born on 14 April 1891 and died on 6 December 1956. Here you will get information about everything related to Ambedkar's life in 10 points.
Also Read | MPs give up subsidy on food at Parliament Canteen to save Rs 17 cr annually
B.R. Ambedkar: Important things to know
• Baba Saheb was born on April 14, 1891, in Madhya Pradesh. Ambedkar's father was a Subedar in the Indian Army. His family moved to Satara in 1894 after his retirement. Shortly thereafter, Bhimrao's mother passed away.
• Baba Saheb Ambedkar's family belonged to the Mahar caste, which was considered untouchable. Ambedkar, who had witnessed economic and social discrimination since childhood, started studying in odd circumstances.
• He was married to a nine-year-old girl Ramabai in 1906 due to the prevalence of child marriage. His father Ramji Sakpal died in Bombay in 1912.
• In the year 1912, Bhimrao graduated in Political Science and Economics from Bombay University. Although he got a job in Baroda, he moved to the United States in 1913 for further studies.
• In 1916, he received a doctorate degree from Columbia University and became the first Indian to pursue a doctorate in economics abroad.
• When he returned from the United States, the Maharaja of Baroda appointed Dr. Ambedkar as his political secretary. Bhimrao moved to Bombay in 1917 and established a fortnightly newspaper "Mooknayak" in 1920.
• Baba Saheb was appointed by the Bombay Presidency Committee to work in the Simon Commission in 1925. He started fortnightly and weekly papers named 'Excluded India', 'Mook Nayak', 'Janta' to raise voice against the atrocities on Dalits.
• He was appointed as the law minister of India after independence. On 29 August 1947, he was appointed as the Chairman of the Constitution Drafting Committee for the constitution of independent India.
• Ambedkar resigned from the cabinet in 1951 after his Hindu Code Bill draft was stopped in Parliament. In this draft, gender equality was proposed in the laws of succession, marriage, and the economy.
• Bhimrao Ambedkar and his supporters embraced Buddhism on 14 October 1956 while adopting Panchsheel. Ambedkar believed that Dalits can never get their rights within Hinduism. Dr. Ambedkar was passed away on 6 December 1956.
Also Read | Sundar Pichai becomes CEO of Alphabet: From IIT Kharagpur to Google, Know journey of his life
Also Read | Citizenship (Amendment) Bill 2019: Know everything about it