Current Affairs 03 April 2019 Digest 2: Longest suspension bridge by Indian Army; India Oceania interaction held
Suspension Bridge constructed over Indus River by Combat Engineers' 'Fire & Fury Corps' was inaugurated by local War Veterans of region.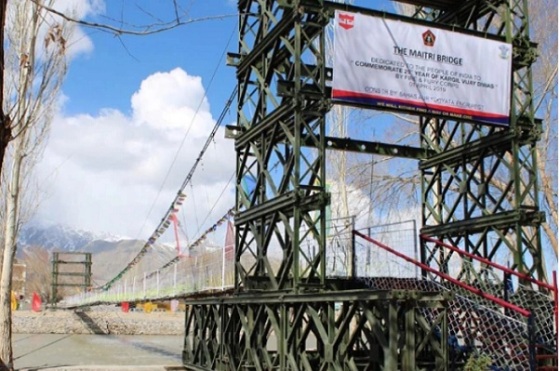 Longest suspension bridge built by Indian Army
Story 1: Indian Army built longest suspension bridge at Leh in just 40 days
The Indian Army has successfully built the longest suspension bridge 'Matiri Bridge' over the Indus River in the Leh-Ladakh region. It is the shortest time of Indian Army built any suspension bridge of this length.
Suspension Bridge constructed over Indus River by Combat Engineers 'Fire & Fury Corps' was inaugurated by local War Veterans of region on April 1, 2019. Built in a record time of 40 days 'Maitri Bridge' is longest Suspension Bridge over Indus River.
About Maitri Bridge
The 260-feet long suspension bridge was built by the combat engineers belonging to the Sahas aur Yogyata regiment of Indian Army's Fire & Fury Corps.
Locals of nearby villages - Choglamsar, Stok and Chuchot, also helped in the construction of the bridge.
Indian Army had to ferry 500 tonnes of construction materials and bridge equipment in order to complete the bridge.
bridge was inaugurated by war veterans who were part of 1947-48, 1962, 1971 and 1999 operations in Jammu and Kashmir.
Why named Maitri Bridge?
The bridge has been named 'Maitri Bridge', symbolising the excellent civil-military relations existing in the Leh-Ladakh region. Also, construction of this bridge was not possible without help of locals.
10 iconic bridges of India
Bandra-Worli Sea Link, Mumbai
Howrah Bridge, Kolkata
Vidyasagar Setu, Kolkata
Mahatma Gandhi Setu, Bihar
Pamban Bridge, Tamil Nadu
Coronation Bridge, Darjeeling
Golden Bridge, Gujarat
Godavari Arch Bridge, Andhra Pradesh
Jadukata Bridge, Meghalaya
Dhola- Sadiya Bridge, Assam
Story 2: Interaction on Trade and Economic Cooperation with Oceania Countries held
Interaction on trade and economic cooperation with ambassadors and high commissioners of European and Oceania countries took place in New Delhi recently. It is believed that European and Oceania countries are major trading partners and major sources of investments for India and there is the huge untapped potential that can be achieved.
Commerce Secretary, Dr. Anup Wadhawan informed delegation about policies and practices at an interactive session on trade and economic cooperation with Ambassadors and High Commissioners of European and Oceania countries. It was stated that India has made efforts in the recent past to take economic ties to the next level and have some sort of broad-based comprehensive trade agreement.
Points highlighted during interaction
India is the fifth largest export market for Australia, with coal, education-related travel, vegetable, and gold being some of the major items of imports by India.
Major exports from India to Australia include refined petroleum, business services, and pharmaceuticals.
New Zealand is also an important market for India in the Oceania region, especially for its exports of pharmaceuticals, gems, and jewellery, machinery and textiles, and apparel.
Nearly, more than USD 1.2 billion was invested by companies from Oceania in the Indian market from April 2000 to December 2018.
The Oceania region also accounts for nearly 1.7 percent of India's overseas FDI, with Australia, Fiji, New Zealand, and Vanuatu being the key investment destinations.
India-Oceania Relations
In Oceania countries India has a major trade partnership with Australia and New Zealand.
India's trade in goods and services with New Zealand is 11th largest with total worth of USD 1.9 bn.
Apart from these two India also has a significant trade relationship with the Pacific island nations with Fiji and Papua New Guinea dominating the relations.
India's trade with the Pacific Islands stood at USD 228 million in 2012
Oceania Countries
According to United Nations official statistics there are 14 countries in Oceania.
Australia
Papua New Guinea
New Zealand
Fiji
Solomon Islands
Vanuatu
Samoa
Kiribati
Tonga
Micronesia
Marshall Islands
Palau
Tuvalu
Nauru