Current Affairs in Short: 14 December 2018
The Congress has named Ashok Gehlot as Rajasthan's next chief minister and Sachin Pilot his deputy after party president Rahul Gandhi successfully brokered peace between the veteran leader and his younger colleague following several rounds of discussions.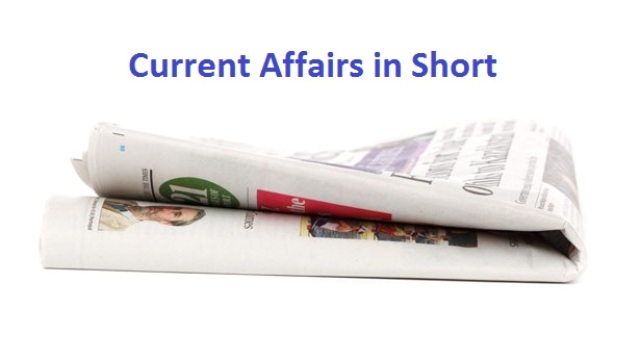 Current Affairs in Short: 14 December 2018
Ashok Gehlot to be Rajasthan CM, Pilot his deputy: Congress
• The Congress on December 14, 2018 named Ashok Gehlot as Rajasthan's next chief minister and Sachin Pilot his deputy after party president Rahul Gandhi successfully brokered peace between the veteran leader and his younger colleague following several rounds of discussions.
• After Congress' observer to the state K C Venugopal made the announcement at a media briefing here, Gehlot thanked Gandhi for giving him an opportunity to serve the people of the state for the third time and promised that he and Pilot will give "good governance".
• Pilot exuded confidence that Congress' good electoral performance will continue, saying the party will get a big mandate in 2019 polls and form the government.

Author Amitav Ghosh honoured with 54h Jnanpith award
• Noted English writer Amitav Ghosh has been honoured with this year's Jnanpith Award, a literary award given to an author for "outstanding contribution towards literature".
• The decision was taken in a meeting of Jnanpith Selection Board chaired by eminent novelist, scholar and Jnanpith laureate Pratibha Ray.
• Amitav Ghosh is a path- breaking novelist. In his novels, Ghosh treads through historical settings to the modern era and weaves a space where the past connects with the present in relevant ways.
• He is known for a series of novels such as "Shadow Lines", "The Glass Palace", "The Hungry Tide", and Ibis Trilogy -- "Sea of Poppies", "River of Smoke" and "Flood of Fire", which chronicled the Opium trade between India and China run by the East India Company.

Punjab Assembly passes resolution urging Centre to hasten enactment of Women's Reservation Bill

• Punjab Assembly on December 14, 2018 unanimously passed the resolution moved by Chief Minister Captain Amarinder Singh urging Central government to hasten enactment of Women's Reservation Bill providing for the reservation of one-third of seats in the Lok Sabha and Legislative Assemblies for women.
• The Punjab Government has already reserved 50 per cent seats in Urban Local Bodies and Panchayati Raj institutions for women.

Hubble Space Telescope discovers planet vanishing at record speed

• Astronomers using the Hubble Space Telescope have discovered a planet GJ 3470b roughly the size of Neptune, evaporating at a rate 100 times faster than a previously identified exoplanet of similar size.
• The findings advance astronomers' knowledge about how planets evolve. The planet is 96 light-years away and circles a red dwarf star in the general direction of the constellation Cancer.
• The speed and distance at which planets orbit their respective blazing stars can determine the rate of evaporation of a planet.
• The researchers said GJ 3470b's lower density makes it unable to gravitationally hang on to the heated atmosphere.

Dissolution of Parliament by President unconstitutional: Lankan SC

• Sri Lanka's Supreme Court has ruled that dissolution of Parliament on November 9 by President Sirisena was unconstitutional.
• The seven-member judge bench unanimously in a verdict on December 13 observed that it was illegal to dissolve Parliament before its four and half year term limit.
• Following the verdict, efforts are being taken to form the new government. It is not immediately clear whether ousted Prime Minister Ranil Wickremesinghe will regain his post.
• However, reports suggest that Mahinda Rajapaksa and his government may resign to make way for the reinstatement of United National Front (UNF) led by Ranil Wickremesinghe.

Global debt hits all-time high of USD 184 trillion: IMF

• The International Monetary Fund has revealed in a report that the global debt has reached an all-time high of 184 trillion US dollars, which is the equivalent to 225 per cent of the world GDP in 2017.
• The report states that nations like the United States, China and Japan account for more than half of the debt.
• On average, the world's debt now exceeds 86,000 dollars per person, which is more than two and half times the average income per-capita. IMF said it is striking that the most indebted economies in the world are also the richer ones.
• Since the beginning of the millennium, China's share in global debt has gone up from less than three per cent to over 15 per cent.

Sweden moves to ban outdoor smoking

• Sweden is banning outdoor smoking in certain public places including playgrounds and train station platforms.
• In a 142-120 vote the Riksdagen, the Swedish Parliament extended the smoking ban as of July 1, 2019.
• With the decision, smoking in outdoor restaurants and entrances to booths for smokers will also be banned.
• Currently, smoking in the nation is only allowed in designated smoking areas in most workplaces and public places.
• According to the new law, the goal is to make the Scandinavian country smoke-free by 2025.

UK lawmakers due to vote on Brexit bill in January

• British lawmakers will vote on Prime Minister Theresa May's Brexit deal in January, according to a schedule published on December 13 by the leader of the lower house of parliament Andrea Leadsom.
• The coming week has been filled by other draft legislation, with parliament then breaking for the holidays until January 7. May has promised to hold the vote by January 21.
• The British leader will brief lawmakers soon about her latest visit to Brussels, where she is meeting the other 27 EU leaders in a bid to wrest more concessions on the deal.
• The EU leaders have refused to renegotiate the actual draft but seem willing to offer May non-binding assurances on the main dispute involving measures to prevent the return of a hard border with Ireland.
• Britain will leave the European Union on March 29 regardless of whether the two sides agree on divorce terms.

Theresa May wins vote of confidence in her leadership of Conservative party

• British Prime Minister Theresa May has won a vote of confidence in her leadership of the Conservative Party. She got the support of 200 MPs while 117 MPs voted against her.
• The confidence vote was triggered by 48 of her MPs, who are angry at her Brexit policy. They said that her policy has betrayed the 2016 referendum result.
• If she had lost the confidence vote, May would have been forced to stand down as the Conservative Party leader and then as the Prime Minister.
• May had withdrawn a vote on the Brexit draft that was scheduled for last Tuesday to avoid its defeat. The decision sparked outrage among MPs across party lines, with her own Conservatives trying to oust her in a no-confidence vote.
• Now, no new vote of confidence can be brought forward for 12 months. But the 62-year old leader has promised to stand down before the next scheduled election in 2022.

Jharkhand gets "Krishi Karman" award in rice category

• Jharkhand has been selected for "Krishi Karman" award in the rice category from the Union Ministry of Agriculture.
• The award will be given away in February 2019. It carries a cash prize worth Rs 2 crore and a citation.
• The award is being given as a gesture of appreciation to the farmers of the state for achieving the milestone.
• Two progressive farmers, one male and one female, would also be given 'Agriculture Minister's Krishi Karman Award.
• Each farmer would be given a cash award worth Rs 2 lakh along with a citation.

Google launches shopping website in India

• Google has unveiled Google Shopping, a dedicated search engine intended to provide an immersive and improved online shopping experience.
• Along with finding products, Google Shopping allows users to filter through offers and review prices across multiple retailers.
• The new shopping experience has been launched on three platforms: 'Shopping' tab on Google Search, Google Lens app on mobile devices and a brand new Shopping home page.
• The shopping homepage is a dedicated made-to-browse page where shoppers can search for products across several categories and choose between thousands of retailers for the best price.
• In addition to letting users browse through products, the page also provides features such as price drops, ratings and reviews on any given product.