Current Affairs in Short: 18 March 2019
Ahead of its planned second forum to promote its much-touted Belt and Road Initiative (BRI), China for the first time announced plans to seek global partners to join the project which drew criticism over its "predatory loans" leaving smaller countries in huge debt.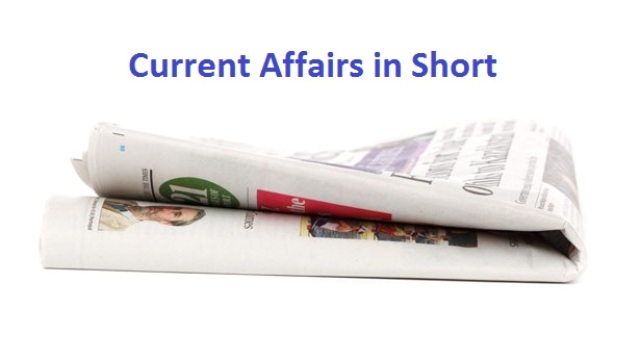 Current Affairs in Short: 18 March 2019
Ritu Beri appointed as Cultural & Tourism Ambassador of Uzbekistan in India

• Popular Indian fashion designer Ritu Beri has been appointed as the Cultural and Tourism Ambassador of Uzbekistan in India by the Ministry of Tourism of Uzbekistan.
• This is in recognition of her contribution towards bringing the two countries together by way of fusing cultures in her clothes line.
• She is the first Indian to be appointed to this position.

China seeking global partners to fund its BRI projects

• Ahead of its planned second forum to promote its much-touted Belt and Road Initiative (BRI), China for the first time announced plans to seek global partners to join the project which drew criticism over its "predatory loans" leaving smaller countries in huge debt.
• China will be holding the second Belt and Road Forum (BRF) in April, which Chinese Foreign Minister Wang Yi stated would be bigger than the one held in 2017.
• India boycotted the first BRF meeting over its objections that the BRI flagship project, the China-Pakistan Economic Corridor (CPEC), traversed through Pakistan-occupied Kashmir (PoK).
• The second BRF meeting, in which China plans to rope in several heads of state and government around the world including Italy, is being held amid growing criticism from several countries, especially from the US and India, that the massive loans being rolled out for different projects, especially in smaller countries over and above their capacity to pay, has resulted in long term indebtedness.

China, Pakistan to discuss Pulwama fallout

• Pakistan Foreign Minister Shah Mehmood Qureshi arrived in Beijing on March 18, 2019 on a three-day visit during which he will hold talks with his Chinese counterpart Wang Yi under the first China-Pakistan Strategic Dialogue.
• The recent India-Pakistan tensions after the February 14 Pulwama terror attack that killed 40 CRPF troopers is expected to figure in the talks between the Chinese and Pakistani Foreign Ministers which will begin on March 19.
• The meet comes at a time when India's ties with China and Pakistan, who are close allies, have come under strain after the suicide attack was claimed by the Pakistan-based terror outfit, Jaish-e-Mohammed (JeM).
• China had recently once again blocked a motion passed by three permanent members of the UNSC to designate JeM chief Masood Azhar as an international terrorist.

New Zealand's Dunedin airport closed after suspicious device reported

• New Zealand's Dunedin airport has been closed after a suspicious device was reported on the airfield. The police, in a statement, said that specialist teams have been deployed to determine the nature of the package.
• According to local media reports, the staff at the airport was sent home and the flights were either cancelled or diverted.
• New Zealand is currently on a state of vigilance after a gunman, who is believed to have lived in Dunedin, killed 50 people in two mosques packed with worshippers.

Brexit: Theresa May asks MPs for 'honourable compromise'

• UK Prime Minister Theresa May has asked MPs to make an 'honourable compromise' as she seeks to persuade them to back her Brexit deal for the third time.
• The Prime Minister said failure to support the deal would mean that Britain will not leave the EU for many months, if ever.
• She said, it would be a potent symbol of Parliament's collective political failure as a delay in Brexit would force Britain to take part in European elections in May, almost three years after voting to leave the EU.
• May further said that the United Kingdom must stand together as democrats and patriots, pragmatically making honourable compromises necessary to heal divisions and move forward.
• May is expected to bring her withdrawal agreement back to the Commons next week for a third vote. It comes after MPs this week rejected her deal and voted to delay Brexit.
• The EU will eventually decide the terms and conditions of any extension. Legally, the UK is still due to leave the EU on March 29.

India to provide aid to people affected by cyclone 'IDAI' in Mozambique

• India has decided to divert three Indian naval ships to the port city of Beira in Mozambique to provide humanitarian assistance to the people affected by tropical cyclone 'IDAI'.
• The ships will provide relief materials in the form of food, clothes and medicines. Besides the three medical practitioners and five nurses onboard the ships will also provide the required immediate medical help.
• In 2017, India had provided 10 million dollars to Mozambique for food grains after the country suffered food shortage due to natural calamities.

Cyclone IDAI affects over 1.5 million people in three southern African countries

• Mozambique, Zimbabwe and Malawi have been hit by a vicious cyclone that has killed nearly 150 people, left hundreds more missing and stranded tens of thousands.
• According to the UN and government officials, Cyclone IDAI has affected more than 1.5 million people in the three southern African countries.
• In Zimbabwe, 39 people have died from the floods so far. According to the government, the deaths are mainly in Zimbabwe's Chimanimani, a mountainous area along the eastern border with Mozambique that is popular with tourists. The United Nations said more than 100 people are missing.
• In Mozambique, at least 48 people have been killed in the worst-hit central Sofala province. Dozens of others are missing after the storm brought strong winds, heavy rains and flash flooding destroying bridges and sweeping away homes.
• Even before the cyclone made landfall, heavy rains earlier in the week had already claimed 66 lives and forced 17,000 people from their homes in Mozambique. They also affected neighbouring Malawi, where 56 people have died.

India's Irfan KT qualifies for 2020 Tokyo Olympics

• India's Irfan KT on March 17, 2019 qualified for the 2020 Tokyo Olympics. He made the cut after finishing fourth at the Asian Race Walking Championship at Nomi in Japan.
• Irfan clocked 1 hour 20 minutes and 57 seconds in the 20-kilometre walk to attain the standard qualifying mark for the Olympics.
• The fourth-place finishes also ensured a berth in the upcoming International Association of Athletics Federations (IAAF) World Championship in Doha that begins in September.
• Two other Indian race walkers, who qualified for the World Championship are Devinder and Ganapati.
• This will be Irfan's second Olympics having represented the country in 2012 London Games.

Athletics: India finishes second in medal tally at Asian Youth C'ships

• In Asian Youth Athletics Championships in Hong Kong, boys medley relay team won a gold medal for India on the final day to help Indian youth team finish second in the overall medals tally with a total of 26 medals including eight gold, nine silver and nine bronze medals.
• China topped the overall medals tally with 31 medals that included 12 gold, 11 silver and eight bronze medals and Japan finished third with 20 medals that included 6 Gold, 8 Silver and 6 bronze.