Current Affairs in Short: 18 September 2018
Indian cricket captain Virat Kohli and world champion weightlifter Mirabai Chanu have been jointly recommended for this year's Rajiv Gandhi Khel Ratna award, the country's highest sporting honour. If approved by Sports Minister, Kohli will become the third cricketer to get the Khel Ratna after Sachin Tendulkar and MS Dhoni.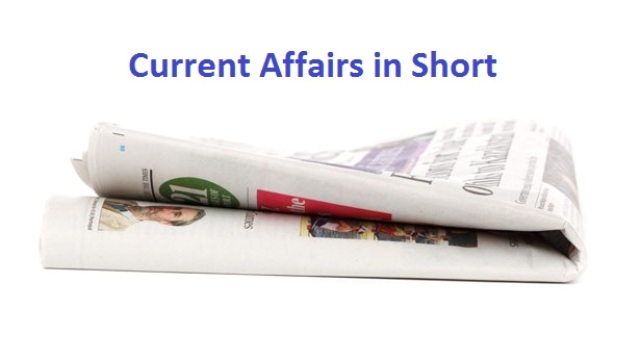 Current Affairs in Short: 18 September 2018
Virat Kohli, Mirabai Chanu recommended for Khel Ratna

• Indian cricket captain Virat Kohli and world champion weightlifter Mirabai Chanu were on September 17, 2018 jointly recommended for this year's Rajiv Gandhi Khel Ratna award, the country's highest sporting honour.
• The 29-year-old Kohli became second-time lucky after failing to get the selection committee's nod in 2016.
• If approved by Sports Minister, he will become the third cricketer to get the Khel Ratna after the legendary Sachin Tendulkar (1997) and the double world cup-winning captain skipper Mahendra Singh Dhoni (2007).
• Kohli currently leads the ICC Test rankings for batsmen and has been in phenomenal form.
• Chanu was recommended for the prestigious award following her gold medal in 48kg category at the World Championships in 2017. She also won the gold medal in this year's Commonwealth Games but didn't compete at the Asian Games due to injury.

Sebi approves new KYC norms for FPIs

• The Securities and Exchange Board of India (SEBI) has approved new KYC norms for foreign portfolio investors. The new guidelines will be issued soon.
• With the new norms, SEBI will now allow foreign portfolio investors to trade in commodity derivatives market, except for sensitive commodities.
• SEBI board also approved amending delisting regulations, to make the process simpler.
• SEBI will also revise settlement process but it will not be settling cases involving willful defaulters or economic offenders.

DAC approves procurement of equipment for Defence Forces

• Defence Acquisition Council (DAC) has approved the procurement of equipment for the Defence Forces valued at over Rs 9100 crore.
• The council chaired by Defence Minister Nirmala Sitharaman approved procurement of two Regiments of Akash Missile Systems.
• The missile to be procured is an upgraded version of the previously inducted Akash missiles. The upgraded Akash Weapon System is operationally critical equipment, which will provide protection to vital assets.
• The DAC also accorded approval for progressing Design and Development of Individual Under Water Breathing Apparatus (IUWBA) for T 90 Tanks. Developed by DRDO Lab, the IUWBA is used by the crew of Tanks as a safety gear and is required by the Tank crew for emergency escape when negotiating water obstacles while deep fording.
• The DAC also approved Design and Development of Test Equipment for Guided Weapons System of T 90 Tank. The equipment is being developed by DRDO and will give an indigenous solution to the Test Equipment used for checking the Guided Weapon System of Tank T 90.
UAE offers expats residency after retirement to boost growth

• The United Arab Emirates will allow foreigners to obtain extended residency visas after they retire, in a major policy shift designed to give expatriates a bigger stake in the economy and foster longer-term growth.
• The foreign residents from around the globe make up more than 80 percent of the UAE.'s population and have for decades been a mainstay of its economy.
• However, until now they were only welcome as long as they could work, creating an underlying sense of transiency even among expatriates who have spent most of their lives in Dubai, Abu Dhabi or elsewhere in the oil-exporting federation.
• The new law, which comes into effect in 2019, will allow foreign retirees over the age of 55 to apply for longer residency visas which can be renewed after five years.
• To qualify, the retiree must either have a property investment worth at least 2 million dirhams ($544,500), savings of no less than 1 million dirhams or a monthly income of no less than 20,000 dirhams.

Japan conducts first submarine drill in disputed South China Sea

• Japan has carried out its first submarine drill in the South China Sea, a move that could provoke Beijing which claims most of the disputed waters.
• Submarine Kuroshio joined three Japanese warships in waters just southwest of the China-controlled Scarborough Shoal for the drill
• China claims most of the resource-rich South China Sea, through which $5 trillion in shipping trade passes annually, despite competing claims from Brunei, Malaysia, the Philippines, Taiwan and Vietnam.
• Tensions have been high over the Scarborough Shoal since it was seized from Manila by Beijing in 2012.

India endorses 24-point programme for revitalising UN peacekeeping

• India has endorsed a 24-point programme for revitalising the UN peacekeeping operations that is to become the basis of a high-level meeting next week, according to UN sources.
• Jean-Pierre Lacroix, the Under-Secretary General for peacekeeping operations, had visited India in June and held important discussions with Indian leaders and appreciated New Delhi's contributions to peacekeeping.
• India's endorsment of the declaration unveiled by Secretary-General Antonio Guterres in August as the basis of his A4P or Action for Peace initiative was made on September 11.
• As of Monday, 113 countries, including the permanent members of the Security Council except China, have endorsed the declaration.
• Through the declaration, the Secretary-General, troop contributors, the financial contributors, nations hosting operations, other members and some regional organisations agree to what is described as "a set of mutually-agreed principles and commitments to create peacekeeping operations fit for the future".

PayU India gets RBI approval to operate its own NBFC

• PayU India has received Reserve Bank of India's (RBI) approval to operate its own non-banking financial company (NBFC).
• The move will help PayU promote inclusive growth in the country by catering to the diverse financial needs of various segments of the society.
• The approval from the central bank is subject to "certain pending RBI compliance", PayU said in a statement.
• The company estimates consumer business revenues will be 40-50 per cent in the next 3-4 years.
• PayU has already crossed the Rs 100 crore (USD 16 million) mark for credit issuance on the existing platforms and is targeting to clock next Rs 100 crore volume in next 3 months itself.
India, Sri Lanka sign MoU for construction of 5000-metric ton temp controlled warehouse

• India and Sri Lanka on September 17, 2018 signed a Memorandum of Understanding (MoU) for the construction of a 5000-metric ton temperature controlled warehouse in Dambulla of Central Province.
• The warehouse will be constructed with an Indian grant assistance of 30 crore Sri Lankan rupees.
• The MoU was signed by Taranjit Singh Sandhu, High Commissioner of India to Sri Lanka and KDS Ruwanchandra, Secretary to Sri Lankan ministry of national policies and economic affairs.
• The project envisages construction of a 5000-metric ton temperature controlled warehouse for fruits and vegetables to minimize its post-harvest losses.
• This initiative will benefit the farming community by reducing the wastage particularly in the peak season when there is surplus production.
• India's overall commitment of development assistance to Sri Lanka stands at a total of around 3 billion US dollars, out of which 550 million US dollars is pure grant assistance.

PM Narendra Modi launches projects worth over Rs 500 crore

• Prime Minister Narendra Modi on September 18, 2018 inaugurated and laid the foundation stones of various development projects worth over Rs 557 crore in Varanasi.
• The Prime Minister inaugurated Atal Incubation Centre at BHU, which is the first incubation centre of its kind in the state that was established with the help of Bombay Stock Exchange. The centre will support startups and standups.
• The Integrated Power Development Scheme (IPDS) for Old Kashi which was also inaugurated by the PM Modi has brought phenomenal change in the city benefitting more than 60 thousand residents. Under the scheme overhead cables were changed into underground power cables in old Kasi reducing power theft and voltage fluctuations.
• The Prime Minister further said that the Union Government is going to develop BHU as the medical hub of eastern India.
• Modi also distributed 500 bee boxes under Honey mission and various electric based machines to the porters and artisans.

Bangladesh Cabinet clears deal with India for port usage
• Bangladesh's cabinet has approved a draft agreement with India to enable New Delhi to use the Chittagong and Mongla ports for the movement of goods to and from northeast India.
• After the meeting, Cabinet Secretary Shafiul Alam said in Dhaka that Nepal and Bhutan can be added to the agreement if they wish.
• He said, the agreement will be effective for five years with a provision of automatic renewal for another five years.
• The major objective of the proposed agreement is to strengthen the existing cordial bilateral ties.
Veteran Malayalam actor Captain Raju passes away

• Veteran Malayalam actor Captain Raju passed away on September 17, 2018 after a prolonged illness. He was 68.
• A former army officer, Raju was best known for his performances as a villain. He gave a new dimension to portrayal of villain roles in Malalyalam movies.
• The actor featured in over 500 films, including in Hindi, Tamil, Telugu and Hindi, in his nearly four-decade long career.
• He was best known for his performances in superstar Mohanlal-starrer 'Nadodikkattu', 'Oru Vadakkan Veeragatha' and 'CID Moosa'.

National Museum Research Bulletin revived after 16 years

• The Culture Ministry on September 17, 2018 revived the National Museum Research Bulletin, a comprehensive anthology of the museum's contents after a gap of 16 years.
• The Minister of State for Culture Mahesh Sharma released two important publications of the National Museum Sindhu Ghati Sabhyata: Ek Parichay (Hindi) and the National Museum Research Bulletin Number 10: Special issue on the occasion.
• The special issue has a number of research papers that highlight the collection, display and education aspect that the National Museum engages with and it is illustrated by coloured photographs, some of which belong to the reserve collection of the National Museum.
Important Current Affairs of August 2018
Video: Check out the latest current