Current Affairs in Short: 19 February 2020
Home Secretary of UK, Priti Patel recently announced that Britain has launched new points-based visa system.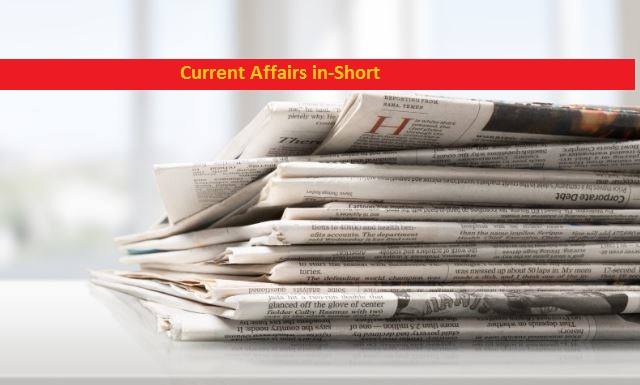 current Affairs inshort
UK announces new points-based visa system
• Home Secretary of UK, Priti Patel recently announced that Britain has launched a new points-based visa system. She said that the UK's aims to attract the best and brightest from the world.
• Priti Patel is the Indian-Origin senior cabinet minister in UK Parliament. As per the announcement, the new system will cut down several, low-skilled workers coming to Britain. Britain's new points-based visa system will come into effect from January 01, 2021.
• UK's new point-based system will be applied to the Non-EU and EU countries including India. These points are based on qualifications, salaries and professions, specific skills, etc.
Sunil Kumar wins Gold in Asian Wrestling Championship
• Sunil Kumar won a gold medal for India after 27 years in the Greco-Roman competition. Sunil Kumar won the title by defeating Azat Salidinov of Kyrgyzstan 5–0 in the final match of 87 kg category.
• India has received a gold medal at the Asian Wrestling Championships for the first time since 1993. Before Sunil Kumar, this victor was recorded by wrestler Pappu Yadav.
• Apart from him, Arjun Halakurki lost his semi-final bout against Iran's Pouya Mohammad Naserpour in 55 kg category.
Bangladesh to increase Mongla Port capacity
• The Mongla Port of Bangladesh has got approval to enhance its capacity. The Executive Committee of the National Economic Council (ECNEC) of Bangladesh approved this proposal.
• The capacity of the Mongla port will be enhanced to ensure better facilities for the users. The Mongla Port project included the construction of two container terminals and similar infrastructure facilities at the Mongla Port.
• Earlier, India and Bangladesh have signed MoUs to develop Mongla and Chattogram ports in 2015. The Mongla Port will be able to handle 15 million tons of cargo and large shipping containers after enhancement.
IAF aircraft to evacuate Indians from Wuhan
• The government of India has decided to deploy the Indian Air Force's C-17 aircraft to evacuate Indian Nationals from Wuhan.
• According to the media reports, C-17 will carry a large consignment of medical supplies to China. Earlier, the Government of India had evacuated 640 Indians from Wuhan by Air India's aircraft.
• Apart from that, all 406 people have been departed to their homes from an ITBP camp in Delhi. They were tested negative of Coronavirus.
Pakistan's Ra'ad-II Cruise Missile
• Pakistan successfully test-fired the 600 km range Ra'ad II missile. The range of this missile was 550 km in 2017, now its range has been increased to 600 km. This is an important development from India's point of view. It is important to note that the distance from Lahore to Delhi is about 430 kilometers.
• Pakistan uses its Ra'ad missiles on Mirage-II fighter jets. Indian defence experts believe that Pakistan has developed this missile in response to India's Nirbhay missile.
• The Nirbhay cruise missile is an all-weather missile, developed by DRDO. India has so far conducted 6 tests of this missile. The next test is to be done in April 2020. The operational range of this missile is up to 1000 km.