Current Affairs Quiz: 23 March 2020
The day's updated quizzes cover topics such as Hydroxychloroquine drug, Delhi budget 2020 and Shaheed Diwas among others.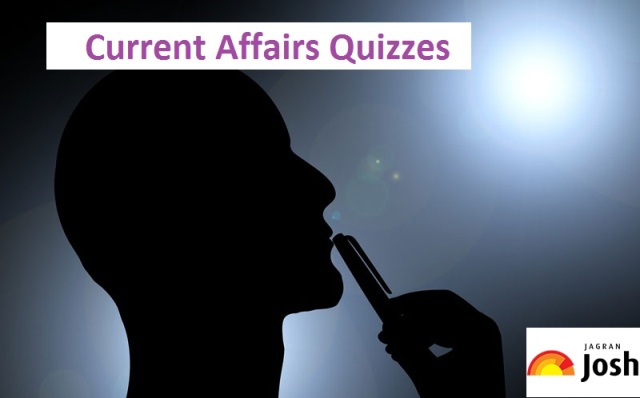 quiz
20 March 2020: The Current Affairs Quizzes section of Jagranjosh aims to help every competitive exam aspirant to revise the day at ease. The day's updated quizzes cover topics such as Hydroxychloroquine drug, Delhi budget 2020 and Shaheed Diwas among others.
1. The National Task Force for COVID-19 has recommended which drug to treate high-risk cases?
a)Acetaminophen
b)Doxycycline
c)Lorazepam
d)Hydroxychloroquine
2. When is Shaheed Diwas observed?
a)20th March
b)23rd March
c)21st March
d)22nd March
3. How much budget was proposed by the Delhi Government for financial year 2020-21?
a)Rs 65,000
b)Rs 50,000
c)Rs 75,000
d)Rs 60,000
4. When is World Water Day observed across the globe every year?
a)19th March
b)20th March
c)21st March
d)22nd March
5. When was World Meteorological Day 2020 observed?
a)22nd March
b)21st March
c)23rd March
d)20th March
6.What was India's rank in the recently released World Happiness Index 2020?
a)144
b)122
c)111
d)99
7. When is World Sparrow Day observed?
a)25th January
b)20th February
c)20th March
d)17th April
8. What term did PM Narendra Modi use to urge people of India to stay indoors on March 22, 2020 amid Coronavirus scare?
a)Janta Curfew
b)Public Distance
c)Peace on Roads
d)Bharat Band
Answers
1.(d) Hydroxychloroquine
ICMR's National Task Force, which was constituted to tackle COVID-19 pandemic, has recommended the use of hydroxychloroquine to treat high-risk coronavirus cases.
2.(b) 23rd March
The Shaheed Diwas or Martyr's Day was observed across the nation on March 23, 2020. The day is commemorated to remember the sacrifice made by the three great freedom fighters of India- Bhagat Singh, Sukhdev and Rajguru. The three revolutionary leaders were hanged on this day.
3.(a) Rs 65,000
The Delhi Finance Minister Manish Sisodia presented a budget worth Rs 65,000 for fiscal year 2020-21.
4.(d) March 22
The World Water Day is celebrated every year on March 22. Its purpose is to highlight the importance of water and its usefulness. The theme of World Water Day this year is "Leaving No One Behind".
5.(c) March 23
The World Meteorological Organization was observed across the world on 23rd March 2020. The day's theme this year was 'Climate and Water'. The day commemorates the foundation day of the World Meteorological Organization, which was set up on March 23, 1950.
6. (a) 144
The United Nations released the World Happiness Index on 20 March 2020 on the occasion of International Happiness Day. According to this index, India has been ranked 144, while Finland has secured the first place.
7. (c) March 20
The World Sparrow Day is celebrated worldwide every year on March 20. The main purpose of organizing this day is to raise awareness about Sparrows and work towards its protection. The first World Sparrow Day was observed in 2010.
8. (a) Janata Curfew
Prime Minister Narendra Modi appealed to the people of the country to stay in the house with self observance of Janata Curfew. It was not a ban imposed by the government or the administration, but a decision taken by the people, for the people. The impact of this appeal was seen across the country on March 22, 2020.