Current Affairs Quiz: 5 December 2019
The day's updated quizzes cover topics such as International Volunteer Day, World Soil Day among others.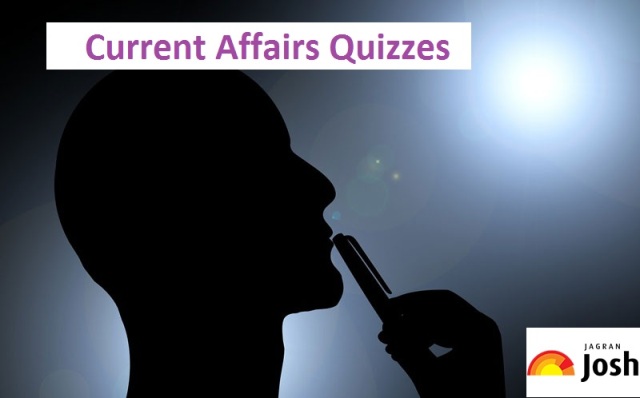 Current Affairs Quizzes
5 December 2019: The Current Affairs Quizzes section of Jagranjosh aims to help every competitive exam aspirant to revise the day at ease. The day's updated quizzes cover topics such as International Volunteer Day, World Soil Day and Madhu App among others.
1. When International Volunteer Day is observed?
a. 2 December
b. 3 December
c. 4 December
d. 5 December
2. Which Coast Guard ship built in India has been gifted to the Maldives by Prime Minister Narendra Modi recently?
a. Karanj
b. Kaamyaab
c. Rakshak
d. Deepan
3. Which country has recently tested a Swedish technique to overcome the problem caused by the burning of paraali (crop residue)?
a. India
b. Nepal
c. China
d. Russia
4. Which state has recently organized the 'Hornbill Festival' on the occasion of the foundation day of the state?
a. Assam
b. Nagaland
c. Manipur
d. Sikkim
5. Which day World Soil Day is celebrated?
a. 1 December
b. 3 December
c. 5 December
d. 4 December
6. The Union Cabinet has recently approved a proposal to extend the period of reservation for Scheduled Castes and Scheduled Tribes in the Lok Sabha and State Legislatures for how many more years?
a. 7 Years
b. 8 Years
c. 9 years
d. 10 Years
7. Which state government launched the 'Madhu App' for school students?
a. Haryana
b. Odisha
c. Maharashtra
d. Telangana
8. What is the name of a Democratic MP of Indian origin who has recently withdrawn her name from contesting the US presidential election?
a. Kamala Harris
b. Anu Morris
c. Sujata Daniel
d. Alka Samson

Answers
1. (d) 5 December
Every year International Volunteer Day is celebrated on the call of the United Nations on December 5 around the world. The theme of this year is "Volunteer for an inclusive future".
2. (b) Kaamyaab
A Coast Guard ship named 'Kaamyaab' was recently given to the Maldives by Prime Minister Narendra Modi was given to the Maldives. Several other development projects were launched in the Maldives by PM Modi.
3. (a) India
India is testing a Swedish technology that can convert paddy crop residue into 'bio-coal' to find a solution to this issue. A company BioDev has started this project in Punjab.
4. (b) Nagaland
The 20th Hornbill Festival is being organized in the Nagaland. This time it is being celebrated with a ban on single-use plastic. The festival is named after the hornbill bird and the festival was started in the year 2000.
5. (c) 5 December
The purpose of celebrating World Soil Day is to make farmers and common people aware of the importance of soil. The United Nations General Assembly had passed a resolution at the 68th General Assembly meeting to celebrate December 05 as World Soil Day every year.
6. (d) 10 years
The reservation period for these categories in Lok Sabha and Legislative Assemblies was to end on 25 January 2020. After the approval of this bill, the period of reservation in Lok Sabha and Legislative Assemblies will be increased till 25 January 2030.
7. (b) Odisha
The purpose of the Madhu app is to help school students to learn their lessons through videos and tutorials. The first phase of the app has study material for Mathematics and Science subjects from class 5th to 8th.
8. (a) Kamala Harris
Kamala Harris (55-year-old) recently announced that she is ending her campaigning for the presidential election. Democratic MP Kamala Harris is considered an ardent critic of President Donald Trump.