Hunger reached 'alarming' ten-year high in 2017: UN report
A UN report has revealed that the number of undernourished people in the world has been on the rise since 2014, reaching an estimated 821 million in 2017, from around 804 million in 2016. The levels are same as almost a decade ago.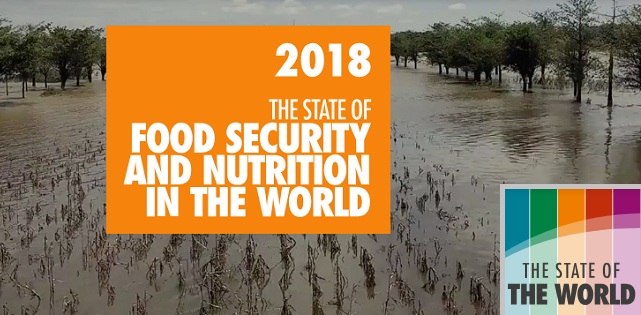 Hunger reached 'alarming' ten-year high in 2017: UN report
As per a UN report on the 'state of food security and nutrition in the world' that was published on September 11, 2018, the number of undernourished globally increased to 821 million in 2017, which means that one in every nine people, does not have enough to eat.

The report states that with food deprivation on the rise due to conflict and climate change, more people went hungry in 2017 than at any time in the previous decade. It was published by the Food and Agriculture Organization (FAO), International Fund for Agricultural Development (IFAD), World Food Programme (WFP), UN Children's Fund (UNICEF) and the World Health Organization (WHO).

Three key drivers of Hunger:

- Intensification of conflict and violence

- Economic downturn

- Effects of extreme climate change

The Report: Key Highlights

The report revealed that the number of undernourished people in the world has been on the rise since 2014, reaching an estimated 821 million in 2017, from around 804 million in 2016. The levels are the same as almost a decade ago.

The share of undernourished people in the world population, the prevalence of undernourishment (PoU), is estimated to have reached 10.9 percent in 2017.

Regions worst affected by undernourishment

• The situation is worsening in South America and most regions of Africa.

• Africa remains the continent with the highest prevalence of undernourishment, affecting almost 21 percent of the population (more than 256 million people).

• The situation is also deteriorating in South America, where the PoU has increased from 4.7 percent in 2014 to a projected 5.0 percent in 2017.

• In the case of Asia, its decreasing trend in undernourishment seems to be slowing down significantly.

• The projected PoU for Asia in 2017 is 11.4 percent, which represents more than 515 million people.

• Without increased efforts, the world will fall far short of achieving the SDG target of eradicating hunger by 2030.
Prevalence of undernourishment in the world, 2005 – 2017 (%)

Region

2005

2010

2012

2014

2016

2017

World

14.5

11.8

11.3

10.7

10.8

10.9

Africa

21.2

19.1

18.6

18.3

19.7

20.4

Asia

17.3

13.6

12.9

12.0

11.5

11.4

Latin America and the Caribbean

9.1

6.8

6.4

6.2

6.1

6.1

Oceania

5.5

5.2

5.4

5.9

6.6

7.0

Northern America and Europe

<2.5

<2.5

<2.5

<2.5

<2.5

<2.5
Child stunting, exclusive breastfeeding

The report reveals that overall, there has been a progress regarding stunting and exclusive breastfeeding for the first six months of life. The number of stunted children decreased from 165.2 million in 2012 to 150.8 million in 2017, showing a 9 percent decline. Yet, the number is still unacceptably high.

In 2017, 40.7 percent of infants below six months of age were exclusively breastfed, up from 36.9 percent in 2012. The rates of exclusive breastfeeding in Africa and Asia are 1.5 times than those in Northern America where only 26.4 percent of infants under the age of six months receive breast milk exclusively.

Anaemia

The prevalence of anaemia among women of reproductive age has risen incrementally from 30.3 percent in 2012 to 32.8 percent in 2016 with no region showing a decline.

One in three women of reproductive age globally is still affected by anaemia, with significant health and development consequences for both women and their children.

Wasting (low weight for height)

In 2017, 7.5 percent of children under the age of five, around 50.5 million, were affected by wasting, which consequently puts them at a higher risk of mortality.

An analysis from 2013 indicated that 875 000 deaths (or 12.6 percent of all deaths) among children under five years of age were related to wasting, of which 516 000 deaths (7.4 percent of all deaths among under-fives) were related to severe wasting.

Child overweight and adult obesity

Since 2012, the global proportion of overweight children remains relatively stagnant, with 5.4 percent in 2012 and 5.6 percent (or 38.3 million) in 2017. Among these 38.3 million overweight children, 25 percent live in Africa and 46 percent live in Asia.

On the other hand, Adult obesity rates continue to rise each year, from 11.7 percent in 2012 to 13.2 percent in 2016. This means that in 2017 more than one in eight adults, or more than 672 million, in the world is obese.

Adult obesity is highest in Northern America and the rate of increase in adult obesity is also the highest there. While Africa and Asia continue to have the lowest rates of obesity, an increasing trend can also be observed.
Multiple burden of Malnutrition
While the levels of childhood stunting and wasting persist across regions and countries, simultaneously, there has been an increase in overweight and obesity, often in the same countries and communities with relatively high levels of child stunting.
This coexistence of undernutrition with overweight and obesity is commonly referred to as the "double burden" of malnutrition. This multiple burden of malnutrition is more prevalent in low, lower-middle and middle-income countries and concentrated among the poor.
Besides, a large proportion of the world population is also affected by micronutrient (vitamin and mineral) deficiencies, often called 'hidden hunger' because there may be no visible signs. Iron deficiency anaemia in women of reproductive age is one form of micronutrient deficiency.
Food Insecurity (unreliable access to food)
The poor access to food and particularly healthy food contributes to undernutrition as well as overweight and obesity.
It increases the risk of low birth weight, childhood stunting and anaemia in women of reproductive age, and is linked to overweight in school-age girls and obesity among women, particularly in upper-middle- and high-income countries.
There are several pathways from inadequate food access to multiple forms of malnutrition.
Food Insecurity and Undernutrition
The food insecurity can contribute to child wasting, stunting and micronutrient deficiencies by negatively affecting the adequacy of food consumption.
A diet characterised by insufficient intake of calories, protein, vitamins and minerals can hamper foetal, infant and child growth and development and contribute to maternal undernutrition and consequently to a higher risk of low birth weight, which can lead to child stunting.
The stress of living with food insecurity can also have a negative effect on the nutrition of infants by compromising breastfeeding.
Food Insecurity and Obesity
Food insecurity can also contribute to overweight and obesity, as nutritious and fresh foods often tend to be expensive.
Thus, when household resources for food become scarce, people choose less expensive foods that are often high in calories and low in nutrients. This is particularly true in urban settings and upper-middle and high-income countries.
There are also psychosocial factors that link food insecurity to obesity. The experience of not having certain or adequate access to food often causes feelings of anxiety, stress and depression, which in turn can lead to behaviours that increase the risk of overweight and obesity. These include patterns of binging or overeating when food is available and continued availability is uncertain.
How to improve hunger level globally?

• Firstly, the report stresses that since climate variability is already undermining food production, actions to mitigate disaster risk reduction and preparedness should be taken on an immediate basis, as the situation will only get worse as temperatures are expected to continue to rise and become more extreme.

• Then it highlights the importance of the 1000 days period between the conception of a child and the child's second birthday. It stated that the period is a window of opportunity to prevent both child stunting and overweight and promote child nutrition, growth and development with lasting effects.

• It also points out that exclusive breastfeeding in the first six months and adequate complementary foods and feeding practices up to two years of age are key to ensuring normal child growth and development.

• It further states that the access to safe, nutritious and sufficient food must be framed as a human right, with priority given to the most vulnerable.

• It also states that policies must pay special attention to the food security and nutrition of children under five, school-age children, adolescent girls and women in order to halt the intergenerational cycle of malnutrition.

• Further, it says that a shift is needed towards nutrition-sensitive agriculture and food systems that provide safe and high-quality food, promoting healthy diets for all.
Important Current Affairs of August 2018
Video: Check out the latest current affairs of this week