India, Philippines sign four agreements in Manila during President Kovind's visit
President of India Ram Nath Kovind met his Philippines counterpart Rodrigo Duterte and signed four agreements.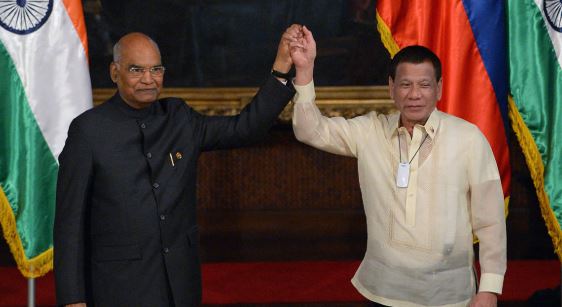 Image: ANI
India-Philippines signed four bilateral agreements during President Ram Nath Kovind's Manila visit. Indian President Ram Nath Kovind is on an official tour to the Philippines and Japan. He reached Manila in the first leg of his visit to both countries.
President of India Ram Nath Kovind met his Philippines counterpart Rodrigo Duterte and signed four agreements. It was believed that Kovind's visit will make an impact in the region as China claims most of the sea area. China had claimed its possession on the South China Sea many times despite UN-backed international tribunal ruled that China's claim was without any legal basis.
Four Agreements
India and Philippines had four agreements including Science and Technology, Maritime, Tourism and Culture. These agreements include exchanging of white shipping data that includes identification and information about the movement of commercial and non-military vessels.
Also Read | India to set up coastal radar system in Bangladesh
Significance
• Kovind's visit coincides with the 70th anniversary of the establishment of diplomatic relations between the two countries.
• Philippines is one of the strong countries in the region. The Philippines is located on the east of the Philippines Ocean and near South China Sea.
• Agreements between both countries will not only strengthen the bilateral relations but also put an impact on China and its dominating image in the region.
• Philippines can emerge as one of the most focused country for India's corporate business expansion. India and Philippines economic-ties can achieve new heights.
• India is hoping to get defence cooperation and participation in weapon modernization of Philippines.
• Several Indian companies are looking for investment opportunities in the health, innovation and pharma sectors.
Kovind in Philippines
President Ram Nath Kovind will depart from the country on October 21. He will also participate in India-Philippines Business Conclave and visit fourth Asian-Indian business Summit. He paid tribute to the national hero of Philippines Dr. Jose Rizal.
Also Read | Coal Ministry signs allotment agreement with West Bengal power Development Corporation
Also Read | India, Bahrain sign 3 MoUs, release joint statement; PM Modi conferred Bahrain Order