Indian Navy launches submarine 'INS Vela'; Ratan Tata invests in Ola Electric Mobility – Current Affairs
INS Vela is the fourth Scorpene class Submarine of Project 75. INS Kalvari, the first of the Scorpene-class submarines, was commissioned by Prime Minister Narendra Modi on December 14, 2017.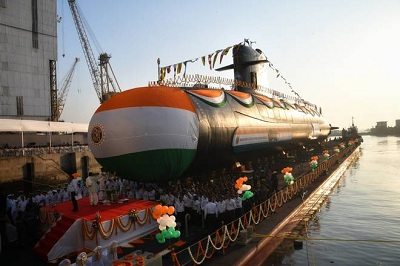 INS Vela
Story 1: Indian Navy launches fourth Scorpene class submarine 'INS Vela'

The Indian Navy on May 6, 2019 launched the fourth Scorpene class Submarine of Project 75 'INS Vela' at the Kanhoji Angre Wet Basin of Mazagon Dock Limited at Mumbai, Maharashtra.

The submarine will now undergo rigorous trials and tests in both harbour and sea phases before induction into the Indian Navy.

The submarine was manufactured by Mazagon Dock Limited, with the help of main collaborator Naval Group, France (formerly DCNS).

Significance of submarine name 'Vela'

The submarine has been named 'Vela' after an earlier lead submarine of the erstwhile Vela class, which was the second batch of the Foxtrot class submarines acquired from erstwhile Union of Soviet Socialist Republics (USSR).

How Scorpene class submarines work?

• The Scorpene class submarines encompass superior stealth features - advanced acoustic silencing techniques, low radiated noise levels and optimised shape.

• They have ability to launch a crippling attack on the enemy using weapons. The attacks can be launched through the torpedoes and the anti-ship missiles, be it underwater or on surface.
• They can undertake various missions such as Anti-Submarine warfare, Anti-Surface warfare, intelligence gathering, area surveillance, and mine laying

Scorpene Class Submarines

• Designed by French naval defence company 'DCNS', the submarines are being manufactured by Mazagon Dock Limited in Mumbai.

• In 2005, India purchased 6 submarines for USD 3 billion under Project 75 that was undertaken due to the decreasing number of submarines in the Indian Navy.
• These submarines were also acquired as a replacement for older Sindhughosh and Shishumar class submarines.

• The first of the Scorpene-class submarines, INS Kalvari was commissioned on December 14, 2017 and the second of the 6 Scorpene Class Submarines, INS Khanderi will soon be inducted into the Indian Navy by May 2019.

• INS Karanj, the third Scorpene-class submarine, was launched by the Indian Navy on January 31, 2018.

• The fifth and sixth submarines INS Vagir and INS Vagsheer are in advanced stages of manufacturing.

Story 2: Ratan Tata invests in Ola Electric Mobility

Ratan Tata, the Chairman Emeritus of Tata Sons, invested in Ola Electric Mobility (OEM), the electric vehicle business of cab aggregator Ola.

However, the details of the investment were not disclosed. Tata is also an investor in Ola's parent company ANI Technologies. Earlier in 2015, he invested in ANI Technologies.

In March 2019, the Ola Electric Mobility had raised Rs 400 crore in a funding round led by Tiger Global and Matrix India.

Ola Electric Mobility

• Ola Electric Mobility Pvt Ltd develops solutions to make Electric Mobility feasible at scale, enabling more clean kilometres on Indian roads.

• Ola Electric Mobility was initially established to enable Ola's electric mobility pilot programme in Nagpur, launched in May 2017. The project brought together industry and government to pioneer in electric vehicles for public and shared mobility in Nagpur.

• After the success of the pilot programme, Ola announced 'Mission: Electric' in 2018 to bring one million electric vehicles on Indian roads by 2021.

• Ola Electric is currently running several pilots involving charging solutions, battery swapping stations, and deploying vehicles across two, three and four-wheeler segments.

Ola Cabs

• Ola Cabs, one of the world's largest ride-sharing companies, was founded in 2011 by Bhavish Aggarwal and Ankit Bhati.

• It is an Indian origin online transportation network company, developed by ANI Technologies Pvt. Ltd.

• At present, the company has over 9,00,000 vehicles serving millions of customers every day.

• Over 110 cities are serviced by the Ola fleet to get you to your destination on time, every time.

• A team of around 6000 employees work tirelessly to provide customers with the best in technology and service