World Cup 2019: BCCI unveils India's away 'orange' jersey for India vs England on June 30
India's away orange jersey: The BCCI has officially unveiled India's away 'jersey'.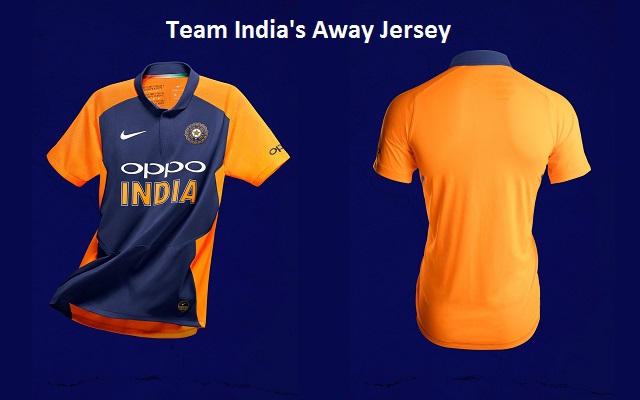 India's new orange 'away' jersey revealed!
Team India's new away 'orange' jersey for World Cup 2019 has been officially unveiled by the BCCI. The much-awaited alternate jersey is dominated by orange colour rather than the original blue. India will be seen wearing this new orange jersey for the first time in its match against England on June 30.
The BCCI, by revealing the new 'away' jersey kit has finally ended all the suspense over the matter. The whole nation was eagerly waiting to see the men-in-blue go orange with their new kit. A few images of the new orange jersey were floated around on the social media by fans earlier. Now, both the BCCI and ICC have officially announced the new away jersey.
BCCI's tweet on India's orange jersey:
India's away orange jersey- Why does India need a new jersey?
The new away jersey has been introduced for Team India due to ICC's new rule, which states that all participating teams will be required to come up with an alternate coloured jersey for matches where there will be a clash of colours due to most teams having similar blue or green coloured jerseys.

The ICC wants a home and away format, where two teams can be easily differentiated by the secondary colour of their kits, in case their primary colour is the same, just like it is done in football matches. Hence, except for the host country that was given a preference in their choice of colour and Australia, West Indies and New Zealand that have unique primary colours, all other nations were required to provide an alternate coloured jersey.

Which countries were required to provide an alternate coloured jersey?

The nations whose primary jersey colours were clashing in World Cup 2019 include England, India, Sri Lanka and Afghanistan who all have blue as their primary colour. In the other clash, three teams including Pakistan, South Africa and Bangladesh have green as their primary jersey colour.

England being the overall hosts of the tournament were given the choice of continuing with their jersey throughout the world cup tournament, which means that other three nations will have to change their jersey colour while playing against them.

Among the green teams, Pakistan was allowed to continue with its traditional green jersey throughout the tournament, as the team was designated as the home team in its matches against Bangladesh and South Africa.

This means that India, Sri Lanka, Afghanistan, South Africa and Bangladesh will be seen sporting a different coloured jersey for some of their 'away' world cup matches.

Why do Australia, New Zealand and West Indies get to continue with their traditional jerseys?

Three teams- Australia, West Indies, and New Zealand do not have to provide an alternate coloured jersey as all of them have unique jerseys. The teams will not be required to choose a new coloured jersey for their away matches and will be able to continue with their traditional jerseys throughout the world cup.

India's away orange jersey: How does it look?
India's away orange jersey has a darker shade of blue in the front with orange colour dominating the sleeves and the back.

When will India be seen sporting its new orange jersey?

Team India is likely to be seen wearing the new orange coloured jersey in its world cup 2019 match against hosts England on June 30. In the rest of its matches, Virat Kohli-led India is expected to continue to don their traditional blue jersey.

What colours have other nations chosen for their alternate jersey?

Among the five World Cup teams, that had to include an 'alternate jersey kit' for their 'away' matches, four teams including Sri Lanka, South Africa, Bangladesh and Afghanistan had unveiled their new contrasting coloured jersey kits much earlier.

While Afghanistan chose to include red as its secondary colour for its matches against rest of the blue teams, Sri Lanka chose yellow. Among the green teams, South Africa chose yellow as its secondary contrasting colour for its matches against green teams and Bangladesh chose red. India is the only nation that is yet to officially reveal its new World Cup kit.
| | | |
| --- | --- | --- |
| Team | Original Jersey Colour | New 'Away' Jersey |
| India | Blue | Blue +Orange |
| Afghanistan | Blue | Blue + Red |
| Bangladesh | Green | Red |
| Sri Lanka | Blue | Blue+Yellow |
| South Africa | Green | Yellow |
How were the new jersey colours decided?

For each game, the ICC has granted one team the home team status, while for the other team the match will be treated as the away venue. Hence, while the home team will be given the choice of the jersey, the other team will have to opt for the away jersey.

All the teams were notified which coloured kit will be worn in each match ahead of the event. The announcement by the ICC came while only few days were left for the much-awaited cricket world cup, to be hosted by England and Wales from May 30.