Kartarpur Corridor: PM Modi dedicates corridor to the public, flags off first batch of devotees
Prime Minister Narendra Modi has inaugurated much-awaited Kartarpur Corridor at Dera Baba Nanak on November 9, 2019.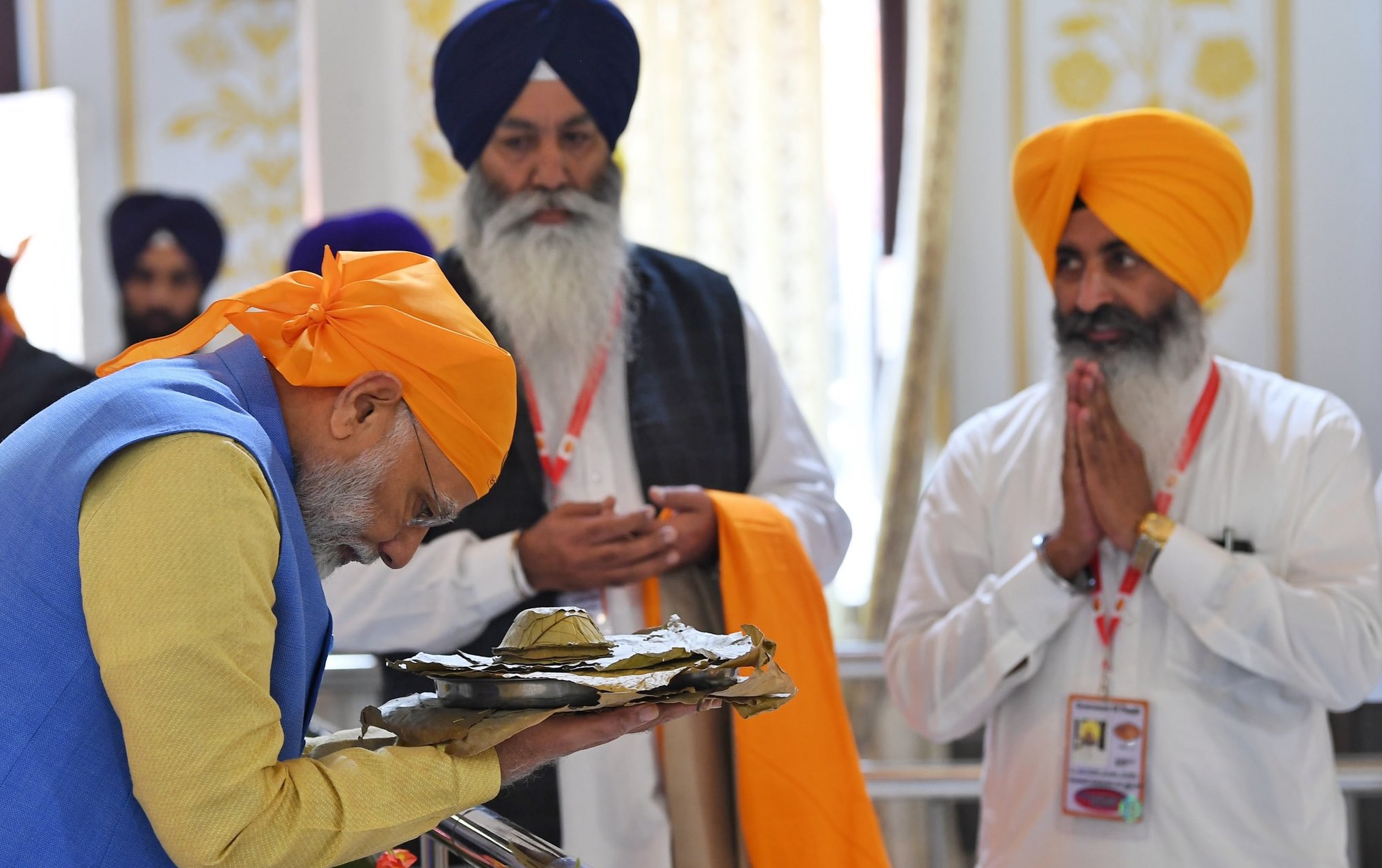 PM Modi in Sultanpur Lodhi
Kartarpur Corridor Inauguration: Prime Minister Narendra Modi has inaugurated Kartarpur Corridor and flagged off first batch of devotees to the Kartarpur Sahib on November 9, 2019. A batch of about 570 devotees from India visited Kartarpur Sahib for the first time after partition held in 1947. This batch was including former Prime Minister Dr Manmohan Singh, Chief Minister of Punjab Captain Amarinder Singh, besides MPs, Ministers, MLAs and one representative from each state of the country.
Earlier, Prime Minister Modi visited Ber Sahib Gurudwara at Sultanpur Lodhi, Punjab. He said that he thanked Pakistan Prime Minister Imran Khan for opening the way to visit Kartarpur Sahib. He also expresses gratitude to the workers of India and Pakistan who took the construction of the corridor round the clock. PM Modi also released a coin of 550 rupees prepared in memory of Guru Nanak along with five postal stamps.
Kartarpur Corridor
The distance between Dera Baba Nanak and Kartarpur Sahib is 6.3 kilometres and the length of Kartarpur Corridor is 4.7 Kilometers (2.9 miles). The Kartarpur Sahib Gurudwara is located in Shakargarh Tehsil of Pakistan while Dera Baba Nanak is located in Gurdaspur district of India.
Indian devotees used to watch the Kartarpur Sahib Gurdwara through the barbed fence on the border. But now devotees will be able to visit Kartarpur Gurudwara. The first batch will have more than 500 devotees from India.
Also Read | Nabaneeta Dev Sen, Sahitya Academy winning writer, passes away
Importance of Kartarpur Sahib Gurudwara
It is said that before coming to Kartarpur, Guru Nanak Dev spent 14 years of his life in Sultanpur Lodhi. He travelled 26 thousand km on foot in 24 years. After that, he settled in Kartarpur Sahib, along with his family, situated on the banks of river Ravi.
Gurdwara Sahib remained closed for 53 years after the Partition of India and Pakistan. It is also said that the villagers were started misusing the place. In 1998, for the first time, the Vajpayee government talked with Pakistan on the Kartarpur corridor.
First batch of devotees
The first batch to visit Kartarpur will include former Prime Minister Manmohan Singh, Akal Takht's Jathedar Harpreet Singh, Punjab's Chief Minister Amarinder Singh, former Chief Minister Parkash Singh Badal, Sukhbir Singh Badal, Union Minister Harsimrat Kaur Badal among others. All members of the Shiromani Gurdwara Management Committee (SGPC) and all 117 MLAs and MPs from Punjab will also join the batch.
Kartarpur Passenger Terminal
Kartarpur passenger terminal looks like an airport which will have more than 50 immigration counters for the convenience of about 5000 pilgrims a day. There will be several facilities including washroom, place for babysitting, first-aid facility, prayer room. The national flag has been hoisted at this place at a height of 300 feet.
Also Read | Gandhi family stripped off SPG cover: Know who gets SPG protection
Also Read | Haryana, Punjab MLAs create history by jointly attending assembly session after 5 decades