World's first all-female spacewalk: Koch & Meir recorded history; all-women crew fixed broken part of ISS
NASA astronauts Christina Koch and Jessica Meir recorded history with world's first all-female spacewalk on October 18, 2019. Koch & Meir fixed the broken part of the ISS during the spacewalk.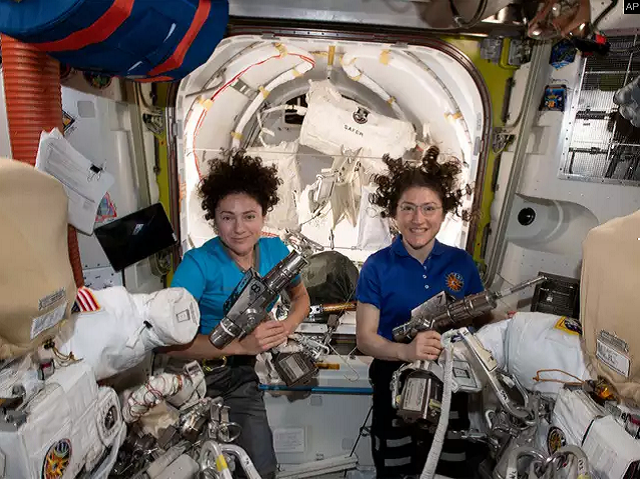 First all-female spacewalk
World's first all-female spacewalk: Christina Koch and Jessica Meir, the NASA astronauts, on October 18, 2019 recorded history by completing the first all-female spacewalk, wherein the duo fixed the broken part of the International Space Station (ISS). Both the astronauts carried out the Extravehicular Activity (EVA) to replace a power controller of the ISS that got damaged recently. Koch and Meir were able to fix the damaged part by using wrenches, screwdrivers and power-grip tools. No man was involved in this mission.
Koch was first to move out of the ISS and Meir came after with a tool bag. Initially, the mission was scheduled for 5.5 hours, however, it stretched up to 7 hours due to some additional tasks. While Meir made her debut in spacewalking through this mission, it was the 4th spacewalk for Koch. Meir is a marine biologist and Koch is an electrical engineer. Both of them are the members of NASA's Astronaut Class of 2013, the only group that has an equal number of men & women.
This ISS power controller failure had interrupted various space missions of NASA. The National Aeronautics and Space Administration (NASA) has scheduled a series of spacewalks to change the exterior-mounted batteries of the ISS.
What did they actually do?
Koch led the extravehicular activity and wore a spacesuit with red stripes, identifying her as a lead spacewalker (EV1). On the other hand, Meir wore an all-white spacesuit, indicating her EV2 designation. The astronauts replaced the faulty power controller or charge-regulating device for the new batteries installed last week by Astronauts Koch and Andrew Morgan. This 19-year-old broken device was dragged in the ISS by the women to be taken to the Earth.
This was the 221st spacewalk carried out by the NASA for maintenance of the ISS. During their Extravehicular Activity, both the astronauts received a call from the US President Donald Trump, who encouraged the young astronauts and hailed their work.
Who was the world's first woman spacewalker?
The first woman to do a spacewalk was cosmonaut Svetlana Savitskaya, who did the spacewalk in 1984.